Two main advantages of operational amplifiers (op-amps) are high gain and accuracy, allowing for the amplification of small signals with precision. They are versatile components that can be configured in various ways, providing flexibility in designing and implementing different analog signal processing circuits.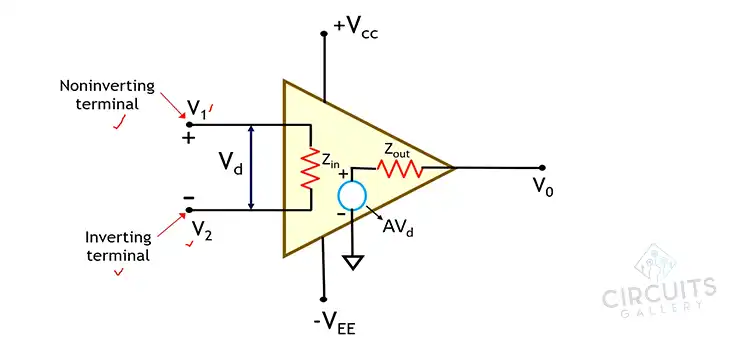 The Two Advantages of Op-Amp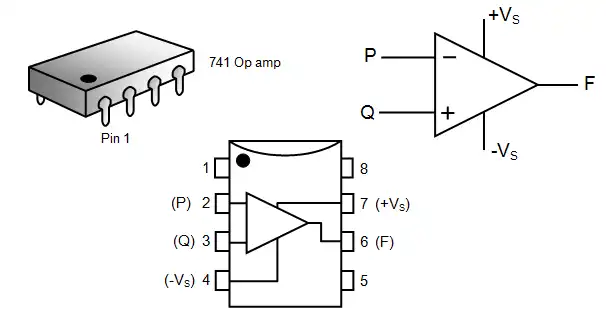 Figure: 741 Op Amp
Op-amps exhibit several performance enhancements that set them apart from conventional amplifiers. These advantages contribute to their widespread adoption and use in numerous electronic systems.
1. Enhanced Performance
Two key aspects of op-amp advantages for enhanced performance are high gain and low output impedance.
High Gain and Precision
Op-amps are designed to provide exceptionally high voltage gain. They can amplify small input signals to a significantly higher output level, allowing for precise signal processing and amplification.
This characteristic ensures that even weak signals can be accurately amplified without significant distortion or noise. As a result, op-amps work great in applications that require precise amplification, such as audio systems, medical equipment, and communication devices.
Low Output Impedance
Op-amps exhibit low output impedance, resulting in drive loads with minimal signal degradation. This characteristic allows op-amps to interface with various devices and circuits without significantly affecting the signal quality.
Unlike conventional amplifiers, op-amps can operate complex loads like filters, attenuators, and other active components which ensure the integrity of the signal throughout the system. The low output impedance of op-amps contributes to their ability to maintain signal fidelity and deliver accurate outputs.
2. Increased Versatility
Op-amps are versatile electronic equipment suitable for a wide spectrum of applications. Here are two key advantages that contribute to their versatility:
Configurability and Flexibility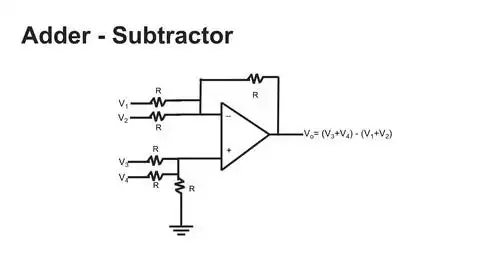 Figure: Op-Amp as Adder Subtractor
Op-amps can be easily configured to perform several functions by utilizing external components such as resistors, capacitors, and feedback networks. By adjusting these external elements, the behavior of the op-amp can be adjusted to meet specific application requirements.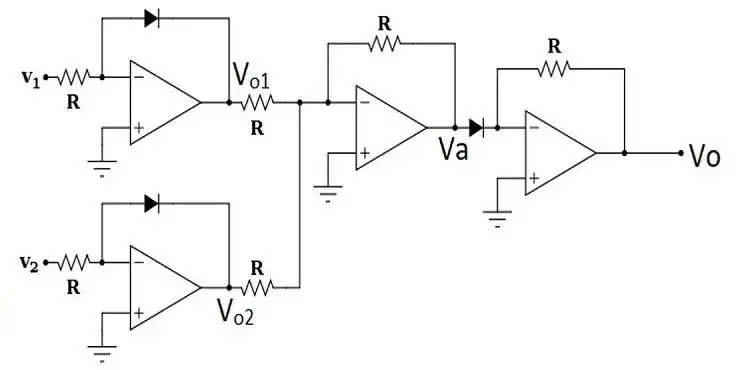 Figure: Analog Multiplier using Op-Amp
This flexibility enables op-amps to function as adders, multipliers, dividers, subtractors, amplifiers, filters, oscillators, comparators, and more, making them indispensable tools for circuit designers and engineers.
Wide Range of Power Supply Compatibility
Op-amps can operate across a wide range of power supply voltages, making them suitable for various voltage levels and power systems. They can function seamlessly with single or dual power supply configurations which works with different electronic systems.
What Is the Disadvantage of Op-Amp?
While operational amplifiers (op amps) are versatile and widely used in electronic circuits, they have some disadvantages. Here are a few common drawbacks:
Non-ideal Characteristics
Adaptability to Noise
Power Supply Requirements
Cost and complexity
Frequently Asked Questions and Answers (FAQs)
What is the main advantage of an op-amp?
Op-amp shows high gain and precision amplification, low output impedance, along with flexibility, and compatibility. Also, a wide range of power supply voltages can be used with an op-amp.
What are the advantages of op-amps over transistors?
Op-amps are highly versatile due to their configurability and complex load compatibility. High input impedance also sets them apart from regular transistors.
To Conclude
While using an op-amp make sure to use a reliable power supply and impedance matching. Consider feedback stability and proper grounding methods for precision amplification and increased performance.