Why Do Op-Amps Need Positive and Negative Voltage? Explained By Aspects
Operational amplifiers (Op-amp) usually need to swing bipolar-output voltages that go either positively or negatively in response to the normal range of input signals. Therefore it has both positive and negative power supply rails.
In this article, we will discuss and analyze the reasons why Op-amps require both positive and negative voltages.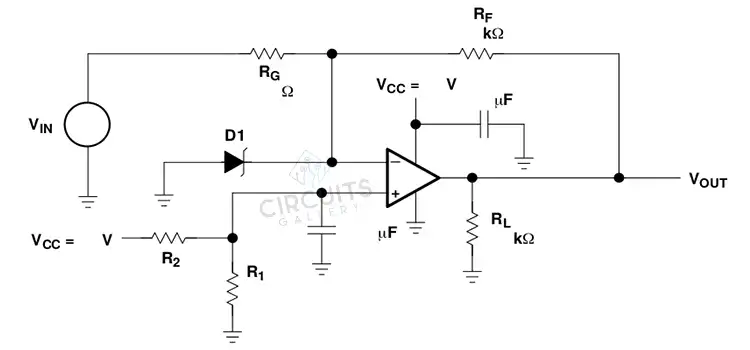 Why Both Positive and Negative Voltages Are Required in Op-amps?
Op-amps require both positive and negative voltage supplies due to the nature of the signals they handle and the design principles behind their operation. Here are the key reasons why op-amps need both positive and negative voltage:
1. Signal Handling Range: Op-amps are designed to amplify and process a wide range of positive and negative voltage-level signals.
By using both voltage supplies, they can effectively handle signals that swing above and below a reference point (often ground). This ensures accurate amplification of signals with various voltage excursions.
2. Bipolar Signal Amplification: Many real-world signals, such as audio waveforms or AC signals, have both positive and negative components. To accurately amplify these signals without distortion, an op-amp needs to accommodate both the positive and negative voltage swings of the signal.
3. AC Coupling: AC coupling is achieved using coupling capacitors. To effectively implement AC coupling, op-amps require both positive and negative voltage supplies. The capacitors block DC while allowing the AC components to pass through, enabling accurate signal processing.
4. Reference Point and Grounding: Op-amp circuits often rely on a reference point between the positive and negative supply voltages, which is typically ground.
This reference point is crucial for setting the operating point of the op-amp and ensuring accurate voltage. Having both positive and negative voltage supplies helps establish and maintain this reference point.
5. Circuit Configurations: Op-amps can be configured in various circuit arrangements such as inverting amplifiers, non-inverting amplifiers, differential amplifiers, integrators, differentiators, and more.
Many of these configurations require both positive and negative voltage supplies to achieve their intended functionality.
6. Flexibility and Versatility: By providing both positive and negative voltage supplies, op-amps offer a high degree of flexibility and versatility in designing circuits.
What Happens If I Don't Use Negative Voltage In the Op-amp?
Not using negative voltage may cause some problems. Without a negative voltage supply, the op-amp can only handle signals that are positive concerning its reference point which severely limits the range of signals that the circuit can process and amplify. It may also clip the signal and AC coupling may fail.
Using only a positive voltage supply severely restricts its capabilities, leading to distortion, inaccurate signal processing, and limited functionality.
For most applications, especially involving bipolar signals and versatile signal processing. It's essential to provide both voltage supplies to ensure the op-amp's proper operation and accurate signal handling.
Frequently Asked Question
How to Get Negative Voltage For An Op-amp?
The most straightforward approach is to use a dual power supply, which provides both positive and negative voltage sources. This can be achieved by a DC-DC converter, such as a buck-boost or flyback converter. connecting the terminals of the supply and rail may also work.
What Is the Effect of Negative and Positive Feedback In Op-amp?
Negative feedback helps stabilize the op-amp's operation by reducing its gain and making it less sensitive to variations. It also operates in its linear region and minimizes distortion. Positive feedback can lead to instability and oscillations in circuits. In some cases, they are utilized for signal conditioning purposes,
Why Do Op-amps Have Two Inputs?
Operational amplifiers have two inputs, specifically an inverting input and a non-inverting input. They provide a high degree of flexibility and versatility in various analog signal processing applications. They can amplify the voltage difference between these inputs while rejecting common-mode signals.
Conclusion
Both positive and negative voltages play significant roles in the op-amp. By providing both positive and negative voltage supplies, op-amps empower engineers and designers to tackle a wide array of applications such as bipolar signals, and AC coupling with fidelity and precision.
Subscribe

to our newsletter

& plug into

the world of circuits