Bumble bee capacitors have the trendiest exterior, with black, yellow, and red stripes, and it's all about the bite and mid-range clarity of Orange Drops.
Black beauty is another name for bumble bee capacitors. In the 1950s, both bumble bee capacitors and orange drop capacitors gained popularity. Bumble bee capacitors are also well-known among collectors of old guitars.
The voltage value of orange drop capacitors is somewhat greater than that of bumble bee capacitors. These two capacitors are used extensively in guitars for sound clarity and other purposes.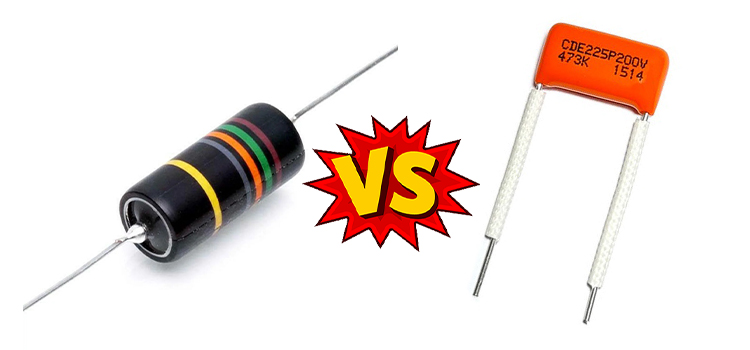 Comparison of Bumble Bee and Orange Drop Capacitors
The comparison between these two popular capacitors is as follows-
Bumble Bee Capacitors
The Bumble Bee capacitors were originally used in guitars in the late 1950s and early 1960s, notably Les Pauls from 1958 and 1959. They created a sonic spell that still holds the world of guitar in its thrall when combined with Gibson's cloth wiring from the era.
To generate a rich, middle focussed tone, bumblebees prefer to soften down highs and bass frequencies. Peter Green's Holy Grail sunburst and Billy Gibbons' Pearly Gates are two outstanding instances of Bumblebee-equipped antique Les Pauls.
Orange Drop Capacitors
On the other hand, the Orange drop capacitors provide a wonderfully clear and natural sound, and they're particularly adept at putting an expressive punch into the mids, which helps guitars cut through mixes and hold their own in large groups.
Gary Moore's Les Paul Standard from Gibson Custom Shop is a fantastic example of a genuinely singing Orange Drop-equipped six-string.
What Type of Capacitor Is the Orange Drop
Radial leaded Orange Drop capacitors are mounted on a printed circuit board. Sprague Capacitor Company invented the nickname Orange Drop capacitor in the 1960s, fittingly called from its brilliant orange epoxy conformal coating.
Do Capacitors Make a Difference in Tone
When the tone pot is turned down, tone capacitors are connected to the tone pot, allowing the signal from the guitar pickup to transfer high frequencies to the ground. The larger the spectrum of frequencies that are rolled off to the ground, the greater the value of the cap.
What Are Orange Drop Capacitors Made Of
Orange drop capacitors are comprised of aluminum foil with a vivid orange epoxy-coated dielectric made of polypropylene, polyester, polystyrene, and a polypropylene/polyester hybrid.
Are Orange Drop Capacitors Better
Orange Drop capacitors deliver the stability and accuracy that professionals demand from Gibson guitars, resulting in a consistent tone. Other precise capacitors might be used, but Orange Drop capacitors have a well-deserved reputation for excellence that dates back nearly 50 years.
What Is the Best Sort of Capacitor for Audio
Polystyrene and polypropylene are the ideal capacitor choices for audio systems. The first alternative is polystyrene, which is only available in levels up to .001uF.
What Are the Finest Guitar Capacitors
If an electric guitar has a default capacitor, it is the. It's 022 degrees Fahrenheit. While they operate differently with humbucking and single-coil pickups, they are as effective in both configurations. They are, however, most often found on guitars with humbuckers.
Do paper in oil capacitors sound better?
Many in the community feel that there is no scientific reason why PIO capacitors should or would sound better or worse in an amplifier or guitar application than any other type of capacitor.
Conclusion
Bumble bee and orange drop capacitors are mostly employed in sound technology, particularly in guitars. Bumble bee capacitors are more expensive than orange drop capacitors, which is the major difference between the two. They both rose to prominence in the 1950s and 1960s, and they are currently widely used capacitors in guitars and sound systems. They're also both highly familiar to guitar players.