BNC cables are used to connect an oscilloscope to a circuit under test. Because BNC cables are best for transmitting audio/video signals and radio frequency signals. They offer the best quality of signal integrity and the highest available bandwidth.
BNC cables transmit analog and digital signals. 50-ohm and 75-ohm are two types of BNC cables manufactured most frequently. 50-ohm cables are used for old analog video signals and 75-ohm connectors are made for high-quality video.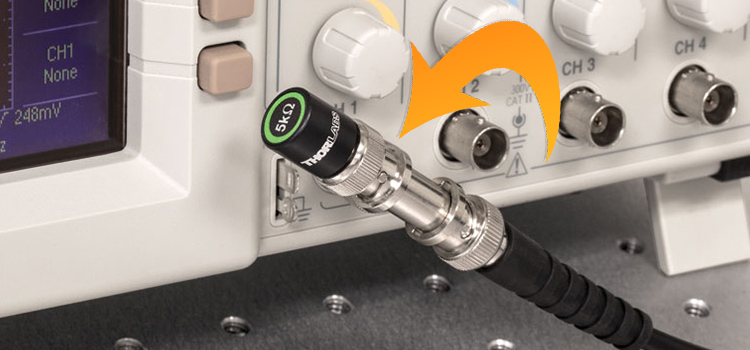 BNC Cable Oscilloscope
You must check your oscilloscope's manual while selecting the probe for your oscilloscope. Most oscilloscopes have BNC-type connectors as this type of cable has the least influence on the circuit under test. So, your signal can be transferred accurately to your scope.
Your oscilloscope's standard input resistance is 50Ω or 1MΩ, mostly 50Ω. So, 50-ohm BNC cables are used for most oscilloscopes. You must compensate your probe depending on your scope's input capacitance. Your scope's bandwidth and other design features decide the input capacitance of your oscilloscope.
What Does BNC Cable Stand For
BNC cable stands for Bayonet Neill-Concelman cable. This name is after its bayonet mount locking mechanism. The inventors of BNC cable are Paul Neil and Carl Concelman.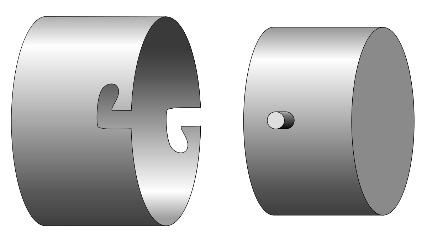 Figure1: Bayonet mount locking mechanism.
What Cable Is Used for BNC
Coaxial cables are used for BNC. Coaxial cables are vulnerable to high-frequency interference. These cables have an inner conductor and a conducting shield surrounding the inner conductor. Dielectric separates the conductor and the shield. This dielectric minimizes signal loss making it suitable for video transmission.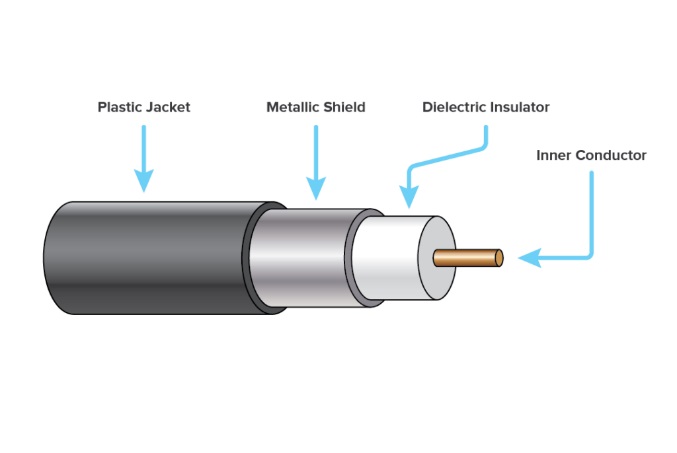 Figure2: Coaxial Cable.
The most common coaxial cable that's used for the BNC connector is RG59. The cable has an impedance of 75Ω.
What Is BNC Used For
BNC connectors are mostly used for radio frequency signal transmission. Aerial ham radio, avionic devices, and electronic testing devices have BNC connectors. BNC connectors help reach the best signal response by reducing the mutual interference and having more bandwidth.
50Ω BNC connectors are specific for use at frequencies up to 4GHz and 75Ω are used for up to 2GHz frequencies. People find 75Ω BNC connectors more useful as they are more practical and flexible than 50Ω ones. Also, 75Ω connectors give you better-quality signals.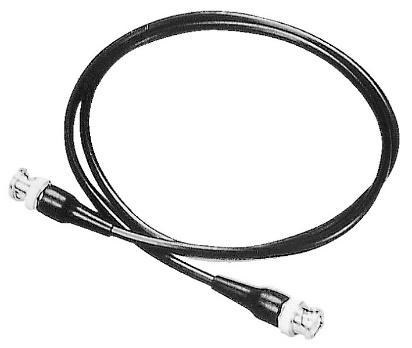 Figure3: BNC cable.
Advantages of BNC Cables
BNC cables feature a twist and snap bayonet connection design. The advantages of such connectors are discussed below:
Coaxial cables have complex designs but BNC cables come with a very simple one.
The connection is very easy as you don't need any external tools.
BNC cables lock the connection in place. So, the risk of disconnection is very low.
Disadvantages of BNC Cables
The disadvantages of using BNC connectors are given below:
The frequency range of BNC connectors is limited to 4GHz. Whereas TNC connectors can service well for frequencies up to 11GHz.
If mechanical vibration is present, the resistance of the BNC connector varies. The outer sleeve connection can also vary in this case.
Frequently Asked Questions
When can't you use BNC cables for your scope?
If your signal needs to be terminated by a high impedance, you can't use BNC cables. In such cases, BNC cables' capacitances create a major problem. Again, if you are working with very high voltages, your BNC cable might break. So, avoid using BNC cables in such cases.
Conclusion
BNC cables are highly used in oscilloscopes for general purpose measurements. Such cables are best for transmitting higher-quality video and audio signals without any distortion of the signal. Using BNC connectors in surveillance also ensures high-quality output.