What Size Breaker for 4000-Watt Heater (Choosing the Right One)
If you've brought a brand-new 4000-watt heater, ready to keep you cozy during those cold days. But before you crank up the warmth, a simple yet important question: What size breaker do you need to ensure both safety and comfort?
In this article, we'll guide you through the process of choosing the right breaker for your 4000-watt heater, making sure you stay warm without any technical headaches.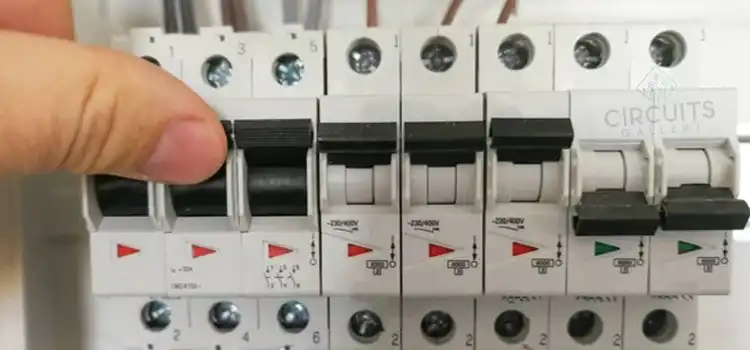 Understanding Your 4000-Watt Heater
Types of Heaters
Heating devices come in various types, from radiant to convection, and the one we're focusing on is the 4000-watt electric heater. We'll explore what sets it apart.
How Heaters Generate Heat
It uses special elements to turn electrical energy into heat. More watts mean more heat, but picking the right circuit breaker is crucial to keep everything running smoothly.
Delving into Circuit Breakers
What Is a Circuit Breaker?
A circuit breaker is like a guardian for your electrical system. It's designed to keep your circuits and home safe by preventing overloads and short circuits. When things get too hot (in a bad way), the circuit breaker steps in and stops the flow of electricity.
Different Types of Circuit Breakers
Circuit breakers come in different varieties – standard, Arc Fault Circuit Interrupters (AFCIs), Ground Fault Circuit Interrupters (GFCIs), and more. For your heater, we're primarily concerned with the standard circuit breaker.
Understanding Circuit Breaker Ratings
When it comes to circuit breakers, size matters. They are rated in amperes, and there are guidelines to ensure you're not pushing the limits of safety.
Calculating Amps for Your Heater
Let's do some simple math –to find out how many amps your 4000-watt heater requires, you can use a straightforward formula:
P=VI
Or, I= P/V
Amps = Watts / Volts.
Common Voltage Ratings
In most homes, you'll encounter two common voltage ratings: 120V and 240V. Knowing which one you have made a significant difference when choosing the right circuit breaker.
Calculating Amps for a 4000-Watt Heater
We'll guide you through calculating the amps needed for your 4000-watt heater, whether you have a 120V or 240V setup. It's all about finding the right fit.
For 120V it will be –
I= P/V
I=4000/120
I =33.33 Amp
And for 240V –
I= P/V
I=4000/240
I=16.67 Amp.
Selecting the Right Circuit Breaker
Here are the key factors to consider when choosing the right circuit breaker:
1. Matching Amps to Circuit Breaker Size
Now that you know the amps your heater requires, it's time to match it with the right circuit breaker size. Choose one that's too small, and you'll face constant interruptions; pick one that's too large, and you could be risking safety.
2. Preventing Overloads
No one wants to be left out in the cold because their circuit breaker keeps tripping. So, one will have to be sincere about overloading.
3. Consulting a Qualified Electrician
When it comes to electrical installations, it's best to leave it to the professionals. We'll emphasize the importance of getting a licensed electrician involved. Safety should always come first.
How do I determine the right type of circuit breaker for my heater?
For most heaters, a standard circuit breaker is suitable. However, if you have specific safety requirements, consult with an electrician. They can recommend the appropriate type of breaker, such as AFCI or GFCI, based on your needs.
What happens if I choose the wrong circuit breaker size?
If you select a breaker with too low an amperage rating, it will trip frequently, interrupting your heater's operation. Using a breaker with too high a rating poses a safety risk, potentially causing overheating or electrical fires. Choose the right size carefully.
Can I upgrade my electrical panel to a larger circuit breaker?
Yes, it's possible to upgrade your electrical panel to accommodate a larger breaker. However, this should be done by a licensed electrician to ensure it's done safely and in compliance with local codes.
How often should I have my electrical system checked for safety?
Regular safety inspections are recommended every few years, or when you notice any electrical issues. It's crucial to identify and address potential problems before they become serious.
Frequently Asked Questions
Can I use a larger circuit breaker for my heater?
It's not advisable to use a larger circuit breaker than what your heater requires. Doing so can create safety hazards and may damage your equipment. Always match the breaker size to your heater's amperage.
Is it safe to use an extension cord with my heater?
Using an extension cord with a heater isn't recommended. It can overheat and create a fire hazard. It's safer to plug your heater directly into an outlet.
How can I tell if my circuit is overloaded?
Signs of an overloaded circuit include frequent tripping of the breaker, flickering lights, and heat coming from the breaker panel. If you notice any of these issues, it's time to address the problem.
Are there ways to save energy while using a 4000-watt heater?
To save energy, consider using a programmable thermostat to regulate the heater's usage, ensure your home is well-insulated, and keep doors and windows closed to retain heat.
Can I install a circuit breaker on my own?
Electrical work, including circuit breaker installation, should be performed by a licensed electrician. It's not a DIY project as it involves safety and code compliance considerations. Your safety should always come first.
Conclusion
In conclusion, we've simplified the process of selecting the right circuit breaker for your 4000-watt heater. It's not complicated, but it's crucial for keeping you warm and safe. Remember, your circuit breaker acts as your silent guardian against electrical mishaps. So, enjoy the warmth with the peace of mind that you've made the right choice.
Subscribe

to our newsletter

& plug into

the world of circuits