What Size Potentiometer for Volume Control [Everything You Need to Know]
Whether you're adjusting the volume on your favorite music system, fine-tuning the tone on a musical instrument, or controlling signal levels in electronic circuits, the device you always need is the potentiometer.
The best practical method for determining the ideal potentiometer size for volume control is to experiment with several sizes and determine which suits your needs the most. This article delves into the world of potentiometers and examines the numerous designs, dimensions, and uses of these devices for precise volume control.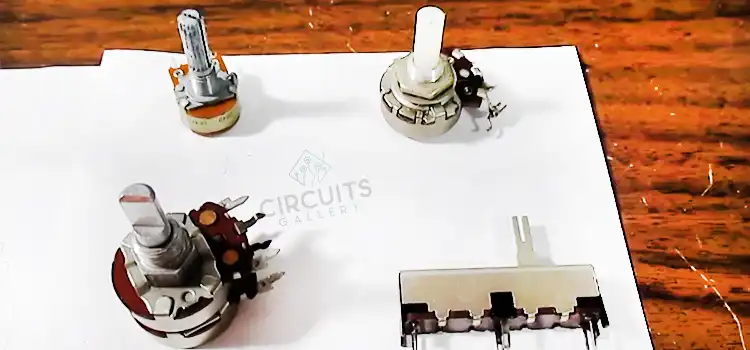 Potentiometer Selection for Volume Control
The application, available space, and required control precision affect how big a potentiometer should be for volume control. Here are the factors to consider while selecting a potentiometer for volume control.
Source Output Impedance
The potentiometer's input impedance is the resistance that the source presents to it. In both cases, a lower output impedance necessitates a lower resistance potentiometer. The device's specifications list the output impedance of the source.
Amplifier Input Impedance
The amplifier's input impedance is the resistance that is applied to the potentiometer. A greater resistance potentiometer will be needed for a higher input impedance and vice versa. The device's specifications contain information about the amplifier's input impedance.
Taper of the Potentiometer
The resistance of a potentiometer changes when the shaft is spun, and this is referred to as the potentiometer's taper. A linear taper denotes a linear change in resistance, whereas a logarithmic taper denotes a logarithmic change in resistance. Since a logarithmic taper offers a more consistent perceived level change when the knob is rotated, it is preferable for volume control.
Physical Size
The potentiometer's physical dimensions will depend on the amount of room you have in your application. Potentiometers exist in a variety of sizes, with the small, medium, and large sizes being the most popular.
1. Miniature Potentiometers
Small pots like this are frequently found in portable electronics like headphones, mini amplifiers, and small audio gear. They often have 6mm or smaller shaft diameters.
2. Standard Potentiometers
The majority of audio gear, including home stereo systems and musical instruments, can be used with these medium-sized pots. The shaft sizes of common potentiometers typically range from 6mm to 8mm.
3. Large Potentiometers
These larger pots are frequently found in industrial control systems, professional audio equipment, and a few musical instruments. Their shaft diameters may exceed 8 mm.
Quality
Potentiometers come in a wide range of different quality levels. The potentiometer you select should be of high quality because it will have an impact on the audio output of your application.
Common Potentiometers Used for Volume Control
Before selecting a decision, it is crucial to look through the precise specifications of your project and the available area. Additionally, potentiometers come in a range of resistance values (such as 10k or 100k ohms), so pick one that meets the needs of your circuit.
10kΩ
A reasonable all-purpose size for the majority of applications is 10k ohm. It works with a range of sources and amplifiers and has a low output impedance.
25kΩ
For situations where a greater output impedance is required, a 25 k ohm size is an excellent choice. With single-coil guitar pickups, it is frequently employed.
50kΩ
For situations where a very high output impedance is required, a 50 k ohm size is an excellent choice. Frequently, humbucker guitar pickups are used with it.
100kΩ
For applications requiring an extremely low output impedance, a size of 100 k ohm is ideal. It frequently pairs with digital audio equipment.
Frequently Asked Questions and Answers
Can I Swap Out My Equipment's Potentiometer for One of a Different Size?
In some circumstances, you can swap out a potentiometer with one of a different size, although doing so might need changing the enclosure or control panel to make room for the new size. Verifying compatibility and looking for any space restrictions are crucial.
Can I Get Size Details From the Potentiometer Datasheet?
Yes, potentiometer datasheets frequently include details regarding the physical measurements, such as shaft diameter and length, to aid you in selecting the appropriate size for your project.
Do Larger Potentiometers Provide More Accurate Control Than Smaller Ones?
Due to their bigger knob size, larger potentiometers can offer smoother control, but the precision of the control also depends on the resistance value and taper type of the potentiometer. If built properly, smaller pots can still offer precise control.
Conclusion
Choosing the proper potentiometer size for volume control is important in a variety of electronic and audio applications. Although there are generic size categories like miniature, standard, and large, your unique project requirements, available space, and user interface requirements will ultimately determine your option.
Subscribe

to our newsletter

& plug into

the world of circuits