If you are experiencing issues with your car audio system, it may be due to a capacitor problem. In an audio system, capacitors are used to store energy, and if they are faulty, it can lead to a variety of issues. Fortunately, troubleshooting a capacitor problem is easy.
A vehicle's audio system requires a capacitor. If it fails, it can affect your sound quality and volume. Fortunately, if you identify the problem early, you may fix or replace your audio capacitor before it becomes a big problem.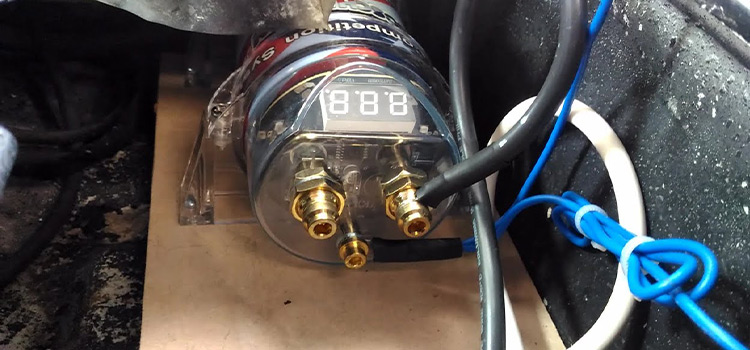 Car Audio Capacitors
The first thing you need to understand about car audio capacitors is what they are. Capacitors are simple devices that store energy and are used in many kinds of electrical circuits. While its main duty is to decrease or eliminate overvoltage in electrical circuits. Capacitors may also filter out the noise and enhance voltage.
How Car Audio Capacitors Work
A car audio capacitor is an electrical part that helps keep the power steady for a number of electronics in your car. By storing energy in electric fields, a capacitor prevents small voltage variations from impacting other circuits and components. The capacitance of a capacitor controls how much energy it can store; the higher the value, the more power it can store.
Solutions
If you're having trouble with your car audio capacitor, there are a few things you can do to troubleshoot the issue.
Start With the Basics
It's better to start with a blank slate when installing an aftermarket audio system. Before installing a sound system, check your car's condition. Properly maintain your vehicle and get it inspected annually by a trained mechanic for loose batteries or defective wiring. If you notice issues, repair them immediately to avoid worse difficulties later.
Check for Leaks
Leaky capacitors are a common problem in automotive audio and other hardware. These holes cause power loss and let in moisture and humidity, which causes further issues. If your capacitor is leaking, lightly compress it with pliers. If that doesn't work, take it to a repair shop.
Test the Capacitors
First, check capacitors with a multimeter. Check to see that you have all of your tools and parts out before you get started. We recommend identifying each capacitor once removed so you don't forget where it came from. Each pair of capacitor wires should be tested using your meter for continuity.
Test the Wiring
There may be a problem with your wiring if your car audio system isn't working. Turn on your car's stereo to find out. If you still don't hear any sound, remove all of your fuses and replace them one by one until you find the faulty circuit.
Test All Amplifier Components (Speakers, Wires, Etc.)
Your car audio capacitor may be faulty, but it might also be a speaker or other component. Before buying a new capacitor, check all amplifier parts and cables. It will save time and money over time.
Use a Capacitance Meter
Car audio capacitors are typically failed to notice by those who don't know what to look for. Even if you know what a capacitor does, it's hard to see a faulty one. A capacitance meter can save you time and money troubleshooting capacitors.
How do you test an audio capacitor
First determine if a capacitor is causing the issue. Disconnect your amplifier's leads and connect them to the capacitor's terminals. If you hear buzzing or humming, it's likely a bad capacitor. If you don't hear a short when testing for continuity, use an ohm meter or digital multimeter.
How do you test a car capacitor
The first step in fixing car audio capacitor problems is to find a bad or failing capacitor. Capacitors are polarized and feature a + and – terminal. Simply attach an ohm meter to these terminals to check resistance. A bad capacitor has little-to-no resistance; therefore your ohm meter should still record something on a bad device.
Why is my capacitor not working
A capacitor stores electrical energy and releases it into your amplifier for loud bass. These capacitors are rarely the source of audio difficulties on their own although they can be affected by other factors like faulty wiring or installation.
Do capacitors drain a car battery
A capacitor is an electrical device that stores a charge. Your car won't start if your battery isn't working properly. If your car's capacitors aren't working right, check for these common problems.
Conclusion
Capacitors are prone to failure, so keep a close eye on them. When replacing a capacitor, make sure to purchase one with the same voltage and uF rating. Deviation can cause complications. If you bought a 25v 220uF capacitor but your original was 35v 250uF, it may not work or break shortly after installation.