Onkyo Receiver Shuts off Standby Light Blinking | Reasons and Solutions
There are several reasons why your Onkyo home theatre receiver suddenly shuts down and enters Protection mode with the standby light blinking such as Overheating, Power Irregularities, Wiring Faults, Mismatched Impedance, etc.
In this article, we will take a deeper look at the various causes of this problem, provide troubleshooting steps to resolve it, and tips to prevent it from occurring again.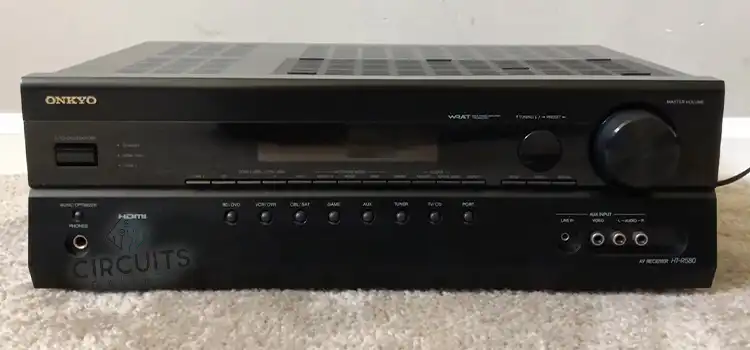 Why Does My Onkyo Receiver Enter Protection Mode?
Protective mode is triggered when the Onkyo detects conditions that could potentially damage internal components. The receiver typically shuts down its amplifier circuits, and the standby light starts to blink continuously. This serves as an indicator that the receiver has entered a Protective mode.
Probable Causes of Standby Light Blinking
Here are some probable causes of Standby light blinking:
1. Overheating
Onkyo receivers will detect excess heat buildup and shut down to prevent failure. Insufficient ventilation, blocked vents, or just pushing high volumes for too long can lead to overheating.
2. Speaker Wiring Issues
Faulty speaker wire connections that are shorted out or touched can also cause this problem. Use high-quality speaker wires and ensure secure connections. Regularly inspect the wires for any damage or wear and match their polarity correctly.
3. Impedance Mismatch
Connect speakers that precisely match the stated impedance rating for the receiver, typically 6 or 8 ohms. Avoid the use of lower impedance mismatching speakers.
4. Power Irregularities
Issues with the AC power connection or voltage spikes can suddenly trigger blinking light mode. A faulty power cord, loose outlet connection, voltage fluctuations, or lightning strikes/power surges can flag as abnormalities and cause shutdown into a protection state.
Troubleshooting Steps
If the Onkyo receiver enters blinking standby mode then try the following troubleshooting procedure to identify and resolve the problem:
1. Let It Cool
If overheating is suspected then unplug it for over an hour to ensure it is fully cooled internally before continuing. Proper ventilation is a must for these receivers.
2. Inspected Wires
Carefully check each speaker wire connection at the receiver and speakers. Look for frayed wires touching each other, and stripped wires making contact with metal terminals or loose plugs. Disconnect one speaker at a time to isolate the faulty wire. Replace damaged cables.
3. Matched Impedance
Confirm all the speakers were 6 ohms, which is within the 4-16 ohms rating listed for most of the Onkyo receiver models. Mismatching them can overload the amplifier circuit.
4. Swapped Power
Make sure the AC plug is inserted completely and the outlet is functioning properly. Consider connecting the receiver to a different outlet in case the original outlet is providing uneven voltage levels or spikes. Adding surge protection helps regulate incoming AC power.
5. Partial Reset
After allowing ample cooldown time and inspecting connections, unplug the Onkyo again for 15 minutes before plugging back in.
6. Minimum Setup
Simplify the setup by just connecting the front left and right speakers and Blu-ray player to reduce variables.
Tips to Prevent Onkyo Receiver Protection Mode
Here are some tips to help prevent Onkyo receivers from entering standby protection mode:
Ensure enough ventilation and clearance around the receiver. Overheating is the leading cause of protection circuit tripping.
Use quality speaker wires and firmly secure connections. Inspect wires occasionally for damage. Match polarity markings.
Only use speakers that match the stated impedance rating for the receiver, such as 6 or 8 ohms. Never use lower impedance mismatching speakers.
Consider connecting the receiver via a surge protector to regulate voltage and suppress power spikes.
Avoid prolonged listening at excessively loud volumes which strains amp circuits. Give unit periodic cooldown breaks.
Install firmware updates as available to keep protection logic current.
FAQs – Frequently Asked Questions and Answers
1. How to Update the Firmware on the Onkyo Receiver?
To update the Onkyo receiver's firmware, first, visit the Onkyo website and locate the firmware update for the specific model. Download the update onto a USB drive, insert it into the receiver's USB port, and follow the on-screen instructions for installation.
2. Can Using the Wrong Remote Code Cause the Onkyo Receiver to Enter Standby Mode?
Yes, programming a remote with the incorrect device code can lead to unintended commands being sent, potentially triggering standby.
3. Does the HDMI input used on the Onkyo receiver affect standby activation?
Yes, some HDMI ports like HDMI OUT MAIN support more current and are less likely to trigger standby due to connected devices overloading the circuits.
To Conclude
Understanding why the Onkyo receiver goes into protection mode with a blinking light is crucial. It helps you avoid potential damage. Following the troubleshooting steps can make your receiver last longer and perform better.
Subscribe

to our newsletter

& plug into

the world of circuits