50Hz frequency in electrical power systems is rooted in historical generator designs, synchronization requirements, and motor compatibility. Other factors such as economic considerations, grid stability, and international standardization also contribute to its usage and popularity.
Let's delve into the benefits and implications of the 50 Hz frequency.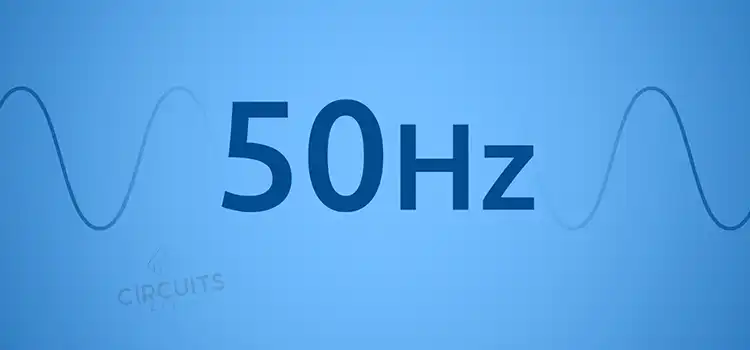 What Does the Frequency of 50 Hz Mean?
The frequency of an alternating current (AC) power system is the number of cycles or the number of times the current changes direction per second. It denotes how frequently the current direction changes in a second, to put it simply. The current changes direction 50 times per second at a frequency of 50 Hz.
Historical Background of 50Hz Power System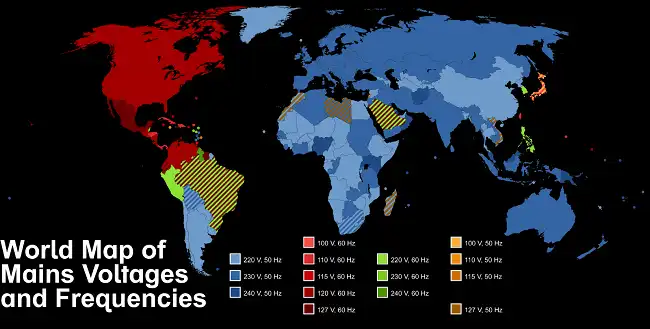 Figure: World Map of Mains Voltages and Frequencies
The distinction between 50 Hz and 60 Hz frequencies was first made when electrical power systems were first developed. Since there was no international standard at the time, different nations and regions used different frequencies when electricity was first harnessed for usage in the late 19th century. North America chose to use 60 Hz, whereas Europe mostly used 50 Hz.
Countries that have already established a power infrastructure with 50 Hz systems would face significant challenges in transitioning to 60 Hz or vice versa. It would require replacing a vast number of electrical devices and appliances, which is neither economically feasible nor practical.
What Is the Benefit of 50 Hz?
The preference for 50 Hz frequency stems from its numerous advantages. 50 Hz power has the following advantages:
Energy Efficient
For long-distance power transmission, 50 Hz is energy-efficient because it minimizes energy loss. As higher the frequency, the more resistance affects the flow of electricity. At 50 Hz, the resistance is lower than it would be at a higher frequency like 60 Hz. So, 50 Hz is a better choice for long-distance power transmission because it uses less energy.
Standardized
Did you know that 50 Hz is the standard frequency for power grids around the world? This simplifies the usage of appliances in several nations for both producers and users. This is so that equipment made for one electricity grid may be utilized on any other grid that operates at the same frequency.
Industry Compatibility
Industrial applications benefit from 50 Hz because it supports the efficient and smooth functioning of industrial machinery and equipment. Because 50 Hz power offers a reasonable balance between frequency and stability.
Machinery and equipment can become unstable and challenging to regulate at higher frequencies. Machines and equipment may become less effective at lower frequencies. An excellent compromise that offers both stability and efficiency is 50 Hz power.
Power Generation and Transmission
It is handy to transmit power across long distances with a frequency of 50 Hz. The skin effect kicks in at higher frequencies, increasing the amount of energy lost during transmission as heat. Power utilities may lower energy losses over long distances by employing 50 Hz, making it a cost-effective option for nations with large geographic regions.
Transformer Design
The frequency also affects the design and size of transformers used in the power grid. At 50 Hz, transformers can be built with fewer windings and a higher magnetic core permeability, making them more efficient and cost-effective.
Motor Performance
Machinery and equipment can become unstable and challenging to handle at higher frequencies. On the other hand, at lower frequencies, they can lose efficiency. 50 Hz systems offer a suitable compromise that delivers both stability and efficiency.
Stability
50 Hz power systems are considered to be more stable and consistent. As most power grid systems across the globe use 50 Hz as the regular frequency, there are fewer risks of blackout and power failure. Also, it's an ideal choice for industrial applications.
FAQs – Frequently Asked Questions and Answers
Why Use 50 Hz Instead of 60 Hz?
Due to historical and technological considerations, Europe adopted 50 Hz whereas North America used 60 Hz for AC electrical systems. Since there are compatibility difficulties, changing frequencies would cause expensive infrastructure modifications. Frequency has an influence on generators, equipment, and regulations, making a transition difficult and complicated.
Which Is Safer 50 Hz Or 60 Hz?
It doesn't matter much. The effect on the human body is quite identical for both 50 and 60 Hz. What matters more is the power that is being delivered. The question may arise whether higher voltage is more responsible for reducing the safety margin or the current. But such a slight (!) deviation of frequency is rather insignificant.
What Will Happen If Frequency Is Below 50 Hz?
In simple words, the output voltage will reduce. It is more accurate for voltages below line-to-line voltage since the relation is more or less linear in that case. Though the maximum current remains the same, the motor to which such a low-frequency power is delivered will suffer a receded voltage magnitude.
To Conclude
50 Hz frequency in electrical power systems is driven by historical, technical, and practical considerations. Its efficiency in power transmission, compatibility with existing infrastructure, and optimized performance in industrial equipment still make it a preferred choice for many countries.