Wiring the generator with the breaker box is one of the best ways to hook up a generator to your house without the transfer switch. This is also the cheapest way to hook up a generator into the house.
Regarding the financial disadvantage of using a transfer switch, you will need an additional electrical sub panel to manage the transfer. Without a transfer switch, you will continue to use your existing electrical panel, lowering your costs even further.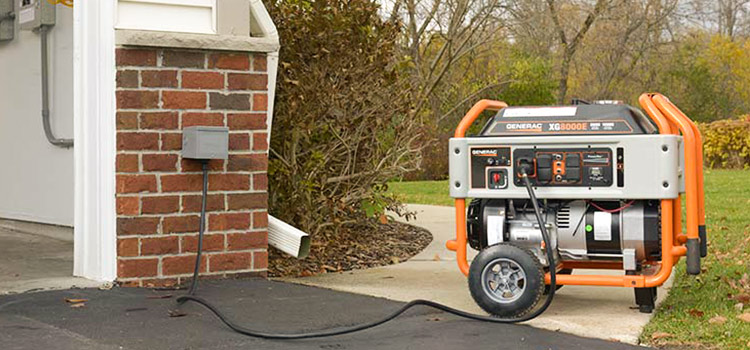 How to Hook Up Generator To House Without Transfer Switch
You may need to run backup power in your home sometimes. Depending on where you live, some areas will require a generator more than others. However, it may sound unusual to hook up your generator without a transfer switch, but it is possible in some ways. The steps to do that are given below.
Step 1
In your home's electrical panel, install a double pole circuit breaker. The rating of your circuit breaker is critical to remember. We recommend using a circuit breaker rated for the amperage of your generator.
Step 2
Along with the circuit breaker, install the interlock hardware. This ensures that when the mains circuit breaker is activated, the generator circuit breaker is deactivated and vice versa. And the installation is legal.
Step 3
Locate and select a suitable position for your outdoor plug. Always keep in mind that your generator should be kept outside your home, not in the garage. You should keep in mind that, the fumes emitted by the generator contain hazardous chemicals such as deadly carbon monoxide, which is extremely toxic if inhaled.
Also, keep in mind that the area you choose for your generator should have some shade and be clear of water. You should be aware that water and electricity do not mix.
Step 4
Connect the heavy-duty power code to your plug and the other end to your generator's output. The plug connections will normally correspond to the output of your generator. At the same time, you don't have to worry about connecting the power cord to the plug incorrectly. It is designed to plug in only one way.
As a result, it eliminates human error because the live and ground or earth connections cannot be mixed. Now, connect the cord to the generator side in the same way. Check that the cord is securely fixed and will not come out if pulled. Some require you to turn the code to lock it into place.
Step 5
Examine the circuit to check if it works as it should. Most essential, ensure that the hardware interlock is functional. When the grid electricity is turned on, switching on the generator circuit breaker should be impossible, and vice versa. When one source of electricity is present, the other should be entirely isolated.
Remove the connecting heavy-duty power cord when grid power is available and you do not need a generator. You have to make sure the plug or connecting port cover is closed so that no water can enter the terminals. When not in use, keep the generator in a secure, safe location.
Tools You Need
You will be needing a double pole 220/240V circuit breaker. Along with that, an outdoor weatherproof plug, generator interlock kit hardware, and a heavy-duty power cord that connects your generator to the plug.
Frequently Asked Questions
Do I need a generator transfer switch?
A generator transfer switch is a device that safely transfers electrical power from the generator to the house. Code requires the device in all sections of the country. Most of us, though, are unaware of this.
GTS is a device that prohibits your generator from feeding back into the grid. You are in breach of the NEC code if you do not have this device.
Which is better transfer switch or interlock?
In the event of a short circuit or a fault, the interlock is used to separate a circuit from the rest of the electrical system. This is mostly used for safety and to prevent arcing. In a home, the interlock switch is more prevalent. The transfer switch is utilized in large buildings when multiple circuits are controlled by a single switch.
Both have advantages and disadvantages. Transfer switches ARE excellent, and they are required if you have a generator. However, they are more expensive and larger than interlocks.
An interlock is a good substitute, although it is not as effective as a transfer switch. It's less expensive, but it's not as dependable.
Conclusion
The installation of a generator should not be done by an amateur, except in case of emergency. With that said, if you think these steps are out of your depth, you could always consider hiring a qualified electrician to install a transfer switch to your generator.