In a dual capacitor fan switch, capacitors are connected in parallel which results in high torque and more power consumption. Usually, a single capacitor fan switch is connected to devices that need only one capacitor. Thus you may need two single capacitor switches to make a dual. Different ceiling fans provide different options for selecting the fan's speed. It might be as simple as changing the capacitance value, or it can be as complex as using winding taps.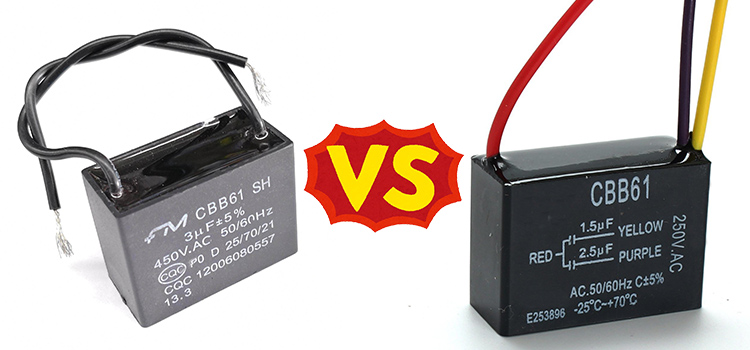 What Is the Difference Between a Single Capacitor and a Dual Capacitor?
The main difference between a single and dual capacitor lies in the name. A single capacitor has two terminals whereas a dual capacitor has three terminals including two capacitors in a package.
A single unit run capacitor is connected to a single motor and is typically found in smaller HVAC systems, such as air conditioners. As mentioned, two capacitors are combined into a single unit in a dual-run capacitor. You may supply two electric motors with a dual-run capacitor.
By integrating two physical capacitors into one box, the dual capacitor saves space. The three terminals on the dual capacitor are designated C for common, FAN for fan, and HERM for hermetically-sealed compressor.
Can I Use a Dual Capacitor in Place of a Single Capacitor?
A dual capacitor can be replaced with two single capacitors. If you need a 35/5 F capacitor for your AC unit, for example, you can buy an individual 35 F and an individual 5F capacitor.
Then use a wire jumper to connect one terminal of one capacitor to one terminal of the other capacitor and name those terminals the "common" terminal. The "herm" or "compressor" terminal on the large capacitor will be the other terminal, whereas the "fan" terminal on the small capacitor will be the other terminal.
Can We Use 2 Capacitors in Fan?
In most ceiling fans, two capacitors in parallel series are employed. The motor is also known as a "permanent split capacitor motor" or a "two value capacitor run motor." In the split-phase induction motor's starting winding, one high-capacitance capacitor will be attached.
Induction motors permanent capacitor motors with one winding directly linked to the mains and the other connected through a capacitor. Self-starting induction motors are not available. An induction motor with no capacitor has no starting torque. When we add a capacitor, however, the starting torque increases.
Dual capacitors will increase capacitance, will provide high starting and running torque, and will consume more power. Also, the current through a capacitor grows as capacitance increases, implying that copper losses will be considerable, resulting in overheating. It all depends on the value of the capacitors you use. If both capacitors are too high, it can cause failure.
Does Changing Capacitor Increase Fan Speed?
Yes. The fan motor's voltage increases when the capacitance is increased, but the capacitor's voltage decreases. Thus, the fan's speed increases. You must raise the capacitor value to boost the fan speed.
Conclusion
Capacitors are highly implemented in fans. The major differences between single and dual capacitors are quite obvious. Both can be useful for the motor. However, dual capacitors are preferred in many cases as they save space and increase capacitance at once.