Can A Bad Breaker Cause Low Voltage [Answered]
Yes, a faulty circuit breaker can, perhaps, cause low voltage issues in an electrical system. A circuit breaker may of course malfunction or deteriorate over time. And in that case, the breaker becomes unable to properly handle the electrical load. This often can lead to various issues including low voltage.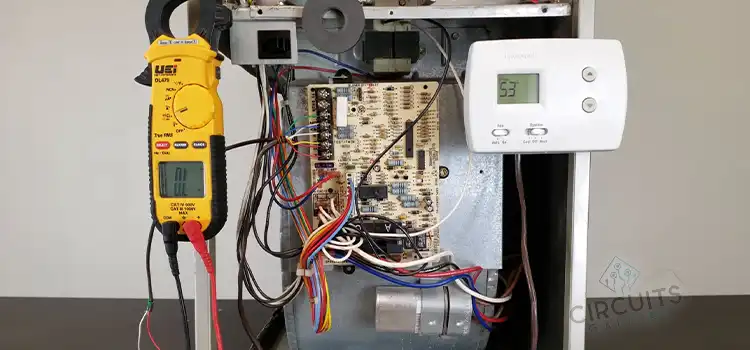 What Does A Bad Circuit Breaker Mean
A bad circuit breaker typically means that the breaker is malfunctioning or damaged in a way that prevents it from performing its intended function properly.
This can lead to electrical issues such as frequent tripping, unreliable protection against overloads and short circuits, or a disruption in the electrical supply. A bad circuit breaker should be inspected and replaced or repaired by a qualified electrician to ensure the safety and reliability of the electrical system.
How A Bad Circuit Breaker Causes Low Voltage
A bad circuit breaker can potentially cause low voltage in a few ways, here are some scenarios:
Contact Resistance
Circuit breakers have internal contacts that open and close to control the flow of electricity. Over time, these contacts can degrade due to arcing and wear, resulting in increased contact resistance. Higher contact resistance can lead to voltage drops across the breaker when current flows through it.
Partial Tripping
If a circuit breaker is not functioning correctly, it might not trip (open) as intended during an overload or fault condition. This could lead to excessive current flowing through the circuit, causing a voltage drop across the circuit.
Mechanical Failure
Breakers can experience mechanical failures that prevent them from making proper contact or closing fully. In such cases, the circuit might not be able to carry the intended current, leading to voltage drop and reduced voltage levels.
What Are The Signs Of A Bad Circuit Breaker
A circuit breaker that is malfunctioning or going bad can exhibit various signs. Some of the signs are given below:
A burning type of smell around the breaker panel may indicate that the breaker is generating excessive heat. The overheating can be due to poor contact or internal issues.
For any circuit breaker which is tripping on and off, especially under normal load conditions, may indicate that the breaker is gradually becoming weak or failing.
When the resistance is excessive, one can feel that the breaker is very hot to the touch. This might result from either poor connections, worn contacts, or overloaded circuits.
It might happen that a circuit breaker takes longer than usual to trip after an overload or fault has occurred. In this case, there might be some internal issues that are affecting its response time.
Breakers should trip consistently when an overload or fault occurs. If a breaker is tripping inconsistently or failing to trip when it should, it might be a sign of internal damage or a malfunctioning trip mechanism.
How To Replace A Bad Circuit Breaker
Simple steps can be followed to replace a bad circuit breaker:
Turn Off the Power.
Remove the panel cover.
Identify the bad breaker.
Remove wires from the bad breaker.
Remove the bad breaker.
Insert the new breaker.
Connect the wires to the new breaker.
Replace the panel cover.
Turn on power.
Solution To Prevent Circuit Breaker From Going Bad
To prevent circuit breakers from going bad and if you want to ensure the safety and reliability of your electrical system, you can take the following measures.
Proper Sizing
Firstly, ensure that the circuit breakers are correctly sized. This means that the electrical load they are protecting have the right values aligning with it. But you need to avoid overloading circuits with too many appliances or devices.
Regular Maintenance
You have to schedule routine observations. Also, you need to do maintenance checks of your electrical system; the best is by a qualified electrician. They can identify and address potential issues before they become serious problems.
Upgrade Older Breakers
Next, you need to consider upgrading older circuit breakers. Moreover, if your home has an older electrical panel it's important. Modern circuit breakers often offer better performance and safety features.
Avoid Overloading Circuits
Also, distribute your electrical load evenly across different circuits. In that case, avoid running multiple high-power appliances on the same circuit.
Proper Wiring
Ensure that your electrical wiring is up to code and in good condition. Faulty or outdated wiring can lead to circuit breaker issues.
Use Surge Protectors
Install surge protectors to safeguard sensitive electronic equipment from power surges and spikes. This can help prevent damage to your electrical system.
Address Wiring Issues
If you notice flickering lights, sparking outlets, or other electrical issues, have them inspected and repaired promptly. Faulty wiring can strain circuit breakers.
Frequently Asked Questions and Answers – FAQs
Q1. Can a circuit breaker become gradually weak over time?
As a possibility, yes, it is possible to become weak. But practically speaking, usually, the circuit breaker doesn't become weak over time.
Q2. Can I test and replace a breaker by myself?
It is not safe to work with electricity without prior experience. But if you have proper equipment and knowledge then you can certainly do it.
Q3. What happens if you have a less working breaker?
A weak breaker will create a number of issues. The issues include malfunctioning to firing. So, it would be good if you could check the breaker and replace it as soon as it becomes weak.
Conclusion
For any electrical system, circuit breakers play a critical role in maintaining the safety and functionality of electrical systems. And it is furthermore important in terms of protection. They offer a level of control, protection, and adaptability that is essential in a wide range of applications.
Subscribe

to our newsletter

& plug into

the world of circuits