No, you can't use electrical tapes instead of wire caps as a permanent solution to open wires. But you can use it as a temporary solution to the problem.
Tape can be used to secure loose live wires that do not fit within the cap. To fit into the cap, simply wrap the tape around the live wire. However, it is critical to terminate the wire in a junction box rather than burying it in the wall.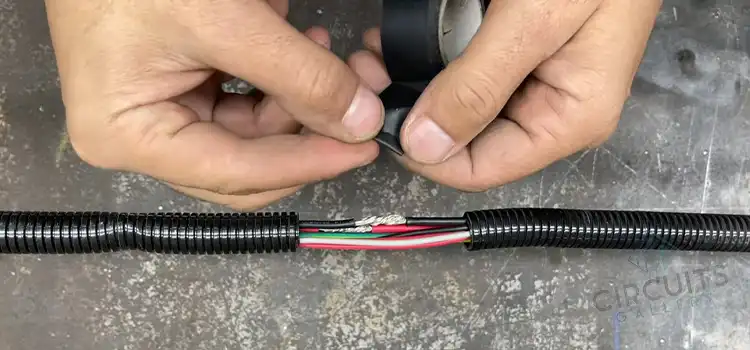 Why Electrical Tape Is Not a Reliable Alternative to Wire Caps
The disadvantages of electrical tapes prevent them from being used as a substitute for wire caps. Some disadvantages are illustrated below:
1. Durability
The adhesive on electrical tape may fade over time, particularly in high-temperature situations or when exposed to UV radiation, thus jeopardizing its usefulness.
2. Mechanical Strength
While electrical tape has some mechanical strength, it may not provide the same level of security as wire caps, especially in applications that are prone to vibrations or movement.
3. Code Compliance
Some countries require the use of wire covers for certain types of connections, rendering electrical tape inappropriate for compliance in particular cases.
Can You Use Electrical Tape to Cover Bare Wires
Yes, electrical tape can be used to cover bare wires as a temporary solution. To cover bare wires with electrical tape consider the factors below:
1. Safety Concerns
Make certain that the electrical tape you use meets the safety criteria for the individual application. Wire caps are recommended in critical or high-risk scenarios to ensure a secure and stable connection.
2. Regulatory Compliance
Become acquainted with local electrical codes and laws to guarantee compliance with applicable requirements. Noncompliance with regulations might result in safety dangers or legal consequences.
3. Long-Term Resilience
Examine the connection's expected lifespan and environmental conditions. Wire caps may be a more sturdy and trustworthy option if the connection is expected to be long-lasting or subjected to extreme conditions.
What Is the Difference Between Wire Caps and Electrical Tapes
The factors that distinguish between wire caps and electrical tapes are:
1. Ease of Use
Electrical tape wraps readily around wires, whereas wire caps must be twisted and tightened. Electrical tape provides greater flexibility in confined spaces or intricate wire layouts.
2. Electrical insulation
It is provided by both electrical tape and wire caps. However, due to their construction, wire caps often provide a more reliable and consistent insulation level.
3. Mechanical Strength
When compared to electrical tape, wire caps provide a stronger and more secure mechanical connection, especially in situations prone to vibrations or movement.
4. Reliability
Wire caps are specifically designed for electrical connections, ensuring a consistent and dependable connection. They have been thoroughly tested and confirmed to be long-lasting. While electrical tape is appropriate for some applications, it has limitations in terms of long-term durability.
Will Using Electrical Tape Pass Electrical Inspections?
In most places these days, putting electrical tape alone (even to secure twisted-together wires) on a power connection is a code violation. Electrical tape is intended to be used for insulation rather than to physically secure connections.
Conclusion
While electrical tape can be a quick and cost-effective alternative in some cases. But it is critical to evaluate the unique requirements and safety concerns of the electrical connection. Wire caps, with their solid connection and dependable insulation, are typically the preferred choice, particularly in high-voltage systems.