Electrical tape is one of the most common items in any electrical work. It is used extensively for different purposes. For example, it is a handy tool for differentiating lines in a junction. Not to mention, the different kinds of electrical tapes also help it to classify further when used with other wire lines.
Electrical tape is nonconductive. It is essentially rubber or vinyl with an adhesive part. And as we know, rubber or vinyl is a good insulator. So the electrical tape also acts as an insulator. But under some circumstances, it can also become somewhat conductive.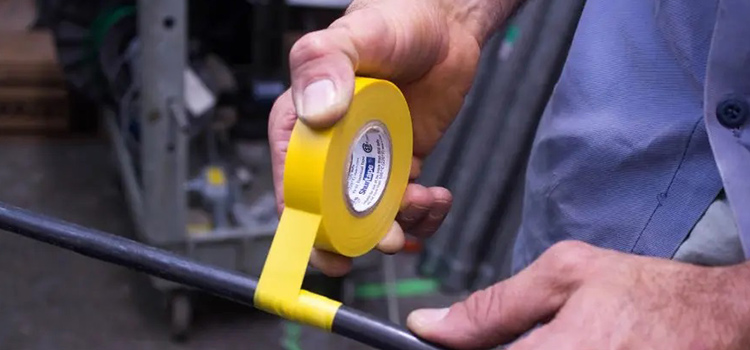 Is It Safe to Put Electrical Tape Over Exposed Wires
It is relatively safe to put electrical tape over the exposed wire than leaving them exposed. But it would be best if you used black electrical tape to do so. That is because black electrical tapes have the lowest conductivity and the highest resistance to wear and tear.
If you want to put electrical tapes on a joint, it is best to cover it with a wire nut first, then put tape around it if necessary. Putting electrical tape directly on a joint can be a wrong decision. That is because they get pretty hot while conducting current.
Electrical tapes are made to insulate current, but the heat can char the tapes from the inside. If that happens, it will become conductive and can short circuit if it comes in contact with other wires.
And if the heat is too much, the tape can also melt and expose the wire. This melting can create a hazardous situation.
What Kind of Tape Is Conductive
There are actually two types of conductive tapes. One of them is the Isotropic Conductive Tapes. This kind of tape can conduct current in any direction. The primary use is in chip bonding.
And the other kind is the Anisotropic Conductive Tapes. This one only allows for a unidirectional flow of current. This one is not as flexible as the other type, but it is a better choice for binding LCD, LED, etc.
One of the common electrically conductive tapes is copper foil tapes. This tape is essentially a low resistance copper foil with adhesive.
What Kind of Tape Is Non Conductive
You can find different kinds of non conductive tapes in the market. They are essentially made from non conductive materials. So when used on an electrical wire, electricity does not pass through them.
The most standard non conductive tape for electrical work is the Electrical Tape. These electrical tapes are made mostly from non conductive rubber. But you can also find plastic and vinyl tapes on the market, which are also non conductive.
Is Clear Tape Electrically Conductive
Clear tape, otherwise known as scotch tape, is a pretty good conductive. Clear tapes are usually made to hold a considerable amount of weight. So, the adhesive can hold a lot of pressure.
But it is not made for electrical works. So it uses electrically conductive materials. As a result, clear tape is also electrically conductive.
Is Duct Tape Conductive
The conductivity of duct tape depends on the materials. The primary duct tape is usually a big adhesive aluminum foil. Aluminum is fairly conductive. So aluminum duct tape will also be conductive.
On the other hand, if the duct tape is plastic, it will not be too conductive since plastic doesn't conduct electricity too much. But of course, if the duct tape comes into contact with moister, it can become conductive no matter the material.
Conclusion
So no, electrical tapes are not conductive when appropriately used. But it can become conductive when exposed to heat or melt to expose the wire they hold. Thus, you have to be careful about using electrical tape in your work to avoid situations that become a problem down the line.