Metal Clad vs Metal Enclosed | Which Switchgear is Right for You?
Electrical switchgear serves a crucial role in the safe and reliable function of an electrical power system. Both metal-clad and metal-enclosed switchgear are excellent instruments with their own advantages and drawbacks. Choosing the best one for a specific project is vital, as it can significantly impact the performance and safety of your electrical system.
In this article, we will delve into the basic and more in-depth differences between metal-clad and metal-enclosed switchgear to help you make an informed decision.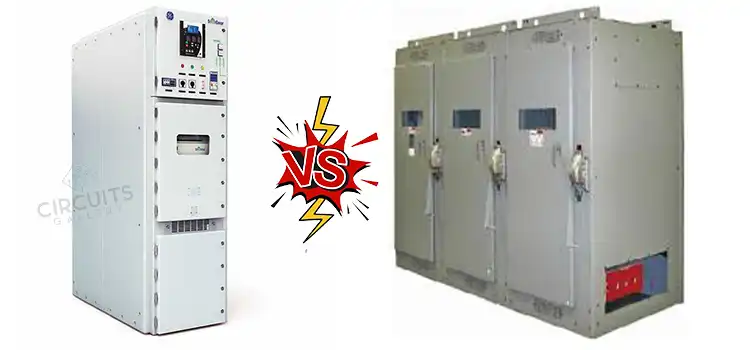 Metal Clad Switchgear
As the name suggests, metal-clad switchgear is constructed with a metal enclosure surrounding its components. All the basic components, such as circuit breakers and disconnect switches, are located in separate compartments within the metal enclosure to ensure safety and prevent internal arcing.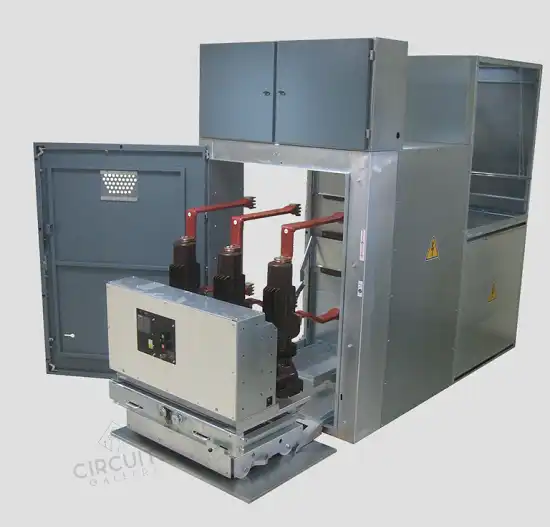 Figure: Metal Clad Switchgear
Advantages
There are several pros to metal-clad switchgear in terms of safety, design, and maintenance.
Enhanced Safety
A Metal-clad switchgear is well-protected against internal faults, which reduces the risk of fire and electrical hazards.
Ease of Maintenance
In metal-clad switchgear, each compartment is separated. So, the separate compartments ensure manageable maintenance and repairs, as they can be performed without shutting down or examining the entire system.
Voltage Rating
Metal-clad switchgear is commonly applicable in medium-voltage applications. The range is typically between 2.4 kV and 38 kV.
Disadvantages
The main disadvantages of metal-clad switchgear are as follows.
Cost
Metal-clad switchgear is typically more expensive as it has a more complex design and materials.
Limited Accessibility
Metal-clad switchgear requires more space as there are separate compartments for each section.
Metal Enclosed Switchgear
Even though Metal Enclosed switchgear is enclosed in a metal housing, its design differs from metal-clad switchgear. In a metal-enclosed switchgear, the components, including circuit breakers and switches, are installed within a single sealed compartment. It consists of a single metal enclosure that contains all the components of the switchgear.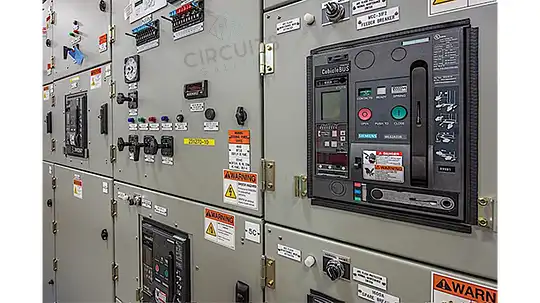 Figure: Metal-enclosed switchgear
Advantages
Metal-enclosed switchgear offers quite a few advantages, such as affordability, efficiency, and simplicity.
Lower Cost
Metal-enclosed switchgear is often a more budget-friendly option. cost-effective, making it an attractive option for budget-conscious projects.
Simplicity
For applications where space allocation isn't a concern, metal-enclosed switchgear offers ease of access, which can be a great advantage.
Disadvantages
Reduced Safety
Compared to mela-clad switchgear, metal-enclosed switchgear potentially possesses a higher risk of internal faults leading to arcing and safety hazards.
Maintenance Challenges
Performing maintenance on components within a single compartment can be more complicated and may require shutting down the entire system.
Which One Should You Choose?
Each project has its own budget constraints, maintenance conditions, and other specific requirements, which are important factors to consider.
Safety Prioritization
Safety should be a primary concern for any electrical project. For ensuring better safety measures, metal-clad switchgear is a more suitable choice.
Budget Constraints
If you have budget constraints and are okay with some trade-offs in safety and ease of maintenance, metal-enclosed switchgear is a more suitable option for you.
Space Availability
The choice between metal clad or metal enclosed can greatly impact the allocated space of your project. Metal-clad switchgear takes less space, making it better for a space-efficient plan.
Maintenance Strategy
Metal-clad switchgear is preferable for better ease of maintenance and can handle shutdowns when maintenance is needed.
Frequently Asked Questions and Answers
Q1. What are the advantages of metal-clad switchgear?
Ans: Metal-clad switchgear offers great service in applications where maximum service continuity is required.
Q2. What type of switchgear is most commonly used?
Ans: Medium-voltage switchgear is mostly used, for systems with voltages between 1kV and 35kV.
Q3. What is the IEC standard for metal-clad switchgear?
Ans: The IEC standard for metal-clad switchgear is IEC 62271-200, part of the IEC 62271 series of standards for metal-enclosed switchgear and control gear for rated voltage from 1kV to 52kV.
To Conclude
Both metal-clad and metal-enclosed switchgear offer different functionalities with their pros and cons. The decision to choose between them is system-specific, depending on your project's requirements, budget, and safety considerations. Analyze your project needs, and consult with experts if you need to ensure the reliability and safety of your electrical system.
Subscribe

to our newsletter

& plug into

the world of circuits