Noalox is a specially developed substance that protects against corrosion and improves conductivity.
Generally, noalox is an anti-oxidant. An anti-oxidant prevents disconcerting and locking on aluminum conduit joints. To avoid additional oxidation, the carrier material excludes air. They also extend the life of aluminum electrical applications.
Noalox is almost like dielectric grease or Vaseline, it conducts electricity. It fills the minuscule spaces between the contacts and reduces resistance. As a result, the conductivity becomes improved.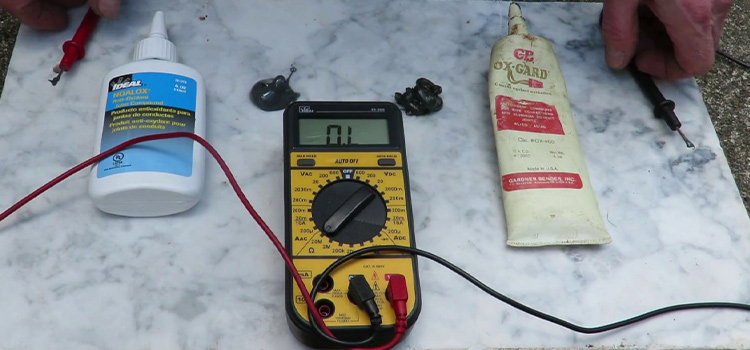 Is Noalox Conductive?
Yes, Noalox is conductive. As we have said earlier, noalox is an anti-oxidant and also an anti-seizing compound. The main function of noalox is to prevent corrosion. It also improves the integrity of the connections.
Where to use Noalox?
Usually, Noalox is used in copper to aluminum connections or copper to copper connections. But according to research, new aluminum wires nowadays do not require noalox.
Is Noalox dielectric grease?
Noalox is a specially formulated product similar to dielectric grease and conducts electricity.
What is the purpose of Noalox?
The main purpose of noalox is to remove the formation of oxide on the outside of a conductor. Again Noalox reduces the galling and seizing on aluminum conduit joints and suspended zinc particles enter and remove aluminum oxide. And most importantly it Extends the life of aluminum electrical applications.
Does dielectric grease reduce resistance?
When corrosion occurs in an electrical circuit high contact resistance is formed. As a result, it reduces the flow of current. The use of dielectric grease reduces that higher contact resistance and increases the flow of current.
Is dielectric grease just Vaseline?
In most cases, Vaseline can be used instead of using dielectric grease. But there are a lot of differences between dielectric grease and vaseline.
By meaning
Dielectric grease is a transparent material used to seal and safeguard electrical wires against sand, dirt, dust, and other foreign contaminants. But Vaseline is a term used to refer to petroleum jelly.
Preservation Strength
When it comes to maintaining connections, dielectric grease is superior to Vaseline. At extreme temperatures, vaseline does not last longer compared to dielectric grease.
Melting Point
Vaseline has a very low melting point compared to dielectric grease.
Quite often people use Vaseline and dielectric grease on their automobiles. In the case of room temperature, it might be okay. But it is advisable to not use vaseline in case of high temperature.
Is antioxidant the same as dielectric?
No, they are not the same. The antioxidant is used to stop the oxidation of the metal and the dielectric is used to stop the flow of electrons.
Frequently Asked Questions
Where we should not use dielectric grease?
Dielectric grease is silicon grease. So on silicon-based rubber or plastics no one should use dielectric grease. Otherwise, it will damage them over time.
Conclusion
So it is clear from the above discussion that noalox is one type of antioxidant paste that is used generally for both the connector and the conductor. It strengthens the connection between two conductors and also reduces contact resistance and thus improves conductivity.