How Many Ceiling Fans on a 15 Amp Circuit? Technically Answered 
When it comes to installing multiple ceiling fans, it's important to understand how many fans the electrical system can handle. On a 15 Amps Circuit, a maximum of 18 fans can be connected. Exceeding the capacity of a circuit can lead to the tripping of breakers or even dangerous overloads.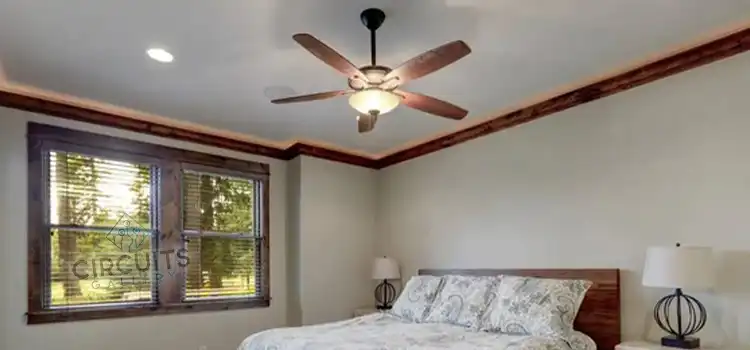 Understanding Amps and Circuits
The number of ceiling fans possible to install on a typical residential 15 amps 120 volts circuit depends on various factors.
The factors include each fan's wattage or power consumption, the presence of other electrical devices or appliances on the same circuit, and the overall electrical load the circuit can handle without exceeding its capacity.
We'll need to go through a few quick calculations to find the capacity of a 15-amp circuit for ceiling fans.
Calculating Amps per Ceiling Fan
Assuming the fans installed will be standard residential units with a moderate fan speed setting. These fans draw 50-100 watts, but a typical power consumption is around 80 watts. By multiplying the voltage and amperage, pf 15 amps and 120 volts, the breaker can supply a maximum of 1800 watts.
Wattage= 120V x 15A = 1800W
According to electrical code, continuous load devices like ceiling fans should not utilize more than 80% of the circuit capacity. That means wattage available for the fans,
Wattage=0.8 x 1800 = 1440 W.
By dividing the 1440 watts by the 80 watts per fan assumption, the number of fans is approximately,
Number of fans = 1440/80 = 18
So, on a 15-amp circuit, 18 ceiling fans can be accommodated.
What Happens If Too Many Ceiling Fans on a 15 Amp Circuit?
Connecting too many ceiling fans to a standard 15-amp residential circuit can be unsafe. If the total current draw exceeds 15 amps when multiple fans and lights run, it could overload the circuit. This overload may cause the circuit breaker to trip suddenly, shutting off power to the fans and lights.
However, an old or faulty breaker may fail to trip, allowing damaging current levels to flow through the wires. Overheated wires pose serious fire and electrocution hazards.
How to Avoid This
To prevent these dangers, it's important to ensure the circuit breaker works properly and limit the number of fans and other devices on the circuit so the total current draw does not exceed the 15 amps rating. Proper planning of electrical loads is crucial for safety.
Point of Consideration
While the above calculations determine a maximum of around 18 fans, the actual capacity may vary based on:
The actual wattage ratings of the specific fan models used. Always check manufacturer specs.
Higher voltage circuits can deliver more power, allowing for more ceiling fan installations.
Any other lighting or outlets on the circuit will consume some available watts.
Local building codes may require an additional dedicated circuit for many fans.
More energy-efficient ceiling fans use less power, enabling more fans on the circuit.
When adding multiple fans, use a voltmeter to test the circuit load.
Frequently Asked Questions and Answers (FAQs)
1. Is it better to have each fan on its own switch?
Answer: Yes, having each fan separately switched gives the user control of the circuit load and spreads it across different breakers if needed.
2. Can the Bulbs Become Dimmer if Lower Wattage Bulbs Are Used in Series?
Answer: Yes, lower-wattage bulbs will be dimmer in a series circuit because they have higher resistance. According to Ohm's law, higher resistance means less current for the same voltage. Less current results in less power dissipated and a dimmer bulb.
3. Is Using a Larger Amperage Circuit for More Fan Capacity Okay?
Answer: Yes, safely installing more ceiling fans on a 20 amp or larger circuit is possible by following the same calculations. This may require upgraded wiring and breaker changes.
To conclude
With some basic electrical knowledge and preparation, it is possible to safely install multiple fans on residential 15-amp circuits. But be sure to verify actual fan wattages, monitor circuit loads, and check local codes when approaching capacity limits. Proper planning will allow better air circulation by adding more ceiling fans at home.
Subscribe

to our newsletter

& plug into

the world of circuits