A little above 2,600 degrees Fahrenheit or 1,400 degrees Celsius is the hottest a butane torch can get. The fact that it can melt metals like aluminum and copper is enough to demonstrate its capabilities. However, the amount of heat a butane torch can deliver provides the best results in kitchen use rather than melting metals.
On the flip side of things, a butane torch generates enough heat yet not enough for tasks like welding or melting glass. And though it will get you through melting gold, you will be better off using a propane torch if you're into welding and stuff.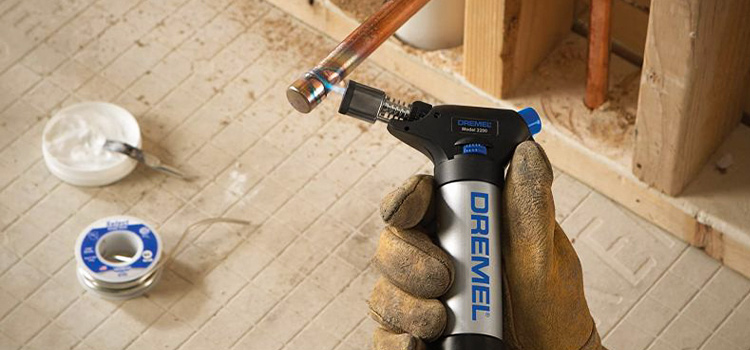 How Hot Does a Butane Torch Get
Butane torches available for consumer use can get significantly hot, reaching temperatures as high as 2,610 °F or 1,430 °C. Although it is not enough to melt steel or handle welding jobs, it will allow you to melt copper and aluminum with ease.
In addition, a handful of organic compounds will start to evaporate when heated with a butane torch. Best of all, you can even melt pure gold with the amount of heat it generates. Plus, butane torches are safe to use for culinary purposes.
Can a Butane Torch Melt Glass
The temperature at which most glasses melt is between 1,400 and 1,600 °F, achievable with most propane torches. However, specialized glass materials of modern days can have a pretty low melting temperature, around 900° F.
And the hottest a butane torch can get is nearly 2,600 °F. So, technically, a butane torch should be able to melt glass. But in reality, glass is not that easy to melt and requires the ultra-high heating capabilities of MAPP gas.
Can You Melt Steel With a Butane Torch
Steel has a high melting point, at around 2,500 °F (1,370 °C), almost the same as the hottest a butane torch can get. Therefore, melting steel will not be smooth sailing with a regular butane torch. In contrast, propane or MAPP gas blow torches will provide better results due to their high burning temperature.
Can You Melt Copper With a Butane Torch
As long as you can generate 2,000 °F, melting scrap copper is not that big of an issue. And luckily, most butane torches in the market will let you achieve such an amount of heat and more. As a result, you can melt copper using a butane torch for creating artwork or transform it into ingots.
What Gets Hotter Butane or Propane
Propane torches can get pretty hot, up to 3,600 °F (2,000 °C), whereas a consumer-grade butane torch does not go beyond 2,610 °F (1,430 °C). So, propane gets hotter than butane but at the same time emits more carbon monoxide. Hence, it requires more ventilation than butane to reach the peak temperature.
What Burns Hotter Butane or Mapp Gas
Butane falls behind propane when it comes to burning temperature, let alone MAPP gas. That is to say, MAPP gas burns the hottest as compared to most blowtorch gases, so much so that it can cook food all by itself. However, it is pretty expensive and does not burn as clean as butane. Besides, butane offers better temperature control.
Butane Torch Welding
With the notion that it can melt aluminum and copper, a common question is if you can weld with a butane torch. Simply put, you cannot. In other words, the level of heat you can reach with a butane torch is just not adequate for efficient welding. So, if you were thinking of welding with a butane torch, you might be out of luck.
Final Words
So, how hot does a butane torch get? Approximately 2,500-2,700 °F is the maximum you can expect from a consumer-grade butane torch. Hence, welding or melting metals is not its strongest side. But a butane torch delivers excellence in tasks like caramelizing fruits, cooking bacon, searing meat, or softening cheese.