How Much Current Can Cat5 Carry
According to the Handbooks of Electronic Tables and Formulas for American Wire Gauge Cat5 can carry 0.577 Amps or 500 mA. Category 5 in short CAT5 is also known as Ethernet cable, LAN cable, or network cable that consist of 4 twisted pair cable or 8 cables of copper 24 AWG (American Wire Gauge) wire which is terminated by an RJ-45.
CAT5 cable is used to transmit data in homes and offices and can transmit data up to 100 Mbps speed distance up to 100 meters. This cable has a specific wire order and will not transmit data if the orders are incorrect. The order will be the same for the two ends of the wire. There are two standards T568A and T568B.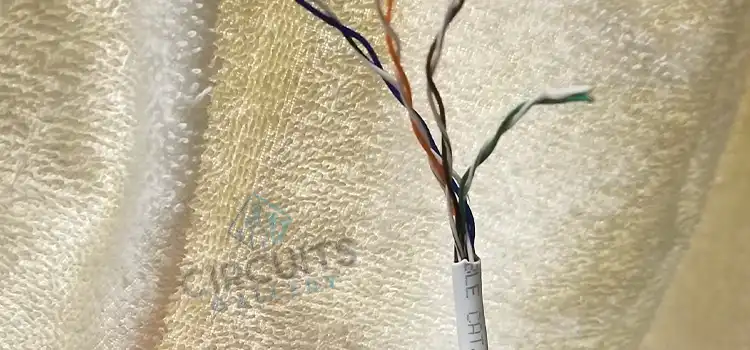 Do Cat5 Cables Carry Power?
CAT5 cables can carry up to 15.4 watts of power using power over Ethernet standard. The power over Ethernet standard in short PoE standard is a technology to transfer power and data through the twisted pair Ethernet cable to the devices connected to it.
But the devices should be PoE capable or you can not be connected to a single Ethernet cable that will provide power and data. The advantages of the power of Ethernet (PoE) are:
It can run with one cable. So, you do not need to buy a power cable.
It reduces power sockets.
It will reduce installation costs and maintenance costs.
Some devices that use power over Ethernet (PoE) are:
IP cameras
VoIP phones
WAPs
Network routers
IP TV (IPTV) decoders
Intercom and public address systems
Hallway speaker amplifiers
How Many Amps Can An Ethernet Cable Handle?
The current Ethernet can handle depends on the categories of the Ethernet cable. You can know this better from the Handbook of Electronic Tables and Formulas for American Wire Gauge. The CAT5 cable transmits 0.577 amps of current. The CAT6 can transmit current (depending on the distance) from 1.2 amps to 2.2 amps.
Frequently Asked Questions
Can Cat5 Carry 24v?
Yes, cat5 can carry 24 volts until the current is too high. Because high current can be troublesome for the cable. The 18 gage cable carries 24 volts of electricity.
Can Cat5 Carry 240v?
CAT5 can't carry 240 volts. It can melt the wire or burn the wire. It can hurt someone. So, do not plug an Ethernet cable directly to 240 volts.
Conclusion
In this article, we have discussed about CAT5 ethernet cable and its usages. We also have discussed power over Ethernet standard in short PoE standard, the technology through which we can transmit power and data at the same time. We also have discussed voltages that can be dangerous for the cable.
Subscribe

to our newsletter

& plug into

the world of circuits