The black wire is commonly recognized as the positive lead- 'hot' one, while the white wire is the negative, common or neutral one.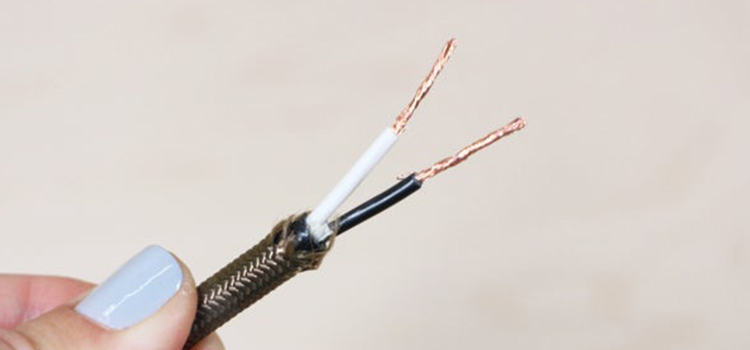 Black and White Wire Positive or Negative
Whether you're studying experimental electronics or fixing the cables of your household, it requires proper knowledge to detect the positive and negative sides of wires. Most of the time you have to detect the polarity by the color while for some instances there will be marked plus or minus signs. Convention of the US is that black and red are labeled as "hot", which alternates between positive and negative.
AC Components
For AC components, there are no positive or negative since the poles switch 60 times a second. So where does the question of polarity arise? For an AC circuit, the Black is usually the hot lead and the White is the Neutral lead, where green is always the ground. Red can also be a hot lead.
If you got an extension cord, the ribbed wire is usually the negative wire. For wires with both sides having the same color, the strand with a grooved or curved texture is the negative wire.
Another great method of detecting the positive or negative side of a wire is by using a digital multimeter. Note that using an analog multimeter is discouraged as connecting the wrong polarity might damage the device.
Multimeter Method
First, select the direct current voltage setting of your multimeter. Next, rotate to the selector switch, the large knob in the center of the multimeter. Select the DC voltage setting symbol looking like a capital "V" with a straight line over it.
Now connect any of the wires to the positive lead of the multimeter, and the negative with the another. Connecting a multimeter positive lead to positive, and negative to negative on the circuit, the meter will give a positive measurement. That is, for example, the display will show 5V.
If the connections are reversed you will get a negative voltage reading, for this case, -5V. Showing the same output for reversed connection means you got a faulty multimeter, or you messed up the settings.
To Conclude
While checking the polarity of the wires, note that reversing the polarity in a circuit can damage the power source, device or even cause an explosion. Connecting the wires in the reverse direction may also burn out the wires themselves. Make sure to always check the polarity of a DC power supply to protect your meter from damage.