While choosing the right diode size for your project, consider the packet size, and voltage rating and evaluate the maximum forward current. Choosing the correct size diode ensures optimal performance, prevents overheating, and avoids potential circuit damage.
In this article, we will discuss how to determine the appropriate diode size for your specific application, taking into account voltage requirements and other important considerations.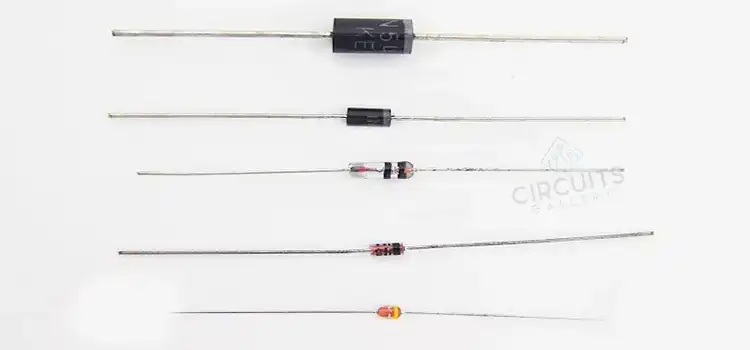 Understanding Diode Sizes
Figure: Different Diode Sizes
Diodes come in various sizes. It can range from small signal diodes to larger power diodes. The size of a diode depends mostly on its power handling capabilities and voltage rating.
Smaller diodes are typically used for low-power applications. On the contrary, larger diodes are designed to handle higher currents and voltages. Note that diode size does not directly correlate with its electrical characteristics, but rather its physical dimensions.
Sizing a Diode for Your Application
To choose the right diode size for your specific application, follow these steps:
Determine the Maximum Forward Current
First, you have to identify the maximum current that will flow through the diode during normal operation. You can find this information in the datasheet of the diode or obtained from the circuit design specifications.
Consider the Voltage Rating
The voltage requirements of your circuit are crucial for selecting a diode. If you need to handle higher voltages, select a diode with a higher voltage rating to prevent breakdown and ensure reliable operation.
Check the Power Dissipation
To calculate the power dissipation, multiply the forward voltage drop of the diode by the maximum forward current. Ensure the diode's power dissipation rating is higher than the calculated value to avoid thermal issues.
Evaluate Package Size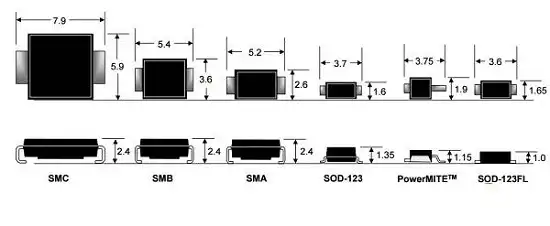 Figure: Packages of Diodes
Consider the available space in your circuit design and select a diode package size that fits appropriately. For compact designs, use smaller packages while larger packages offer better heat dissipation capabilities.
Common Diode Sizes and Applications
Diodes are available in various packages, such as DO-41, SOD-123, SMD, and more. The size of the package can vary depending on its power handling capabilities and intended application.
Small signal diodes, such as the popular 1N4148 are commonly used in low-power circuits. On the contrary, larger diodes like the 1N4007 are suitable for rectification and power supply applications.
Frequently Asked Questions and Answers (FAQs)
Can I use a diode with a higher current rating than necessary?
It is generally safe to use a diode with a higher current rating than required for your application. If your circuit rating is 10 amps, choose a diode with a current rating higher than that, maybe 15A or 25A. However, using a diode with significantly higher current capabilities may increase cost and larger physical size.
How do I choose a diode for a 12V circuit?
When selecting a diode for a 12V circuit, consider the maximum forward current and voltage rating requirements of your circuit. Ensure the diode can handle the expected current and voltage without exceeding its specified limits.
To Conclude
Choosing the right diode size is crucial for proper functionality and preventing circuit damage. Consider factors such as maximum forward current, voltage rating, power dissipation, and package size to select a diode that meets the requirements of your application. Also, remember to refer to datasheets and consult with technical experts when in doubt.