The basic difference between UL 1558 and UL 891 is- UL 1558 is a switchgear construction standard while UL 891 is a switchboard construction standard.
The construction of the switchboard UL 1558 has a fixed group mounting while the construction of UL 891 requires draw-out type breakers which are individually compartmentalized.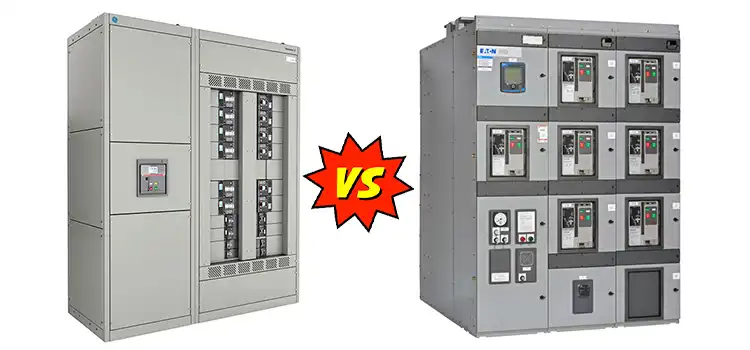 The Major Distinction Between UL 1558 and UL 891
UL 891 needs the equipment-under-test to tolerate fault currents for 3 cycles, while UL 1558 requires fault currents to be held for 4 cycles. Consequently, UL 1558 ratings suggest a more robust fault tolerance for the same amount of current. A more detailed discussion goes from here on.
Definition and Glimpse of UL 1558
UL 1558 – Standard for Metal-Enclosed Low-Voltage Power Circuit Breaker Switchgear defines safety tests for switchgear assemblies that service circuits operating at nominal ac voltages of not more than 1,000 volts.
UL 1558 testing evaluates switchgear that is designed in accordance with ANSI C37.20.1 and ANSI C37.51. UL 1558-compliant PCS (Power Control System) equipment features compartmentalized construction that limits arcing risks from inadvertent contact with energized equipment.
Definition and Glimpse of UL 891
UL 891 – Switchboards defines safety tests for power control equipment serving circuits operating at nominal ac voltages of not more than 600 volts. UL 891 testing is referenced throughout NEMA PB 2 – Deadfront Distribution Switchboards, the design document from which UL 891 was developed.
Compartmentalized construction is not required by UL 891. In practice, some major PCS manufacturers incorporate UL 1558 compartmentalization into their equipment regardless of whether UL 891 or UL 1558 ratings are required for an application.
Overcurrent Protection And Draw-out Design
UL 1558 restricts overcurrent protection to enclosed devices listed to UL 1066 – Standard for Low-Voltage AC and DC Power Circuit Breakers Used in Enclosures. Enclosed devices offer less opportunity for inadvertent contact and arcing. UL 1066-compliant devices use draw-out designs to facilitate inspection and service.
UL 891 allows additional circuit breaker types within the PCS equipment. As a result, UL 891 PCS can be equipped with both UL 1066 breakers and breakers listed to UL 489. So UL 891 PCS equipments include-
Molded-Case Circuit Breakers
Molded-Case Switches
Circuit-Breaker Enclosures
Fused disconnect switches
Insulated case breakers
Power breakers
Since the use of draw-out breakers is unnecessary, more equipment can be placed in UL 891 PCS than in UL 1558 equipment.
Fault Current Ratings
UL 891 equipment is typically available with fault current ratings of up to 150 KAIC (Kilo Ampere Interrupting Capacity). UL 1558 PCS is typically available with ratings of up to 200 KAIC. However, UL 1558 testing also produces short-time ratings for 30 cycles, or optionally, 60 cycles.
Short-time and Temperature Rise
Testing must also demonstrate compliance with temperature rise limitations specified by the standard. Short-time ratings and temperature monitoring are not required by UL 891.
Under UL 1558, short-time ratings provide additional flexibility for selectively coordinating overcurrent protection devices throughout a power distribution system. ASCO PCS equipment offers ratings of up 200 KIAC for 4 cycles and 85 KAIC for 60 cycles.
How UL 891 is Ahead of UL 1558
Power Control System or PCS equipment is available in both UL 891 and UL 1558 designs. But choosing UL 891 can provide the following step-ahead–
(1) A wider range of overcurrent protection devices,
(2) The most compact equipment configurations, and
(3) Potentially lower costs.
How UL 1558 Exceeds UL 891
Alternatively, selecting UL 1558 can provide-
(1) Higher voltage and fault current ratings;
(2) A lower risk of accidental contact with, and discharges from, energized components;
(3) Short-time ratings; and
(4) Additional flexibility for selectively coordinating overcurrent protection devices.
Frequently Asked Questions
What is the relation of UL 1558 to UL 1066?
Usage and installation of these class breakers are normally related but not limited to UL1558 Switchgear (switchboards) listed apparatus.
UL1066 classification type WL breakers are generally intended to provide main and feeder circuit protection in accordance with UL1066 Low-Voltage Power Circuit Breaker Standard for Safety. These breakers were also performance tested to comply with ANSI/IEEE C37.13, C37.16, C37.17, and C37.50. Throughout this document, any reference to UL1066 will also mean ANSI Certified.
Conclusion
UL 1558 is much more expensive and usually asks for rear access which can take up more space in an electrical room. UL 891 can usually be accessed completely from the front and therefore can be mounted up against a wall reducing the space needed in an electrical room.