Electrical tapes in general can be considered heat resistant up to 176° F. Some high-performance tapes such as vinyl electrical tapes can withstand around 221° F.
When the upper limit of the temperature is crossed, the mechanical and thermal properties of the tape start to get compromised. The adhesive starts to fall and the tape might melt and ignite, causing a potentially dangerous fire hazard.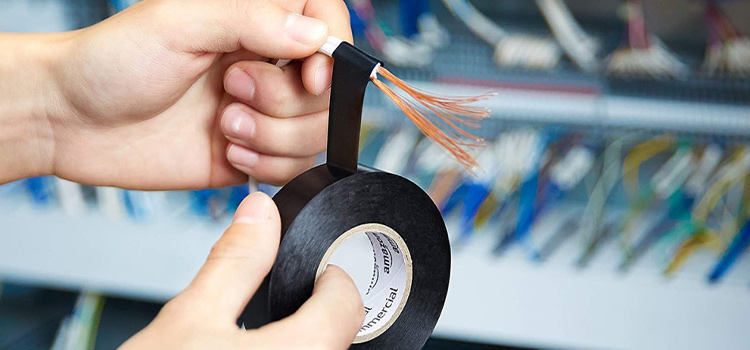 Is Electrical Tape Heat Resistant
Electrical tapes resist heat quite well but only to a certain extent. They are made with a PVC backing and rubber-based adhesive. This allows them to offer exceptional heat resistance.
Such tapes should be safe to use at temperatures around 176 degrees Fahrenheit or 80 degrees Celsius. Although, vinyl tapes can endure temperatures up to 200 degrees Fahrenheit. Therefore, it is pretty clear that the temperature ratings vary from model to model.
The Limit
Moreover, the electrically insulated tape will melt and deform when exposed to heat. This is why industry safety standards such as BS 4J10:1991 state that electrical tapes are supposed to be non-flammable, self-extinguishing, and can be used at a temperature up to 80°C. These standards relate to fire safety.
Another interesting fact about electrical tapes is that they have exceptional mechanical properties such as electrical insulation, abrasion, and heat resistance. Although, when used above 80°C, the mechanical and thermal properties of the PVC tape and the adhesive start to deteriorate.
Besides, electrical tapes are a good conductor of heat. As a result, in the wrong circumstances, it could create a fire hazard. Upon getting hot enough, electrical tapes might melt or ignite. Hence, the consumers need to ensure that the electrical tape in hand is strong enough to withstand the temperatures for the task at hand.
UL Rating
An important factor to look out for when buying electrical tape is the UL rating. The UL rating indicates that the electrical tape has been tested to handle extreme conditions. Therefore, consumers must look for a UL rating on electrical tapes before buying them. You can rely on these UL-rated tapes as they will resist heat unless the application involves extremely high temperatures.
Conclusion
Electrical tapes made of PVC are readily available and inexpensive despite having decent mechanical properties. Although it has some shortcomings such as toxic fume emission, it is versatile overall and extremely efficient. This set of properties makes it useful for commercial use and construction business.