The best option to remove dielectric grease is definitely using rubbing alcohol (US name) or methylated spirits (UK name). If you can find it, "absolute alcohol" that is at least 99% pure is an even better option. If you can't locate it anywhere else, try a pharmacist.
Dielectric grease keeps water out. It also acts as an electrical insulator. The issue with smearing it all over the outside of a connector is that when you remove it, part of it gets on the pins and into the sockets, resulting in faulty connections. The best strategy is to remove as much as possible before unplugging the connection.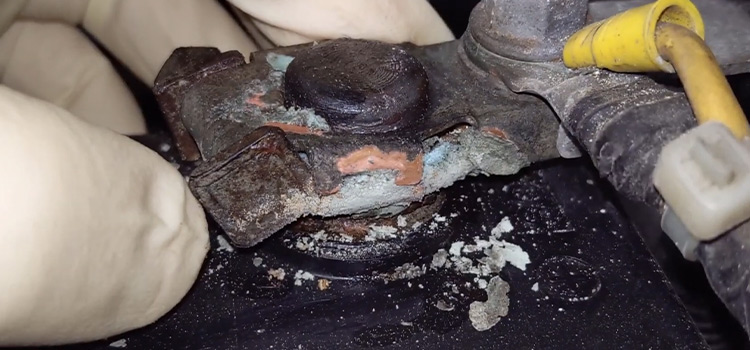 From Where To Remove Dielectric Grease
It is important to thoroughly remove dielectric grease from regions where metal contact points come into contact. As it dissolves into alcohol, it's best to use alcohol to remove the grease.
Grease's major purpose is not to dissolve or mix with any liquid it may come into touch with. So cleaning it off is challenging. Meths should include at least 90% alcohol by volume, but rubbing alcohol may contain as little as 70%. So look for a brand with the greatest alcohol concentration you can find to clean the grease off.
Where Should You Not Use Dielectric Grease
Because dielectric grease is silicone grease, it should not be used on silicone-based rubbers or plastics because it will degrade them over time. The grease does not conduct electricity. So, it should not be applied directly to the mating surfaces of an electrical connection (pins and sockets).
What Is Dielectric Grease Made Of
Dielectric grease is made up of silicone oil and a thickener. Polydimethylsiloxane (PDMS) is the most often used silicone oil, while amorphous fumed silica is utilized as a thickening. Fluorinated silicones are used to make more specialized varieties of silicone grease.
For lower temperatures, phenyl substituents are used instead of methyl groups in the PDMS. Other thickeners, such as stearates and powdered polytetrafluoroethylene, can be used (PTFE).
How Do You Clean Dielectric Grease on Connectors
Dielectric is a viscous non-conductive waterproof substance used to insulate electrical connections from corrosion and dirt. It is also known as tune-up grease. To clean it off the connectors you can use any of the following substances:
Specialty Cleaners: There are a variety of specialist cleansers available to dissolve the dielectric grease. You want to go with a trusted brand that has been confirmed to be safe. Furthermore, it is vital that you follow the prescribed recommendations to protect the components.
Rubbing Alcohol: Alcohol and acetone both cut through residue, carbon, and oil with ease. Some people use brake cleaner in the same manner, although this is not recommended. It can damage electrical connectors and break any plastic components with which it comes into contact.
Compressed Air: Compressed air is also useful when attempting some of the other approaches. Compressed air can be used to dry the surface before reconnecting the connections for any steps that require soaking the region.
Is Dielectric Grease Oil Soluble
Most liquids, including methanol, mineral oil, ethanol, and water, do not dissolve dielectric grease. As a result, it is utilized to make electrical components waterproof in maritime and outdoor applications. The dielectric grease, on the other hand, can be dissolved in xylene, mineral spirits, and Methyl Ethyl Ketone.
Silicon oil and thickener make up silicon-based dielectric grease. Polydimethylsiloxane (PDMS) is a silicon oil, while amorphous fumed silica, stearates, and powdered polytetrafluoroethylene (PTFE) are thickeners.
Can You Use Too Much Dielectric Grease After Removing
Yes, you can use too much dielectric grease. Adding a thick layer of dielectric grease to the interior of the spark plug boot will prevent you from pushing the socket all the way in. Make sure no dielectric oil gets in contact with the metal terminals or spark plug threads.
Using too much dielectric grease may result in a higher resistance, wiring overheating, or misfiring. Remember that dielectric grease should not be used at the distributor or coil ends of spark plug wires. It is important to remember that dielectric grease does not conduct electricity.
Conclusion
Dielectric grease is a translucent substance that is primarily used to cover and seal electrical circuits in motor industries, electrical circuits, and car applications. Vaseline is also used in industries to prevent corrosion and finish wood. However, it's weaker and will not last as long as dielectric grease.