You can walk on solar panels, given you know what you are doing. But it is best to avoid doing so because solar panels are prone to micro cracks. Walking on them may propagate the cracks and lead to loss of investment.
Solar panels are eco-friendly and a great way to minimize electricity costs. They come with many benefits. However, to maintain the panels in good working condition, it is important to design them properly so you do not have to walk on them for inspection.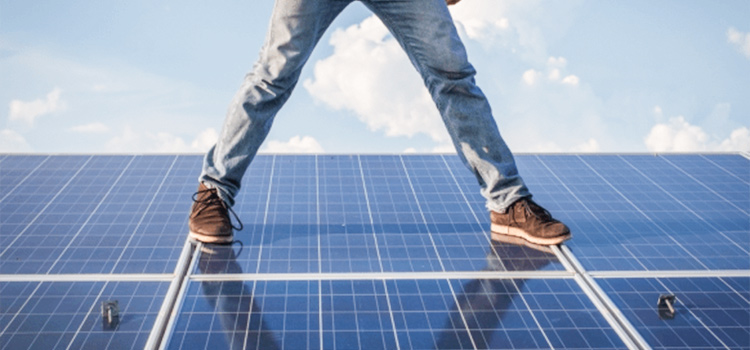 Reasons Why You Should Not Walk on Solar Panels
You should avoid walking on solar panels not because you might get electrocuted, but there are several reasons. They are explained in this section.
Expensive
Solar panels are expensive in terms of raw price and installation. The battery used for solar panels is expensive as well. You cannot risk breaking such expensive items by walking on them.
As solar panels are susceptible to minor cracks and crevices, walking on such panels will soon lead to major damages. It would lead to loss of money and investment.
Weather Conditions
Harsh weather conditions or natural calamities can make a small crevice bigger. This is because the constant thermal expansion and contraction will lead to the separation of surrounding materials.
Moreover, hail can create micro-cracks in your panels. These cracks are so small that they are invisible to the naked eye but cause considerable damage to the panels. Besides, snow and extreme temperature can also cause the same issue. Walking on solar panels subjected to natural calamities can lead to the ultimate damage.
Time-Consuming to Install
Solar panels are not just expensive to install, they are pretty time-consuming as well. If you walk on your solar panels and somehow cause damage, you will have to sacrifice electricity for a couple of days before repairing or reinstalling them.
Danger of Falling
Solar panels are slippery, not to mention in summer days, they become extremely hot. It is dangerous to walk on most solar arrays in such situations. Typically, most of them are suspended at a height. If you fall due to any of the reasons mentioned, you will sustain injuries.
Remedies
To avoid the scenario where you have to walk on solar panels, design is the main factor we should look at. Walkways can be provided so that people avoid walking on them. Another option is to provide sufficient space between each row or column of solar panels for people to maintain or clean the panels.
Moreover, you can make a wooden frame around the panels to brace yourself and spread your weight. That way you can keep yourself from slipping and be able to walk across a panel smoothly.
Conclusion
At the end of the discussion, it is clear that in most scenarios, you should avoid walking on solar panels because it will most likely propagate the damage. But if you must step on them, make sure you move slowly and skillfully while wearing a pair of soft tennis shoes.