Yes, it can. Mostly this can occur under two scenarios that are when there is already a large potential difference between you and the ground, and when a double fault has happened, and the "ground" wire is actually something else.
In an electrical system that has been properly constructed, grounding is merely one layer of protection. The ground wire functions in sync with other safety measures including insulation, circuit breakers, and safety switches to reduce the possibility of electric shock. There is a risk involved hence if any component of the system fails.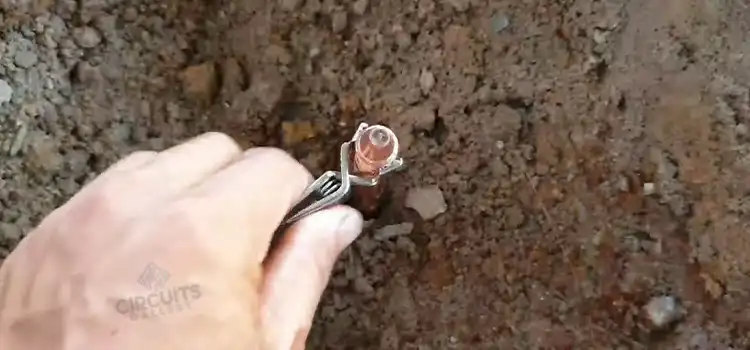 Can I Shock When Touching a Ground Wire?
A ground wire is not truly safe to touch. It will turn into a live wire if there is any electrical surge through it. By simply looking at it, it is impossible to determine if the current is flowing through it or not. If you come in contact with an energized wire, the current will travel through you rather than the wire.
In most cases, if your connections and equipment are configured appropriately, ground wires won't carry any electrical current. They are set up as a precaution in the event that any devices or connections are flawed.
However, electricity would flow through the wire in the unlikely event that there were any electrical issues. You can experience shock during that moment.
5 Reasons Why Ground Wires Can Shock You
Here are five reasons why you should be aware of getting in contact with the ground wire directly.
1. Faulty or Damaged Ground Wire
In the event of a breakdown, a ground wire that is defective or broken may not properly convey electrical electricity to the ground. The ground wire could become live as a result, giving you a jolt as electricity flows through it.
2. Faulty Appliances
When turned on, faulty appliances may generate an electric surge. This surge indicates that extra electricity will start looking for another route to travel through.
This unreliable electricity has the potential to ruin other machines in addition to severely damaging the device. All of this causes electricity to flow from living wires into your ground wires, greatly increasing the risk of electric shock.
3. Incorrect Grounding
The current won't have a path to travel through if the ground wire is improperly grounded. If you come in contact with an ungrounded wire, you will be taking the alternate route. This implies that you would receive a painful shock.
4. Improper Installation
Ground wire shocks might result from improperly connected wires in your system. It won't be possible for the electricity intended to pass through the wires to do so if they are connected incorrectly. This indicates that it will choose the ground wire, the next viable choice.
Bad wiring also refers to a problem that prevents the wires from carrying current. It could be anything, including a current overload or poor cable quality. The ground wire will be used if the dedicated wire is unable to conduct electricity. having a greater risk of shock as a result.
5. High Potential Difference
The electric charge will try to balance with the lesser potential of the ground while you are at a high potential. It's critical to remember that high potentials can occur in a variety of circumstances, including electrical storms and when handling high-voltage machinery.
While you are charged, if you touch a ground wire or any other grounded object, the electrical current will pass through you and down to the ground. The result could be an electric shock.
Frequently Asked Questions and Answers (FAQs)
How Can You Tell If Your House Is Properly Grounded?
By counting the holes, you may determine whether your home is grounded or not. Three-hole outlets are often grounded. To check if each outlet is grounded, you can also use a circuit tester in that outlet.
Does the ground wire require covering?
Technically speaking, covering a ground wire is optional. Except if it is improperly grounded or possesses any other situations mentioned, it won't be dangerous. To prevent harm from the outside, you ought to think about covering it.
Conclusion
A ground wire is often made to offer an electrical current a safe path. Unfortunately, there are situations where a ground wire may not always provide adequate protection against electric shock. To ensure appropriate grounding and reduce the risk of electric shock, it is crucial to prioritize safety, adhere to electrical codes, and seek professional advice.