Check the GFCI receptacle first if you discover a receptacle in your kitchen isn't working. That's the one with all the small buttons. To see if it works, go right for that and press the reset button. Whether not, check to see if any of your electrical panel's circuit breakers have been tripped.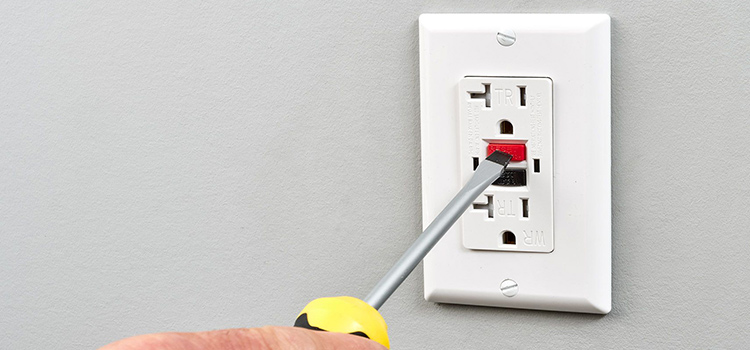 Why Are My Kitchen Plugs Not Working | Issues and Solutions
An outlet power loss can be caused by a number of factors. Whatever the case may be, it is critical to determine the true cause of the problem before attempting to correct it yourself or with the help of a competent electrical specialist.
Before you run to your circuit breakers, make sure the outlet is the source of the problem. Verify if the appliance will operate if you plug it into a different outlet for a moment.
Take your toaster, for example, and connect it to a different outlet. You might find it useful to use masking tape or make lines on the outlets that aren't working to help you recall them. Unless your house is quite old, the receptacles on your kitchen counter are usually fed by two distinct circuit breakers.
Circuit Breaker Tripping
If the circuit breaker trips, the next step is to travel to the fuse box. When a circuit breaker is overloaded, it normally trips and turns off automatically to avoid any more electrical flow that could create a fire or an accident.
Some of us despise checking the panel because we're terrified of the electrical switches. Observing and troubleshooting the breaker, on the other hand, will go a long way toward preventing potential damage and injury. Unplug all electronics and appliances before looking for and checking any tipped or blown fuses.
Flip the switch to the "OFF" position to see if the circuit breaker is encountering power tripping. In most circumstances, resetting it to the default settings would suffice. In most circumstances, simply resetting it to "ON" will cure the problem right away.
Overloading of the circuit
The circuit breaker automatically shuts down when you force a circuit to carry more electric current than it can handle, whether purposefully or accidentally. For instance, if you plug in two 18-amp hairdryers to a circuit that can only handle 15 amps, the overload will cause the circuit breaker to trip.
Faulty Ground
When a hot or live wire comes into touch with a metal box, metallic wall, wood framing, or ground wire, a ground fault short circuit occurs.
Arc Fault
When an arc fault or spark occurs, it causes circuit breakers to trip more frequently. These are extremely risky situations. As a result, the National Electrical Code encourages homeowners to install an Arc-Fault Circuit Interrupter (AFCI). Before a short circuit occurs, the AFCI is designed to detect power fluctuation if sparking occurs between contact points.
GFCI Outlet Not Working
GFCIs are required in areas where there is a significant risk of electrical shocks or hazards, such as the bathroom or kitchen. Sensors in the outlets can detect any electrical current leakage. When the sensor detects leaking, the outlet trips to interrupt the current flow.
A GFCI (Ground Fault Circuit Interrupter) is a recognizable outlet with reset and test buttons. If your GFCI isn't operating, for example, can't be reset because it was damaged during the power outage, likely, the various electrical outlets aren't working.
The outlet reset button may be immediately checked. If the GFCI reset button does not hold when pressed, there is most likely power leakage. If you are not sure of your ability to solve the problem on your own, you must contact a trained professional. You may proceed with extreme caution if you know how to test the electrical wiring.
Check the Line Power
This problem mostly occurs in old kitchens. Before troubleshooting it, it's important to check the wiring. If the breakers are on but still GFI is dead, it probably can be something related to the wiring. You have to check the line power coming to the outlet as well.
Using a multi-meter on the line power coming into the outlet, if you see the continuity reading between neutral and hot and ground and hot, it's a sign. It's not what you are supposed to get unless you're on the backside of the switch reading through light bulbs.
The possible reason behind this can be if a ground screw or deck screw goes through the conductor cable. If any of the circuit cables melt or become welded, this problem can occur as well. So you have to examine the cable branches and the connections to troubleshoot the main problem.
Problems That Need Professional Help
Always keep in mind that dealing with electrical issues in your home is not simple. It's quite dangerous. If you make a mistake, it might result in property damage and harm. Here are some things to think about that will help you decide to engage a professional right away.
When the Lights Flicker
A flickering light indicates that there is a serious wiring issue present. Whatever the reason, the situation is likely to result in fire hazards.
Rust and Corrosion
When rust and corrosion begin to appear around the breaker box, it is time to seek professional assistance. It means there's a lot of moisture inside or near the panel. It is unsafe and may result in an accident if you try to touch items near the box.
Repeating Trips
A faulty wiring issue may be causing your lights and outlets to trip regularly. You might need to address multiple circuits in your home.
No GFCI
To avoid electrocution, GFCIs must be installed in the bathroom, kitchen, and laundry. Because of the high moisture content in these places, the outlets may come into contact with water. It's past time to upgrade and install GFCIs following state and municipal electrical codes.
Shock factor
If you get a shock when you contact a switch, outlet, or other electrical surfaces, you should seek expert care right once. Overloading or possibly internal wiring faults are indicated by heated faceplates and outlets.
Excessive Number of Extension Cords
This is not only dangerous but also unattractive. It's time to call for aid if there are too many appliance users at home and extra cords are the only way to meet everyone's needs.
Extension cables are useful, but they should only be used for short-term power needs. When you use extension cords for an extended period, they might overheat and create an electrical fire.
Conclusion
The reasons behind the kitchen plug not working is diverse. From circuit tripping to connection problems, the issues should not be overlooked. Mostly you can solve the problem on your own if it's known. However, when electrical outlets fail, it is preferable to seek professional assistance rather than risk damaging your hard-earned home.