The resistance ratio is equal to the relative position in a linear pot (B potentiometer). Non-linear pots are sometimes known as logarithmic or audio pots (A potentiometer). These are most typically used to control audio volume.
Potentiometers are used to control electrical circuits and to modify the levels of analog signals. Potentiometer applications can be divided into two categories: null instruments and electronic components.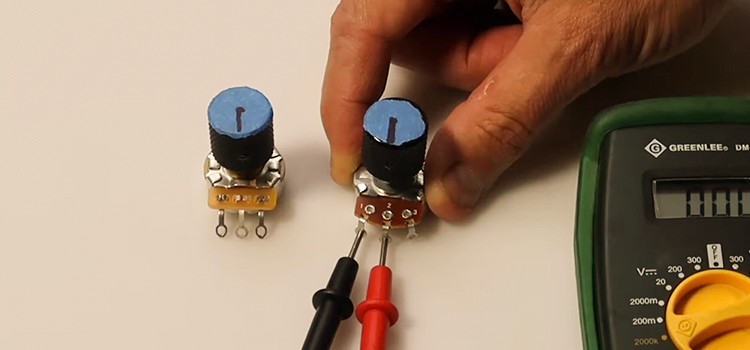 Comparison Between A and B Potentiometer
If you spin the pot halfway with a linear pot (B pot), the resistance measured on either side will be equal. That is not the case with a logarithmic (audio or A pot) pot. The resistance follows a logarithmic development in this case. When used for volume control, log taper provides a more natural progression.
Linear Pots (B pots) linearly enhance and decrease signals. (1 on your control knob represents 10%, 5 equals 50%, and so on). Many individuals prefer a linear pot for volume control because of its reliability. Audio taper pots (A pots) produce a more natural variation in sound when you spin the knobs.
What Pots are Used for Volume and Tone
In general, humbuckers should be paired with 500k pots to control volume, while single-coil pickups should be partnered with 250k pots. When set all the way up, a 500k volume pot provides twice the resistance to the current flowing from the pickup to the output jack as a 250k pot.
Pots on guitars are used to influence and control loudness and tone. The volume control is self-explanatory. Tone control allows you to alter the sound by muting or blending the signal from guitar pickups.
What's the Difference Between A500K and B500K Pots
A500K denotes an audio taper pot, while B500K denotes a linear taper pot. The taper of the pot, or "how gradually it rolls off," is the only variation. Most manufacturers employ either two audio taper pots for volume and tone, or one audio taper and one linear taper.
The B (linear) will function as a volume smoothly, and the A (audio) will function as a tone smoothly. They will both work and sound the same on "10" or "0," but they will abruptly change volume when you spin them, making it more difficult to tune in exactly what you want.
What Is the Difference Between A500 and B500 Pots
B500 is a linear pot that provides a more uniform reduction in volume/tone (you will see a greater influence on each control knob setting). Whereas, A500 is an audio pot that provides a more sudden (quicker) increase or decrease in volume or tone. If you perform frequently, audio is preferable for a faster increase on stage.
Pots having higher resistance, such as 500K versus 500, prevent higher frequencies from bleeding through to earth more effectively than lower ohm pots. As a result, a 500K pot has a brighter overall tone than a 500 pot. Higher ohms also produce a cleaner and more punchy sound from the bottom strings.
What Is the Difference Between Linear and Audio Potentiometers
Audio taper potentiometers have traditionally been employed in volume control locations, while linear taper potentiometers have been used in tone control settings. It appears that the way humans hear makes the use of audio taper in loudness positions more effective.
The distinction between audio and linear potentiometers is that a linear taper pot is used to give an adjustment for a device or a feed to a device. An audio taper is a volume, bass, or treble control, among other things. The control that feeds the balance adjustment in a fender amp is a linear taper.
When to Use 500K Pots
Humbuckers have much more windings than single-coil pickups, necessitating a 500k pot (Gibson sometimes uses 300k pots). Because 500k pots are ideal for humbucker-equipped guitars, they are most typically found in Gibson Les Paul, PRS, Dean, and Ibanez humbucker-equipped guitars.
Uses of Potentiometers
Pots allow precision measurement when used as a null instrument by altering the value of a circuit element until the meter reads zero. The potentiometer, when employed as an electrical component, changes the resistance in the circuit.
Previously, pots were employed in televisions to control brightness, contrast, and color response. Linear pots (B pots) can be used to modify lighting using light dimmers or to regulate movements. For example, turning the potentiometer to 50% will cause the pot to function at 50% of its maximum resistance.
Conclusion
In a passive guitar circuit, audio taper pots compensate for the relationship between resistance and volume. Swells, in general (and this depends on the listener), function better when routed through an audio taper pot. The pot's quality also has a significant impact on how the signal is boosted or lowered.