The red wire, if not needed, can serve a purpose in allowing separate control of the light and fan on a ceiling fan when connected properly.
However, if it remains unused, the recommended approach is to cap it off with a wire nut and leave it untouched.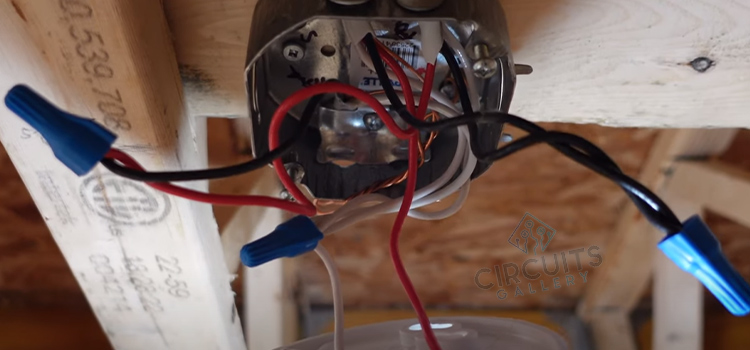 Possible Applications of Red Electrical Wires
When it comes to red electrical wires, their purpose and utility may not always be immediately apparent. However, there are several possibilities for utilizing or managing these wires if they are not needed in your electrical setup. Here are a few options:
1. Separate Control
In certain situations, a red wire can be used to enable separate control of lights and fans on a ceiling fan. If you desire independent operation of these components, locating and properly connecting the other end of the red wire can unlock this functionality.
2. Future Use
Even if the red wire is not immediately necessary, you may choose to keep it accessible for potential future use. Labeling and organizing the wire can help facilitate any modifications or upgrades to your electrical setup down the line.
3. Consult an Electrician
If you're uncertain about the purpose or handling of the red wire, it's always wise to consult a qualified electrician. They can provide expert advice tailored to your specific situation and ensure compliance with electrical codes and safety standards.
Can I Just Cap a Red Wire?
If you encounter two red and/or two black wires, the recommended approach is to connect both wires of the same color to the outlet. As for the remaining wires of the opposite color, they should be connected together using a wire nut. In the case of a single red or black wire, you can simply cap off the unused wire with a wire nut for safety and isolation.
What Can I Do With Red Wire for My Ceiling Fan?
The wiring between the switch and the fan unit requires a fourth wire, a red wire, to transmit power to the light kit in order for the light to be controlled by its own switch. Connect the green wire to the copper or bare ground wire in your home.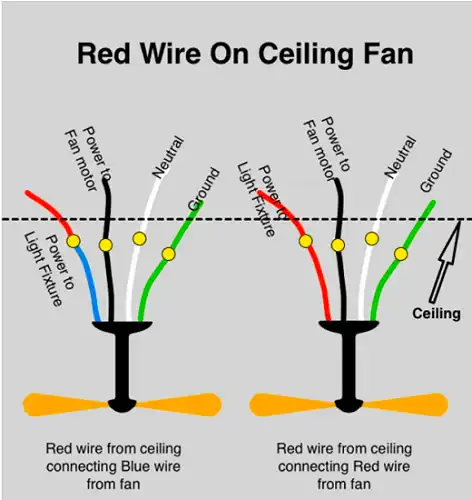 Figure 1: Red wire on ceiling fan
Can I Connect Red and Black Wires Together?
It is generally not recommended to directly connect red and black wires together in a typical household electrical system. Connecting red and black wires together without a specific purpose or proper knowledge of the electrical system can result in potential hazards or malfunctions such as short circuits, electrical fires, and damage to electrical components.
This is because red wires typically carry live or positive electrical current, while black wires are used for grounding or carrying negative current. Mixing them can cause improper circuit connections, excessive current flow, and potential damage to the electrical system. It is crucial to follow proper wiring guidelines and color codes to avoid these hazards and ensure electrical safety.
What Happens if You Touch a Red Wire?
When you come in contact with a red wire, an electrical current can go through your body and shock you when your feet come in contact with the ground. When electricity may enter and leave your body through two contact sites, electric shocks will happen.
Conclusion
Prioritize safety and adhere to regulations when working with electrical systems. Seek guidance from a qualified electrician if you have doubts or concerns. By making informed decisions, you can solve the red wire puzzle and create a secure environment for you and your family.