The gain bandwidth of a 741 Op-Amp is 1 MHz This means that the bandwidth of that amplifier is around 1 MHz at a gain of 1 (or 0 dB).
But the actual bandwidth may vary depending on different factors such as temperature, specific manufacturer, and operating conditions.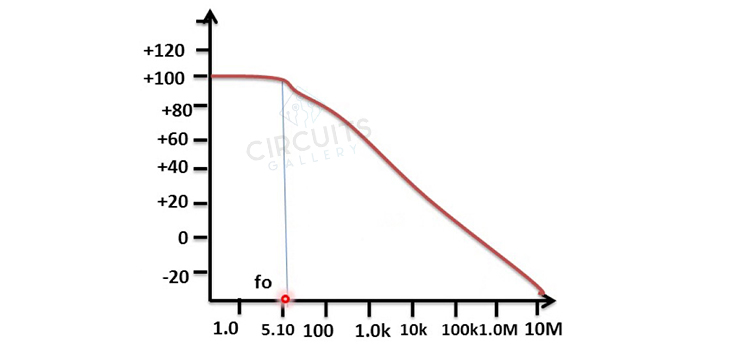 What Is Unity-Gain Bandwidth?
A measurement of an operational amplifier's frequency response called the unity gain bandwidth reveals the frequency at which the op-amp's open-loop gain falls to 1 or, sometimes 0 db.
To put it another way, it is the frequency at which, when the gain is set to 1, sometimes referred to as unity gain, the amplifier's output signal magnitude equals that of its input signal magnitude.
What Is the Gain Bandwidth of an Operational Amplifier?
By multiplying an Op-Amp's open loop gain by its bandwidth, we can determine its gain range. We'll get a reliable result that mostly represents the performance of the amplifiers, the maximum frequency the Op-Amp can handle, and the gain product at its highest level.
What Is the Formula for Gain Bandwidth?
An operational amplifier's gain decreases to unity at 1 MHz if the GBWP of the device is 1 MHz. Thus, if the device is wired for unity gain, it will operate up to 1 MHz (GBWP = gain bandwidth, thus if BW = 1 MHz, then gain = 1) without significantly introducing signal distortion.
What Is the Unity-Gain Frequency of UA741?
The unity gain bandwidth is another name for an operational amplifier's unity gain frequency. And a UA741's unity-gain frequency is somewhere around 1 MHz.
FAQs – Frequently Asked Questions and Answers
What Is the Bandwidth of the LM741?
Around 1.5 MHz is the LM 741 amplifier's bandwidth. A further illustration of a well-known and vintage amplifier is the LM741. Although it is not as quick as the 741 operational amplifiers, it is nevertheless widely used.
What Should Be the Maximum Bandwidth for a Gain of 10 in the Case of IC 741?
To calculate the bandwidth for a gain of 10, you can divide the required bandwidth of unity gain by the desired gain. According to this process, you will get the result of 100 kHz when you will multiply 1 MHz by 10. So the maximum bandwidth for a gain of 10 in the case of IC 741 is nearby 100 kHz.
Conclusion
When constructing electrical components, the operational amplifier's unity gain bandwidth is a crucial factor. One of the numerous considerations that must be made while building an electrical circuit is the importance of the unity gain bandwidth. We are also receiving better amplifiers with higher bandwidth and less noise as technology advances every day.