Operational amplifiers, or op-amps, function according to the Three Golden Rules, a set of three guiding principles. These guidelines can be used to comprehend and evaluate op-amp circuits.
In short, the rules state that Op-amps display an unlimited open-loop gain, no current should flow through the inputs of an op-amp simultaneously, and there is no potential difference between the input pins of an op-amp. Let's have more on the rules in the following.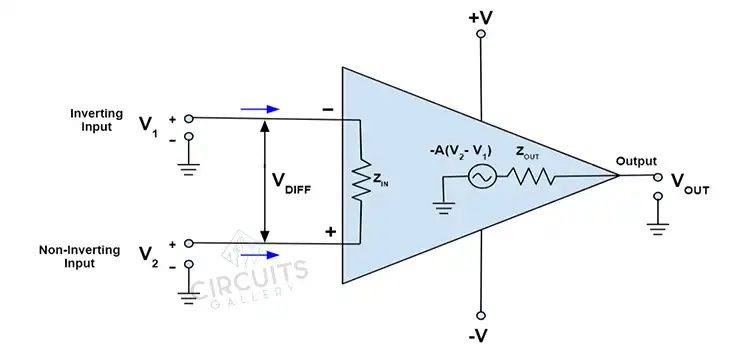 Three Golden Rules of Op Amps
To understand their behavior and make the most of their capabilities, it's essential to be familiar with the three golden rules that govern their operation. Let's explore each rule in detail:
1. Infinite Open Loop Gain
Op-amps have the unusual capacity to amplify tiny input voltages to large levels due to their infinite open-loop gain. This outstanding quality gives improved accuracy in a variety of electrical systems and is helpful in signal conditioning.
Engineering professionals must grasp the idea of endless open-loop gain despite its practical limits. By utilizing this skill, precise and delicate circuits with increased linearity and decreased distortion may be built. Op-amps are developed into flexible signal processing tools that make it possible to build cutting-edge electrical designs that push the limits of performance and accuracy.
The higher amplification, ideal signal-to-noise ratio, and increased dynamic range are made possible by their infinite gain. Op-amps provide unmatched benefits whether used in instrumentation, control systems, or audio amplification.
2. No Current Flowing Through Both of the Inputs
Op-amps are made with extremely high input impedance, which results in very little current flowing into them. Therefore, the inputs can be regarded as open circuits that are not conducting any current. As a result, the external circuitry can continue operating without being affected by the op-amp's input voltages.
Op-amps display a crucial characteristic: they don't load or interfere with the signal sources attached to them by guaranteeing that no current flows through both inputs. Applications requiring accurate measurements or input sources with high output impedance would benefit most from this capability.
3. Potential Difference Between Input Pins is ZERO
The potential difference between the input pins is zero, which is another essential concept and one of the three golden rules of op amps. This rule draws attention to a crucial quality known as virtual short or virtual ground.
Op-amps aim to equalize the voltage at their input pins in the ideal case, resulting in a virtual short between the inputs. This results in a potential difference of zero since the voltage at the inverting and non-inverting inputs is essentially the same.
Because engineers may assume an identical voltage at all inputs thanks to the virtual short notion, circuit calculations are made much simpler. It makes it possible to precisely regulate the behavior of op-amp circuits using feedback methods.
Engineers may use the virtual short feature to build accurate voltage comparators, accurate summing amplifiers, and accurate differential amplifiers, among other uses, by following this cardinal rule.
Frequently Asked Questions and Answers (FAQs)
How do the three golden rules impact op-amp circuit design?
Engineers may build op-amp circuits with higher accuracy, less distortion, and increased performance by comprehending and implementing the three golden rules. These guidelines help engineers make op-amp behavior as efficient as possible by utilizing its infinite gain, zero potential difference, and low input current flow to design circuits that satisfy particular specifications.
Are the three golden rules applicable to all op-amps?
The three golden rules are basic ideas that hold true for optimal op-amps. Real-world op-amps have limits and deviate from the ideal behavior in actual situations. The golden rules, however, provide a useful framework for comprehending op-amp behavior and successfully building circuits.
Can the three golden rules be violated in op-amp circuits?
Even though the three golden laws are essential principles, certain customized op-amp circuits purposefully stray from them for particular uses. These modifications, like the use of current feedback or the purposeful introduction of input bias current, call for considerable thought and comprehension of the circuit requirements.
Conclusion
Successful circuit design depends on adhering to the three op-amp "golden rules" of infinite open-loop gain, no input current flow, and zero potential difference between input pins. Engineers may maximize op-amp performance, accomplish precise signal processing, and realize the full potential of op-amps in a variety of applications by comprehending and putting these guidelines into practice.