Low-pass, high-pass, band-pass, and band-stop are the four categories into which passive analog filters can be divided.
Signal frequency responses develop by passive analog filters, which use resistors, capacitors, and inductors.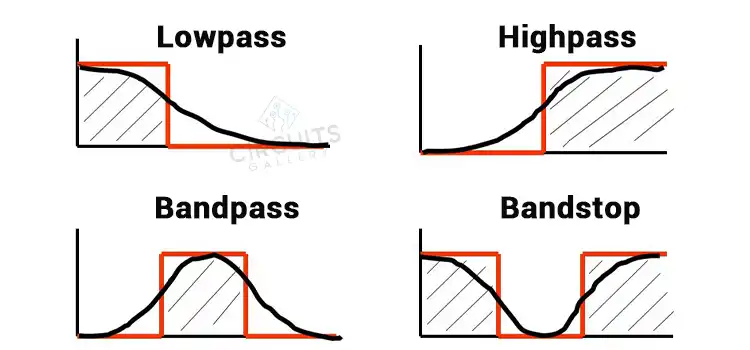 What is Passive Analog Filter?
A passive analog filter is often a frequency-selective circuit that passes a specified band of frequencies using passive parts such as resistors, capacitors, and inductors.
Types of Passive Analog Filters | Circuit Diagram with Applications
Passive analog filters, such as high-pass, low-pass, band-pass, and band-stop filters, have specific uses in signal processing.
1. Low-pass filter
A low-pass filter is a filter that passes signals with a frequency lower than a selected cutoff frequency and attenuates signals with frequencies higher. It is commonly used to eliminate high-frequency noise or to amplify signals. An RC circuit, which consists of a resistor (R) and a capacitor (C) linked in series, is a simple representation of a low-pass filter.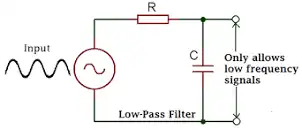 Image 1: Low-Pass Filter
They are used in power supply filtering (smoothing out high-frequency noise), audio systems (removing noise or undesired harmonics), and anti-aliasing filters (preventing aliasing in ADCs).
2. High-pass filter
A high-pass filter attenuates frequency components below a certain frequency, called it's cutoff frequency, allowing higher-frequency components to pass through. It is often applied to signals to reduce low-frequency noise or to recover higher-frequency components. A high-pass filter can be formed by connecting the resistor and capacitor in a series or an RC circuit.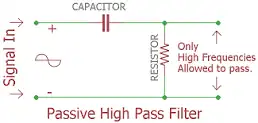 Image 2: High-Pass Filter
They have applications in a variety of environments, including audio systems (removing rumble or hum), speaker protection (to guard against low-frequency harm), and data processing (to eliminate DC offset).
3. Band-pass filter
A band-pass filter has a passband between two cutoff frequencies fH and fL such that fH > fL. Any input frequency outside this passband is attenuated. It can be utilized to separate an important frequency band. Capacitors, resistors, and inductors are used to create band-pass filters.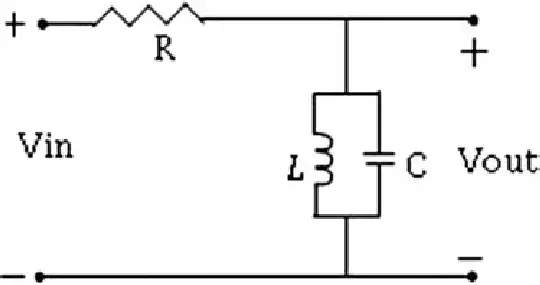 Image 3: Band-Pass Filter
They are used in radio and telecommunications, instrumentation and measurements, biomedical applications (determining specific frequency bands in physiological signals), and instrumentation and measurement (isolating specific frequency components for analysis).
4. Band-stop filter (also called notch filter)
A narrow band of frequencies, referred to as the stopband or notch, is attenuated by this filter while frequencies outside of that band pass through unchanged. It is commonly used to eliminate unwanted frequencies or signal interference. Using capacitors, resistors, and inductors, Band-stop filters can be formed.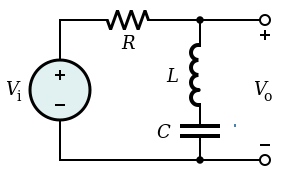 Image 4: Band-stop Filter
They are used for things like interference reduction (removing particular interfering frequencies), resonance control (damping resonant frequencies in mechanical systems), and selective signal rejection (removing specified frequency bands for focused analysis).
What Are Commonly Used Analog Filters?
Low-pass, high-pass, band-pass, band-stop, all-pass (passes all frequencies equally, changes phase), Butterworth (maximally flat response), Chebyshev (sharp roll off with ripple), Bessel (flat group delay), elliptic (equalized ripple in passband/stopband), and Sallen-Key (uses Sallen-Key attenuation) filters are examples of commonly used analog filters.
Frequently Asked Questions and Answers (FAQs)
Can passive analog filters provide gain to a signal?
No, passive analog filters do not provide gain by themselves. They are made to reduce or modify a signal's frequency response without amplifying it. A second amplifier stage is necessary if the gain is needed.
What are the limitations of passive analog filters?
The incapability of passive analog filters to attenuate signals outside of the appropriate frequency range can be attributed to their limited filter slopes (roll-off rates). Due to the passive components' innate insertion loss, they also cause signal losses.
Are passive analog filters affected by component tolerances?
Yes, component tolerances can impact the performance of passive analog filters. The actual cutoff frequency and response characteristics of the filter can vary depending on changes in the values of components like resistors and capacitors.
Conclusion
In conclusion, passive analog filters are essential for altering frequency in electrical circuits. They are easy, affordable, and broadly compatible. Despite limitations, combining filters can solve difficult issues.