Operational amplifiers (op-amps) and transistors are both important components in electronic circuits. But they serve different purposes and have distinct advantages. Here, I have pointed out the advantages op-amps have over transistors in terms of their functions, amplification, complexity, gain, and more.
Let's begin with BJTs and FETs as representatives of transistors against generalized op-amp and find where they really differ.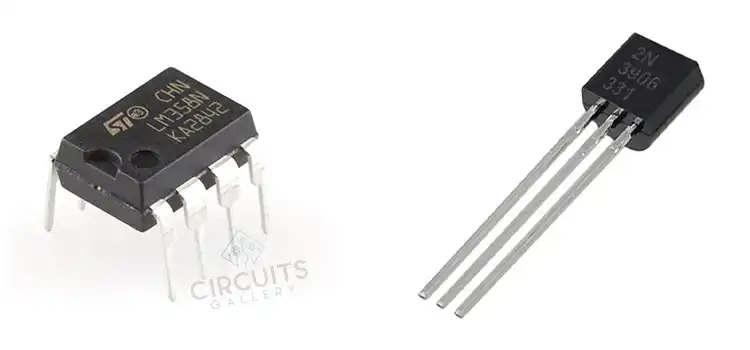 Transistor And Operational Amplifier (with circuit diagram)
A transistor has 3 terminals. It works with electrical signals. Transistors can amplify and control the signals. Usually, in a common emitter configuration, the base current is the one that is manipulated. BJTs and FETs are the most common among transistors.
BJT actually controls the flow of electrical current. It consists of the emitter, the base, and the collector. FET also controls the flow of electrical current. It has three main parts: the source, the gate, and the drain. BJT controls current using a small current at the base, while a FET controls current using a voltage at the gate.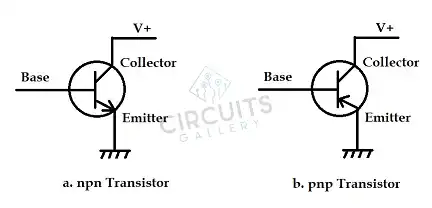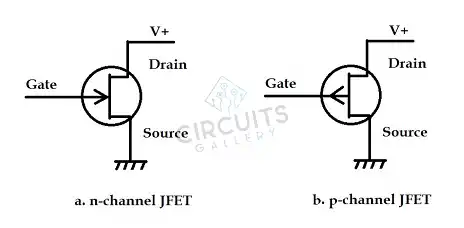 On the other hand, an operational amplifier is a three-terminal DC-coupled high-gain electronic voltage amplifier that takes a differential voltage input and amplifies it in output. Operational amplifiers have two input terminals: inverting and non-inverting, an output terminal, and they require external power supplies to operate.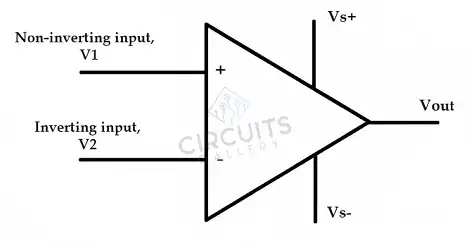 Fig: Operational amplifier circuit.
Advantages Of Operational Amplifier Over Transistor
Simplified circuit design
Op-amps are designed to be used with external feedback components, which allows for the creation of complex circuit functions with fewer components. By using negative feedback, op-amps can provide stable and predictable circuit behavior.
High-gain
Op-amps typically have very high open-loop voltage gain, often in the range of 10,000 to 100,000. This high gain allows for the amplification of small input signals without the need for additional transistor stages.
Low input and output impedance
Op-amps have very high input impedance, which means they draw very little current from the source connected to their inputs. Similarly, they have low output impedance, allowing them to drive loads directly without additional buffering stages.
Precise gain control
Op-amps can be easily configured to provide specific gain values by using external resistors in the feedback network. This allows for precise control over amplification levels, making them suitable for various applications, including signal conditioning and audio amplification.
Improved linearity
Op-amps typically exhibit better linearity characteristics compared to individual transistors. The relation between input and output is easily determinable. Hence when the question arises on how to re-generate anu signal, and most importantly, without much distortion, op-amp is the answer.
Availability
You can get op-amps as IC packages from any electronics shop. They come with standardized pinouts and specifications, making them easy to incorporate into circuit designs. Additionally, op-amp ICs often include multiple op-amps in a single package, providing cost and space savings.
Differences Between Operational Amplifier And Transistor
The advantages will be more vividly exposed if the following differences are taken into account:
Function
An op-amp is an integrated circuit that is specifically designed to amplify and process analog signals. In contrast, a transistor is a discrete semiconductor device that can be used as an amplifier, switch, or other functional element in electronic circuits.
Amplification
Op-amps are primarily used for signal amplification. They provide high gain and are often used in applications requiring precise amplification, such as audio amplifiers, instrumentation amplifiers, and signal conditioning circuits. Transistors can also be used as amplifiers, but they typically require additional components and circuitry to achieve the desired gain and performance.
Complexity
Op-amps are complex integrated circuits that contain multiple transistors, resistors, capacitors, and other components. They are designed to provide specific functionalities, such as high gain, low distortion, and stability. Transistors, on the other hand, are simpler devices with three terminals (emitter, base, and collector) and are often used as discrete components in circuit designs.
Feedback
Op-amps are often used with external feedback components to control and stabilize their operation. The feedback helps to set the gain, control distortion, and improve stability. Transistors can also be used with feedback, but their use in feedback circuits typically requires more complex circuit design and analysis.
Power handling
Op-amps are designed to operate with low power supplies and typically provide low power output. They are not suitable for high-power applications. Transistors, on the other hand, can handle higher power levels and are commonly used in power amplifiers, switching circuits, and power control applications.
Gain a Comparison Of An Operational Amplifier and A Transistor
The most common configuration is the inverting amplifier, where the gain is determined by the feedback resistor values. The gain equation for an inverting op-amp amplifier is,
Gain (A) = -Rf/Rin
Where Rf is the feedback resistor and Rin is the input resistor.
On the other hand, the gain equation for a transistor amplifier depends on the transistor configuration and biassing conditions. The most common transistor amplifier configuration is the common emitter amplifier. In this configuration, the voltage gain (Av) is given by the ratio of the output resistance (Ro) to the input resistance (Ri):
Gain (Av) = -Ro/Ri
Comparing the gain equations, the open-loop voltage gain of an op-amp can be extremely high, often in the range of 10,000 to 100,000, whereas the gain of a transistor amplifier is typically much lower, often in the range of 10 to 100.
Frequently Asked Questions
Do op-amps use transistors?
Yes, op-amps use transistors. Transistors and resistors are the major parts of op-amps.
Is op-amp AC or DC?
Op-amps can amplify both AC and DC signals.
Conclusion
Transistors play a crucial role in electronic circuits, op-amps enhance functionality and convenience. Op-amps harness the underlying transistor technology and provide enhanced features that simplify design, improve performance, and offer versatility across various applications.