Made from copper and iron plate, Weller soldering iron tips are durable and corrosion-resistant. They come in a variety of shapes for different projects. Cleaning the tip, maintaining optimal temperature, or using high-quality solder helps extend the lifespan of the tips.
Weller soldering iron tips wear out over time and need to be replaced. However, implementing some methods will allow you to extend their life drastically.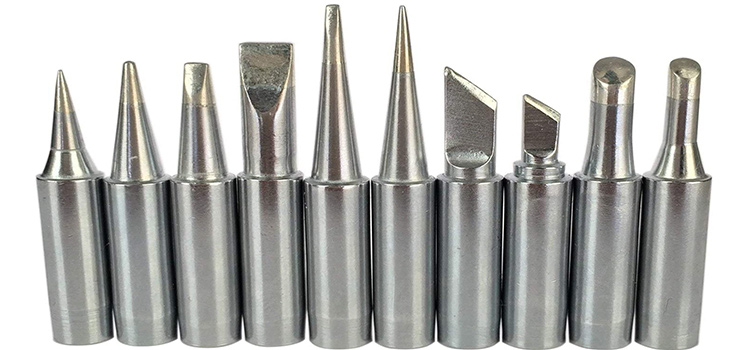 Weller Soldering Iron Tips
Most of the soldering iron you will find have interchangeable tips that vary in size and shape. Although, it depends on the type of soldering project you are doing.
Material
Weller soldering iron tips are typically made of a copper core plated with iron. Copper with its good conductivity and heat resistance is used for heat transfer.
The iron plate gives durability to the tip. It also provides corrosion resistance. As copper corrodes easily and can eat away the tip easily in lead-free soldering, an iron plate is used as the countermeasure.
Quick Heat Recovery
The high-grade copper used in Weller soldering iron tips is highly conductive. As a result, it can transmit heat to the work more rapidly than other brands of soldering tips. This trait of recovering heat quickly allows more joints to be soldered per minute. As a result, manufacturing time and costs reduce drastically.
Tips Shapes
Soldering iron tips normally have an angle that ranges from 22° to 90°. Various soldering irons utilize different shapes of tips such as bent, chisel, conical, sharp, knife, bevel, blade, etc.
Such a variety of shapes allows you to solder fine contact areas, drag solder, solder large pad areas, or reach isolated areas on dense board designs. Also, you can remove solder quickly with desoldering braid.
How to Care for Soldering Tips
As the critical component of a soldering iron, it is vital to take care of the tip so that it can perform its function of transferring heat to the connection point. Poor tip maintenance will cause soldering problems as well as wear and tear.
Tip Cleaning
At first, use alcohol and a clean cloth to remove grease and oxidation from the surface to be soldered. Clean the tips using either brass or stainless steel wool. After you are done with cleaning, wet the tip with fresh solder immediately to prevent oxidation.
Maintaining Optimal Temperature
The temperature of your tips should be consistent and close to optimal range. When in use, the temperature of the tip decreases. You can turn up the heat to compensate for this. Moreover, soldering station irons with a temperature sensor can help you regulate temperature better.
Using High-Quality Solder
Low-quality solder contains impurities that build upon the tip. This gets in the way of heat transfer and hinders your soldering. Try purchasing the solder from a reputable brand. Also, you can test the quality by heating it and see if it melts readily at the expected temperature.
Other Options
Other than the tips mentioned above, you can also use flux to remove the metal oxide layer. Furthermore, you can tin your tips to prevent iron from oxidizing quickly. Another option for you is to use Weller's high-quality tip activator to reactivate your tips. Changing and reinserting the Weller soldering iron tips will also help.
Conclusion
If you can consistently implement the tips mentioned above, you can extend the life of your Weller soldering iron tips. Other than saving money, this will improve the quality of your soldering as well. Therefore, if you want economical operation along with quality and repeatable results, Weller soldering iron tips will be apt for you.