If you want to know the differences between SpeakON 2 poles vs 4 poles and what you should go for, you are in the right place. Usually, 4 poles are used when you are bi-amping your system from the same amp or bridging a cab.
4-pole SpeakON is easier to install and also doesn't have much price difference than 2 poles. As the saying goes, "buy once, cry once", if you're not bi-amping and want to save money, go with all 4 pole panel mounts and 2 pole cable connectors.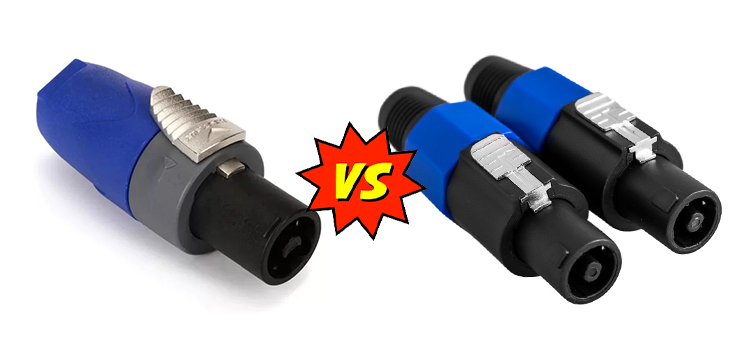 The Major Distinction Between SpeakON 2 Pole vs 4 Pole
The connectors are to be held accountable aspect by aspect to extract points where they differ apart. Here we go for it listing from major to minor facets.
Bi-amping From the Same AMP
If there are 4 pole SpeakONs, you may be bi-amping your system from the same amp or bridging a cab. And the reason amps have four poles is because this is how both channels or the bridged signal are sent from a single speaker.
For example, if you're bi-amping a two-way top, 1+/1- is channel 1 and goes to the woofer, while 2+/2- goes to the tweeter. However, the amp must perform the crossing over internally or the processed signal must be fed into both channels. As a result, only one 4-wire cable needs to be run to each set of tops.
Bridge Single Cab
The other reason is if you use SpeakONs and want to bridge your amp into a single cab. Because only 1+/2+ are used, only two wires are required. However, a 4-pole SpeakON is required because bridging from the SpeakON connector uses the above connections and the 2-pole only has 1+/1-, so it cannot be used.
Furthermore, when bridging is used, even a 4-pole must be properly soldered in order to be used with a regular cab. But if you do not intend to use either of the two scenarios described above, 2 pole SpeakONs with 2 wire cables will suffice.
However, while a 4-pole female will take both a 4-pole and a 2-pole male, a 2-pole female will only take the 2-pole. This becomes a major issue if you're using 2-pole females and unexpectedly only a 4-pole male is available.
What to Load
We recommend loading everything with 4 pole females, followed by either 2 or 4 pole males. The 4 pole version was the original and the two-pole version came later, and these two are only occasionally interchangeable.
Unless you opt for the metal shell STX series, the panel mount SpeakON connectors are always male and the cable connectors are always female. Any 4 or 2-pole panel mount connector will accept 2-pole cable connectors. 4 pole panel mount connectors will only accept 4 pole cable connectors.
A two-channel amplifier can be stereo or bi-amped, but not both. Determine which is more important to you and proceed accordingly. If you want stereo or 2 channels now but plan to bi-amp later, we recommend going with 4 pole connectors and cable now so that you only have to add another XTi down the road.
What Professionals Choose
For both panel and cable, most professionals always use four-pole connectors. If bi-amping is more important, use pair one of the SpeakON connectors and channel one on the amp for lows, and pair two for highs and jump from one cab to the other.
You may have a separate output panel in your amp rack so that you can easily swap out the connections between the amps and speaker cables. This would allow for simple conversion between two-channel, bi-amped, and bridged operations as needed, allowing all of your cables to be standard.
Materials
2 pole cable ends are made of cheap plastic. There are plenty of busted 2 poles but very few busted 4 poles. If you're making your own speaker cables, two poles are a nightmare to make or repair. 4 poles are much better and easier to install.
Because the price difference is so small, professionals usually use the 4-pole ones for most applications.
Are SpeakON and PowerCON the same?
SpeakON has 2 or 4 pins, whereas PowerCON only has 3. That's why you should never mix a SpeakON and a PowerCON.
Ending Statement
Knowing the difference between SpeakON 2 poles vs 4 poles isn't enough. I'd suggest tinning the cable ends before inserting them into the connector. This prevents the twisted bare end from losing stray strands that could short on another conductor, and it also makes replacing a cable end in the field much faster.