If the heating element fails for any reason, it will not be able to heat the tip and thus will not be able to melt solder. Another factor to consider is the thickness of the solder you're applying. The higher the temperature required to melt solder, the thicker it is.
Soldering is the connecting of metal pieces to establish a mechanical or electrical link. It commonly employs a low melting point metal alloy (solder), which is heated and applied to the metal pieces to be joined, and when the solder solidifies, it attaches to the metal parts and makes a connection.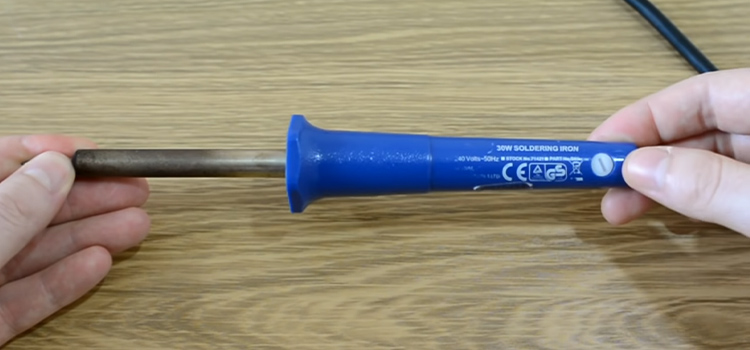 Solder Won't Melt | The Most Probable Reason
The most likely reason your soldering iron is not melting solder is that the soldering iron tip has become oxidized. When the tip of your soldering iron goes black, you know it has been oxidized. When the iron plating on the tip of a soldering iron oxidizes, it becomes iron oxide.
You may require a replacement heating element if your soldering station or soldering iron is not working properly. These heating elements are constructed from resistance wire that has been tightly wound around a metal spool. When the heating element fails, the soldering iron loses its ability to generate heat.
Problems With Soldering Iron
When compared to other metals/alloys, solder has an extremely low melting point. Even a low-power iron of 40W should melt practically fast. If the solder is not melting, the iron is either too hot or not operating at all. Try piercing the tip with a piece of paper.
Why Does My Soldering Iron Stop Melting Solder
Below are some possible problems why your soldering iron stops melting solder:
The soldering iron heating element has been broken.
Soldering iron temperature is insufficient because the iron has not had enough time to heat up.
Also, occasionally the soldering iron plug is not correctly connected to the electrical socket (significantly cheaper soldering iron).
The tip has become oxidized.
Using the incorrect solder.
Why Won't My Soldering Iron Heat Up
If your soldering iron isn't creating any heat, it's most likely due to a short in the electrical circuit caused by a defective connection in the iron or a heating element failure.
If the soldering iron continues to generate heat, the problem is most likely the soldering iron tip. When the tip is not properly kept clean and tinned regularly, oxides begin to form on the shank's surface. These pollutants must be eliminated or the heat transfer from the heating element will be hampered.
Why Is My Solder Not Flowing
The primary cause of solder flow is heat. Without it, you'll waste a lot of time trying to solder a piece. Heat is a difficult concept to grasp, especially if you're just getting started. The possible reasons why your solder isn't flowing are discussed below:
Flux: Copper would turn practically black due to the heat, copper oxides, and air, and the soldering bit would not flow. If you forget your flux, soak your entire piece in the pickle to remove the fire scale add the flux and try it again; it should flow perfectly this time. It improves solder flow.
Heat Sink Culprits: A "heat sink" is anything that can take heat away from your jewelry pieces, such as a steel tripod mesh or a third hand. As you heat your piece, the steel object absorbs the heat just as quickly. So, in essence, you'll never get the solder hot enough to flow.
Solder: This one is a little contentious. Solder can become dirty, preventing it from flowing. If this is the case, the pickle must be cleaned.
Torch Tips & Flame Sizes: A small torch tip is used for little findings such as jump rings, while a larger torch tip is used for larger pieces such as pendants. Remember, you want a flame that will get in there and finish the job swiftly.
Oil, Grime, and Dirt: Remember to clean your components before soldering. A simple sanding with 800 grit sandpaper will remove the oil left behind by your fingerprints, as well as grease and grime. Just remember not to touch the areas you've just sanded or you'll have to start over.
Frequently Asked Questions
How Do You Melt Old Solder?
Perform the following tasks to melt old solder:
Prime your iron by putting a dab of new solder on the tip.
With the solder on the tip put it on the old solder and it should liquify.
Soldering onto any metal object larger than a solder tag can be tricky because the metal conducts the heat away. It sometimes helps to warm everything up a little before starting.
As you desolder, you will need to add your flux. The component number for unflexed wick ranges from 1830 to 1833.
Why is my solder not working?
If your solder ball up or does not melt properly, it's not likely to work. Using wrong solder or low heat from the soldering iron may be the reason too.
Why does my solder just ball up?
Gassing and spitting of the flux on the surface of the wave create solder balls. It can also be caused if the solder bounces back from the solder wave. Excessive backflow in the air or too high a drop in nitrogen environments creates this problem.
Conclusion
Even if you are diligent, black areas of oxide can accumulate on your soldering iron's tip. Tip cleansers are available for this purpose. If you have strong soldering sense and know what you're doing, you can use a small screwdriver to carefully scrape the black oxide areas off the tip, then tin to restore it to good condition.