Push-in wire connectors offer quick and easy installation, with no twisting or tightening required. They also provide a secure connection and are reusable. On the other hand, wire nuts have been a staple in electrical work for many years and are known for their reliability and durability.
Both offer excellent electrical insulation and can provide a wide range of wire sizes. The choice between push-in wire connectors and wire nuts depends on the specific application and personal preference of the electrician.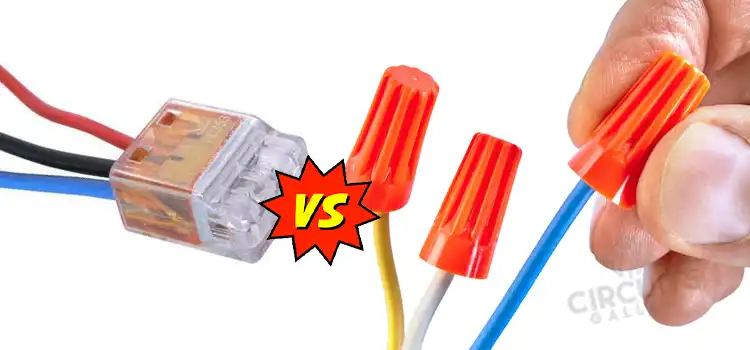 Comparison Factors
To compare push-in wire connectors and wire nuts, several factors need to take into account such as ease of use, reusability, installation complexity, and so on.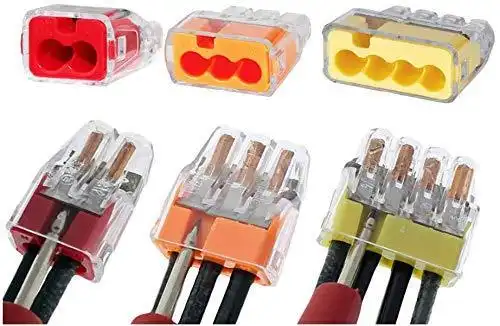 Fig 1: Push-in Wire Connectors
Ease of Use
Push-in wire connectors offer a hassle-free installation process. Wires can be inserted quickly without the need for twisting or bending, making them ideal for tight spaces or situations where multiple connections need to be made rapidly.
On the other hand, wire nuts require some twisting to establish a connection which can be troublesome sometimes.
Time-saving
The simplicity of push-in connectors saves valuable time, especially in large-scale electrical projects that involve numerous connections. Electricians can complete tasks more efficiently, leading to increased productivity.
Wire nuts, on the other hand, require more installation time compared to push-in connectors to secure a reliable connection.
Secure Connections
Push-in wire connectors provide consistent pressure on the wires, minimizing the risk of loose or intermittent connections. The internal spring mechanism maintains a firm grip on the wires, reducing the chances of accidental disconnection.
Although wire nuts can provide reliable connections, there is a slight risk of improper installation resulting in loose connections. This can lead to electrical faults, such as intermittent power or heating at the connection point.
Reusability
Wire nuts can be easily removed and reused, making them convenient for adjustments or repairs. This feature provides flexibility and cost-effectiveness, as replacement connectors are not always necessary.
Unlike wire nuts, push-in connectors are not designed for reuse. Once the wires are inserted and secured, it can be challenging to remove them without damaging the connector or wires. This limitation may require the replacement of the entire connector if changes or modifications are necessary.
Size Restrictions
Push-in connectors come in various sizes to function with different wire gauges. However, larger gauge wires may pose challenges due to space limitations within the connector. In such cases, wire nuts or alternative methods might be more suitable.
Wire nuts can accommodate various wire sizes, making them suitable for various electrical applications too. They provide flexibility in connecting different gauge wires, allowing for easy modifications or additions to existing wiring systems.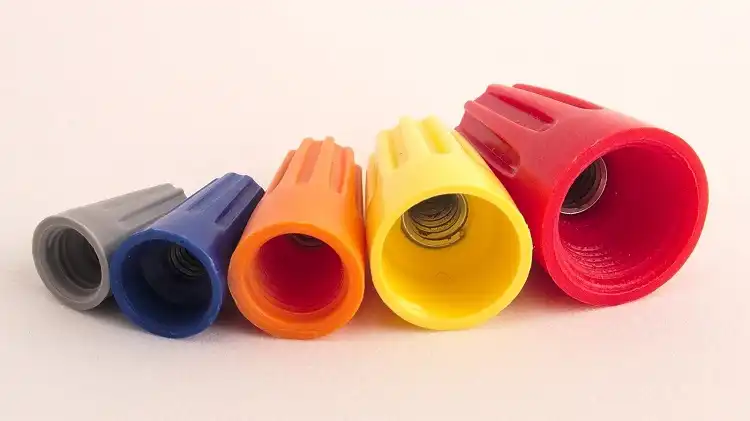 Fig 2: Wire Nuts
Installation Complexity
Compared to push-in connectors, wire nuts require twisting and wrapping of wires, which can be more time-consuming, especially in intricate wiring setups. Additionally, ensuring proper and secure connections may require more skill and experience.
Frequently Asked Questions
Are Push-in Wire Connectors NEC-Approved?
Yes, push-in wire connectors are NEC (National Electrical Code) approved for certain applications. However, it is essential to follow the specific guidelines outlined in the NEC and the manufacturer's instructions to ensure compliance and safety.
Do Wire Nuts Reduce Voltage?
Wire nuts themselves do not reduce the voltage, however, improperly installed wire nuts or loose connections can create excessive resistance in the circuit, which may result in a voltage drop.
To Conclude
While choosing between push-in wire connectors and wire nuts it is important to follow NEC guidelines and manufacturer's instructions for safety and compliance. Consulting with a qualified electrician can help you make an informed decision. Ultimately, consider the pros and cons and project requirements while selecting the most suitable option for your electrical connections.