Power conditioners offer comprehensive protection for electronic equipment, whereas surge protectors only give minimal protection. Manufacturers of these gadgets frequently avoid mentioning performance variances, thus complicating things.
Power conditioners and surge protectors (also known as surge diverters) have significant distinctions, however, individuals who buy power protection devices without knowing the facts may be disappointed. They will learn that they have purchased significantly less security than they imagined.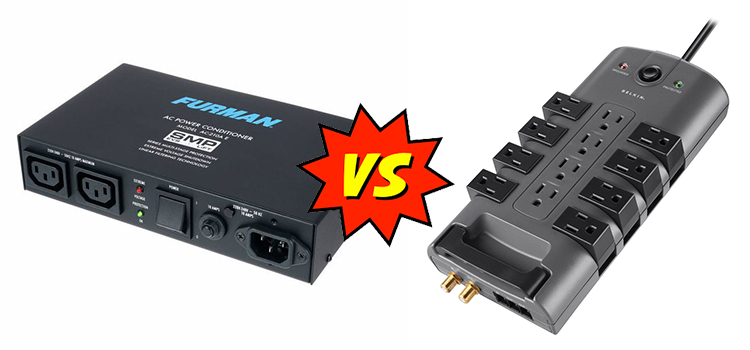 Power Conditioner vs Surge Protector
A surge protector is not the same as a power conditioner. A power conditioner impacts a whole circuit, whereas a surge protector affects only one item. Power conditioners can help you manage voltage variations in your home's electrical system.
Most consumers, however, suffer relatively little harm to their electronic gadgets for power fluctuations. In reality, certain gadgets are designed to tolerate spikes and surges as part of their usual operation. So, it all comes down to how worried you are about keeping your equipment safe.
Power Condition for Daily Life
Power conditioners prevent voltage spikes and power reductions, ensuring a constant supply of 120 volts per second. Conditioners also defend against storms, lightning strikes, and power outages. In daily use, then it can prevent voltage fluctuations from dimming or brightening lights.
Power conditioners can prevent TVs or satellites from shutting down while in use and protect radiofrequency. What they cannot do is increase the image quality on HD-ready TVs, regardless of the type. If you want to implement power conditioners at home or in a small business, they will undoubtedly succeed.
Reasons to Buy Power Conditioner
Your audio will sound better, and your image will be cleaner with a power conditioner. It will extend the life of your connected components. It also protects your equipment from damaging alternating current events. It has more security than surge suppressors. It has the ability to clear cable clutter as well.
Surge Protector for Daily Life
Surge protectors prevent high-voltage electricity from being sent to your equipment, preventing a catastrophic failure of your machine. Surge protectors often need to be changed every few years, which can make them more expensive in the long run than a more lasting line conditioner.
The use of surge protectors is highly dependent on the level of security you require for your television. An LCD or plasma panel will require a big surge protector, and you will probably still need some other defense. An uninterruptible power supply protector is required for more expensive projectors or lamp-powered equipment.
When to Use Surge Protector
The gadgets you're plugging in will determine whether or not you require a surge protector. There's no point to put a lamp into a surge protector because a power surge going through a lamp will just burn out its lightbulb. However, it is critical to utilize a surge protector with your computer.
Both laptops and desktop computers have voltage-sensitive components that can be readily damaged by a power surge. A power spike or surge without a surge protector might decrease the life of your computer, wipe away all of your data, or even entirely damage your system.
Choosing Between the Two
The most frequent deciding factor between these two items is price. Surge protectors are incredibly affordable, sometimes costing less than $20, and if you have reasonably sufficient power, this is the ideal sort to have. Line conditioners should be utilized in areas where power is low.
Some line conditioners include a surge protector that performs both tasks. However, finding a combo conditioner and surge protector for less than $300 is difficult. Surge protectors may be purchased for a lot less money. For example, a surge and power-loss safety device may be purchased for less than $100 utilizing an uninterruptible power supply device.
Power Conditioner with a Surge Protector
Surge protectors, isolation transformers, and power line noise filters are frequently included in the construction of power line conditioners that plug into a wall. These power conditioners provide greater surge voltage regulation and can thereby prevent system damage, component degrading, and operation disturbance.
Purchase a line conditioner that has automatic voltage control (AVR). AVR regulation provides three stages of voltage stabilization, restoring undervoltages and overvoltages to the regulated 120V nominal power. Providing optimal voltage settings improves the life of your equipment.
Best Power Conditioner
Furman P-1800 AR Advanced Level Voltage Regulator/Power Conditioner is a well-known device. Accell D080B-008K, Pyle-Pro PCO800, PCO850 by PYLE, Furman AC-215A, Furman PL-8C, Furman PL-PLUS C, APC J25B 8-Outlet J-Type Power Conditioner are also good at the market.
Best Surge Protector
APC Performance SurgeArrest 12, Belkin 12 Outlet Surge Protector, Anker PowerPort Strip 12, Anker PowerExtend 12 Strip, CyberPower Desktop Power Charger, and Monoprice 12 Outlet Power Surge Protector with 2 Built-in USB Charger Ports are the best surge protectors on the market.
Frequently Asked Questions
Is a power conditioner worth it?
Yes, a power conditioner is an important piece of equipment that filters out "bad" power and keeps your pricey equipment safer and more efficient. It contributes to ensuring that your equipment lasts as long as feasible.
Conclusion
So, if you need a more comprehensive solution for safeguarding your gadgets from any harm caused by voltage fluctuations, you may use both at the same time. But in most cases, a power conditioner will serve you better than a surge protector.