Ac coupling is an electronic engineering arrangement that permits an audio signal to be passed through while simultaneously preventing any dc bias or offset voltage to get through the source signal. This is often obtained through the addition of a capacitor in series with the circuit. So, in short, we can say that by ac coupling we can remove the dc offset of a signal.
AC coupling consists of using a capacitor to filter out the DC signal component from a signal with both AC and DC components. The capacitor must be in series with the signal. AC coupling is useful because the DC component of a signal acts as a voltage offset, and removing it from the signal can increase the resolution of signal measurements. AC coupling is also known as capacitive coupling.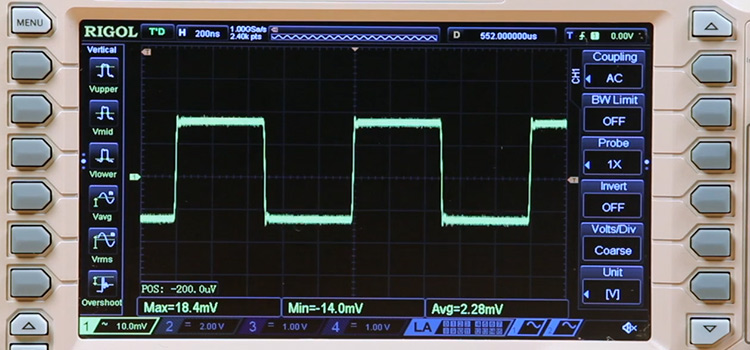 Oscilloscope AC Coupling
AC coupling involves getting rid of the DC offset of a signal. This is often accomplished by adding a capacitor in series with the circuit from which you want to remove AC signals.
Without getting too much into the math, a capacitor has the ability to block DC and only let AC signals through. Since a capacitor basically just consists of an insulator sandwiched by two conductors, there is no path for electrons to flow and the current is blocked.
However, a small charge on one terminal can induce an electric field and attract the opposite charge on the other terminal which causes charges to be 'pushed' around on the other side because of the electric field.
This movement of charges happens only when charges are added or removed from one side, in other words current 'flows' through a capacitor only when there is a changing voltage across the capacitor.
How do I set my oscilloscope to AC coupling
In the channel menu of the oscilloscope, we can turn on/off different settings. There's often a 20 MHz bandwidth filter, probe settings, input impedance settings, and coupling settings. In the "coupling menu," we can alter between DC coupling and AC coupling.
DC coupling allows us to see all signals from 0 Hz up to the max bandwidth of the provided scope. AC coupling filters out DC components. When we enable AC coupling on an oscilloscope channel, we're turning in a high-pass filter on the channel's input signal path. This cuts out all the DC components.
We use AC coupling if we have a high-frequency signal with a DC offset. This is like a power rail or a signal with very low-frequency drift. The intention of performing AC coupling is to remove DC, not to remove non-zero, low-frequency components.
Can an oscilloscope measure AC voltage
Yes, an oscilloscope is able to measure AC voltage. Generally, oscilloscopes are meant to measure voltage only. The simplest way to measure the signal is to set the trigger button to auto which means the oscilloscope start to measure the voltage signal by identifying the zero voltage point or peak voltage by itself.
As any of these two points are identified the oscilloscope triggers and measures the range of the voltage signal. Vertical and horizontal controls are adjusted so that the displayed image of the sine wave is clear and stable. Now take measurements along the center vertical line which has the smallest divisions. Reading of the voltage signal will be given by vertical control.
Frequently Asked Questions
Q. Can you give a basic example of AC coupling?
A basic example of AC coupling is observing and detecting the ripple on a power supply. The supply may look like a flat line at 3.3 V with DC coupling. If we try to crank up the gain to look at the ripple, the trace will be off the screen.
AC coupling removes the average DC bias and lets you amplify only the deviations from that average. With AC coupling, we can crank the gain to 10 mV per division and see the level of noise, the pulses from the switching supply, etc.
Conclusion
Oscilloscopes are designed to have a flat, consistent frequency response over the full bandwidth range. Being in DC coupling mode, oscilloscopes can easily measure AC signals despite a little bit of offset or scaling being required. That's what they're made for.
Specifically, we shouldn't use AC coupling mode to view signals near the filter's cutoff frequency. It is recommended to use AC coupling only for sine waves above 100 Hz and square waves above 200 Hz, or else we'll have signal attenuation or overshoot.