Sound signals are AC (alternating current). Vibrations or sound waves travel through a medium like air, water, or solids. Alternating current signals are created in the medium as a result of these vibrations' impact on pressure variations. Using a microphone, we can turn sound into an electrical signal that, in turn, shows the sound wave as an AC voltage.
Before becoming again sound waves, this AC voltage can be further processed, amplified, and expressed through audio systems.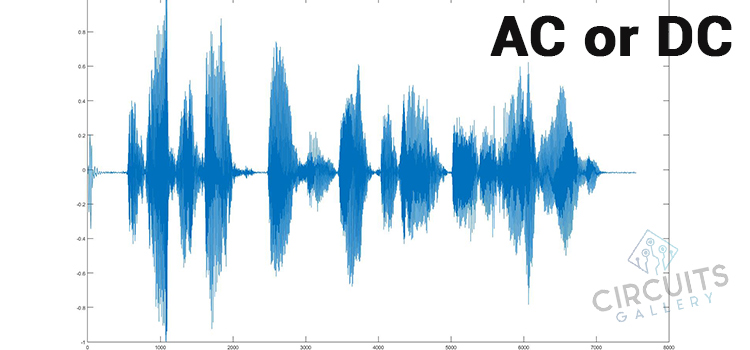 What Type of Signal is Audio?
Typically, audio signals are analog signals. The changes in air pressure brought on by sound waves are represented by analog signals, which are continuous waveforms. As electrical impulses, which are analog representations of sound waves, microphones record these changes in frequency. Typically continuous, analog audio signals vary with time in amplitude and frequency.
However, analog signals are usually transformed into digital signals for processing, storing, and transmitting in current digital audio systems. To create a discrete digital representation, the analog audio signal is collected and reduced.
What Is the Voltage of a Sound Signal?
A common unit of measurement for voltage in sound signals is the root mean square (RMS) voltage, which depicts the actual value of the alternating current (AC) waveform generated by sound waves. In electrical engineering, the equivalent direct current (DC) voltage that would deliver the same amount of power as the AC signal is described using the RMS voltage measurement.
Professional audio applications employ standardized voltage levels. Line-level signals, for instance, frequently range between -10 dBV and +4 dBu, where dBV and dBu represent decibels in relation to specific voltage references. These standard voltage levels guarantee the compatibility and optimal signal flow between various audio equipment, such as mixers, amplifiers, and speakers.
It is important to understand that many elements, like microphone sensitivity, preamplification stages, and later signal processing, can affect the actual voltage levels of sound transmissions. Additionally, methods like voltage matching and gain staging are used to modify and regulate voltage levels, enhancing the audio chain's signal-to-noise ratio and overall audio quality.
Transmission and Propagation of Sound Signals
When objects vibrate, sound signals develop, which affect the medium in which they are placed. Sound waves are produced by the compressions and rarefactions caused by these vibrations. To travel, sound waves need a medium like air, water, or solids.
Depending on the medium, sound moves at a different speed. The sound spreads in the air at room temperature at a speed of around 343 meters per second. Due to the closer closeness of particles in heavier media, such as water or solids, sound can travel farther and quicker.
When sound waves come into interaction with a surface, they may reflect, changing direction as a result. When sound waves move from one material with a differing density to another, refraction happens, which causes the waves to bend.
Sound waves efficiently move through solids as longitudinal waves, pressing and expanding objects in the direction of the wave motion.
Frequently Asked Questions and Answers (FAQs)
How is Sound Converted into an Electrical Signal?
Transducers like microphones change sound into an electrical signal. The changes in air pressure are converted into corresponding AC electrical signals by microphones, which also detect the sound waves.
Are There Any Instances Where Sound Signals Can be DC?
No, because sound waves are AC by nature, sound signals always are. Sound waves are constantly changing and oscillatory, compared to the fixed size and direction of DC (direct current) signals.
Are There Any Advantages to Sound Signals Being AC?
Yes, the AC nature of sound waves permits successful transmission, modification, and amplification. Additionally, AC signals are easy to incorporate and utilize because they work with a number of audio and communication technologies.
Conclusion
Understanding AC sound signals is essential for signal processing and a wide range of applications in communication and entertainment. Sound signals are AC (alternating current) because sound waves oscillate, making precise sound representation, transfer, and influence possible.