JB weld is not an electrical conductor. It's a 50 percent calcium carbonate and 30-40 percent epoxy resin electrical insulator.
JB weld is heatproof and pressure-resistant in both liquid and hardened forms. It's utilized to extend the life of medical gadgets, communication equipment, and microelectronics.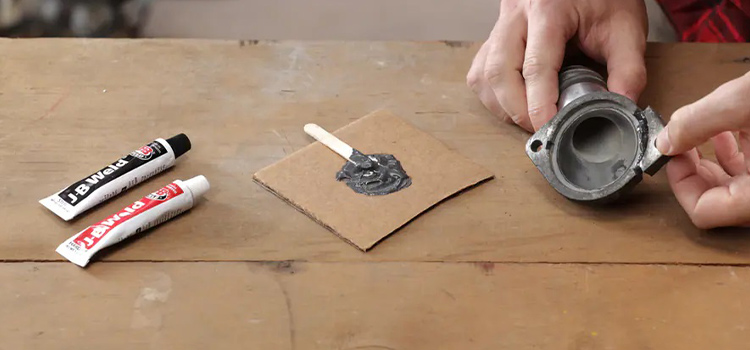 Is JB Weld Conductive
JB weld is not conductive. It is an insulator. It is a two-part adhesive that may be used to adhere glass, ceramic, metal, PVC, wood, fabric, or paper to a variety of surfaces.
To find the answer clearly, we need to first understand the relevant terms to it.
What is JB Weld
JB weld is a permanent solution that can be shaped or drilled after treatment. It is made up of two tubes: the steel (black resin package) and the hardener (the red one). To acquire the right ratio, squeeze equal amounts from both tubes and mix them.
It can sustain high pressure and a constant temperature of 500°F (260°C) for 10-15 minutes, as well as a maximum temperature of 600°F (316°C).
The Reason for the JB Weld Not Being Conductive
JB weld comes in a steel-based tube with a little amount of iron powder added to increase the adhesive's durability and give it a grey tone. Nonetheless, the amount of metal used is insufficient to make the object electrically conductive.
JB weld comprises insulator elements like calcium carbonate (50%) and epoxy resin (30-40%). Calcium carbonate is water-soluble, which makes it an insulator. The epoxy resin protects electrical particles from dust and moisture.
An epoxy that Conducts Electricity
8331 is a two-part epoxy adhesive that is electrically conductive and silver-filled. It can be used to bind heat-sensitive electronic components or to make conductive connections where soldering isn't possible, such as when bonding to glass, soft metals, or plastics.
A glue that Conducts Electricity
8330 is an electrically conductive epoxy glue that comes in two parts. It has a smooth, non-sagging surface, is thixotropic, and adheres to a wide range of substrates.
Quick cold-soldering repairs are possible with this silver conductive glue. It can also be used to make conductive connections where soldering isn't possible, for as when attaching to glass, soft metals, or plastics. It is particularly effective at filling seams between metal plates and provides excellent EMI/RFI shielding.
Is superglue Electrically Conductive
No, super glues are not conductive. Any Cyanoacrylate (super glue) will not conduct electricity. They're merely polymers, like every other type of plastic. The major issue would be getting glue on the contacts, which would make it impossible to make a good connection.
Unfilled Cyanoacrylate adhesive (i.e., without carbon or metal particle filling) is usually not conducive. When super glue dries, it takes on the appearance of hard plastic. It will not allow electricity to travel through it. Theoretically, it could be conductive while wet, but CA glue dries very quickly, in a matter of seconds.
Is Steelstik Conductive
No, JB weld steelstik is not conductive. It is just a polymer compound and also the amount of metal in it is insufficient to make it electrically conductive.
It is a steel-reinforced, hand mixable, non-rusting epoxy putty and is used to quickly repair or rebuild anything made of metal. It produces an industrial-strength polymer composite that may be molded into shapes or used to build up, patch, and repair steel components after being mixed.
How strong JB Weld is
JB weld is built to endure even the most extreme conditions. It interacts chemically to form the strongest bond possible because it is a two-component or 2k epoxy system.
J-B Weld has a tensile strength of 3960 PSI and takes 15 to 24 hours to harden. When properly cured, it can tolerate temperatures of up to 550°F. It is claimed that the weld is more durable than steel.
Thus JB weld forms a strong polymer compound after mixing its component in a correct ratio. This property helps JB weld to be an insulator.
Frequently Asked Questions
What is the difference between JB weld and KWIK weld?
When you require a quick-setting epoxy, KWIK Weld is a perfect alternative to traditional J-B Weld. It cures in 4-6 hours and sets in 4 minutes, whereas J-B Weld cures in 15-24 hours and sets in 4-6 hours.
KWIK Weld is about two-thirds the strength of J-B Weld due to its rapid setting time; nonetheless, they are both strong enough for most jobs and repairs. Due to their components, both of them don't provide any electricity.
Conclusion
JB weld is an insulator that supports electrical conductors rather than conducting electricity. It is mostly made of insulator materials including Calcium Carbonate, which is water-soluble and thus makes it an insulator.