No, Epoxy resins are not conductive. Epoxy is used widely as an insulator for electrical and electronic components. It has a typical electrical conductivity in the range of 10-9 S/m. Which is sufficiently low for all types of insulating needs.
Epoxy resins are highly non-conductive. They are used to coat windings of high voltage transformer coils to avoid arcing and short-circuiting. Entire circuits may be encased in epoxy resin to avoid arcing and to protect them from harsh environments, such as moisture and corrosive chemicals.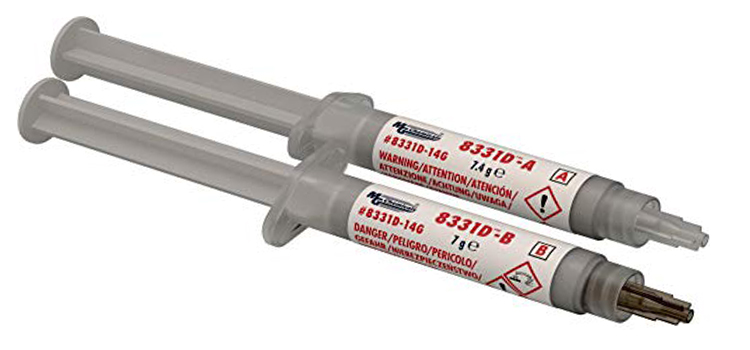 Is Epoxy Conductive
Epoxies are a class of reactive prepolymers and polymers that contains epoxide groups. Due to the presence of the epoxide group, they are generally called epoxy. Epoxies are highly non-conductive due to being a polymer.
For a compound to be conductive, it must have free electrons or free charge carriers present in it. Epoxies and polymers in general, are formed from organic macromolecules. Organic molecules are formed of directional covalent bonds. So, in polymers, the electrons are locked in by the covalent bonds. Thus, the electrons cannot move freely, giving the polymers their excellent insulating property.
Due to their insulating property epoxies are used widely in electrical and electronic applications. They also provide resistance to moisture and corrosion. Epoxies are used to insulate windings of transformers, inductors, motors, generators, etc. It is a general practice to encapsulate entire transformer coils and high voltage components in epoxy to make them insulated and resistant to harsh environments.
Does Epoxy Conduct Electricity?
No, epoxy is not conductive. It does not have free electrons in its structure, so it is an insulator. Conductive varieties of epoxy are also available commercially. Conductive metals like Silver and Zinc are mixed with epoxy to make it conductive. But normally epoxy is always an insulator in its pure form.
Is Gorilla Epoxy Conductive?
Gorilla Brand epoxy is nonconductive. It can be safely used in electronics projects and can be used just like any other epoxy to varnish coils and encapsulate electrical components.
Is Resin an Electrical Conductor?
Most resins are electrically non-conductive. Resins are usually a mixture of organic compounds that can be converted into polymers. Like polymers, resins also don't have any free charge carriers in them, so they are electrically non-conductive.
Does Wet Epoxy Conduct Electricity?
No, liquid epoxy doesn't conduct electricity. Epoxies generally come in two liquid parts, when the two liquid parts are mixed, it turns into a solid over time. Epoxy doesn't exhibit electrical conductivity in either its liquid or solid state.
Frequently Asked Questions
Is it safe to use epoxy in electrical applications?
Yes, it is safe to use epoxy in electrical applications. It is used widely as an insulator. It is also an inert compound. It doesn't cause corrosion to component leads or PCB traces. It is used to protect components from arcing, short-circuiting, moisture, and corrosion. Epoxy coating can also make a component waterproof.
Conclusion
Epoxy is an excellent nonconductor. Due to its insulating property, it is used to insulate electrical components. It also protects the components from moisture and corrosive chemicals.