You can measure current with an oscilloscope using one of the following methods:
Measuring the voltage dropped across a shunt resistor.
Measuring current with a current probe.
Measuring current with a digital multimeter is common. But measuring current that changes over time necessitates the use of an oscilloscope. Most oscilloscopes only detect voltage directly, not current. However, you can measure current with an oscilloscope in one of the above two ways.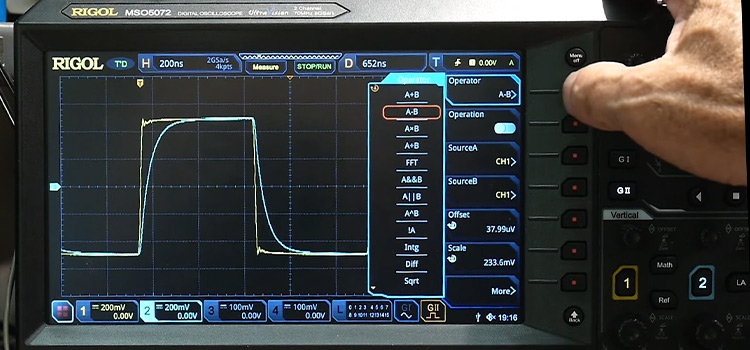 How to Measure Current With an Oscilloscope
Using a shunt resistor while measuring current with an oscilloscope requires some math to do in your head to interpret the waveform. This can get confusing if you have to document your waveform. Using a current probe solves all these issues by introducing an easy way to measure current with an oscilloscope.
Oscilloscopes display and analyze the waveform of electronic signals. In effect, the device draws a graph of the instantaneous signal voltage as a function of time. Oscilloscope current probes allow oscilloscopes to measure current in addition to voltage, expanding their utility beyond voltage measurement.
Using a Shunt Resistor
This is the most convenient technique if a current sense resistor ("shunt" resistor) is built into the DC power supply. If the common-mode signal is within the probe's designated operating range and the voltage drop is large, measuring the voltage drop across the sense resistor with an active differential probe yields good results.
Using a differential probe on low-level signals, on the other hand, necessitates some attention to noise reduction in the measuring equipment. To reduce measurement system noise, use the lowest available probe attenuation and limit bandwidth on the probe or the oscilloscope.
Using a Current Probe
An electromagnetic flux field forms around a conductor as current flows through it. Current probes are designed to detect the strength of this field and convert it to a voltage that can be measured using an oscilloscope. This allows you to use an oscilloscope to view and analyze current waveforms.
Current probes, when used in conjunction with an oscilloscope's voltage measuring capabilities, enable you to make a wide range of power measurements. These metrics can include instantaneous power, actual power, apparent power, and phase, depending on the oscilloscope's waveform math capabilities.
Types of Current Probes for Oscilloscopes
Current probes are frequently employed in measuring the current of power devices or power supplies, and they are quickly becoming indispensable equipment for obtaining precise current measurements with oscilloscopes.
There are several techniques for measuring electric current that can be employed to meet those demands, but the most typical techniques used with oscilloscopes are:
Clamp-on current probe: Either AC transformer or hybrid Hall effect sensor/AC transformer
Rogowski coil: A convenient probe for large AC current measurement
Clamp-on Current Probe
To measure current, current clamps have jaws that open and clamp around an electrical circuit. They are quite useful because they allow you to clip the probe around an existing conductor without disconnecting and rerouting cables.
Current clamps measure the magnitude of direct and alternating currents (DC and AC), as well as the phase shift and waveform. The following figure is of a clamp-on current probe.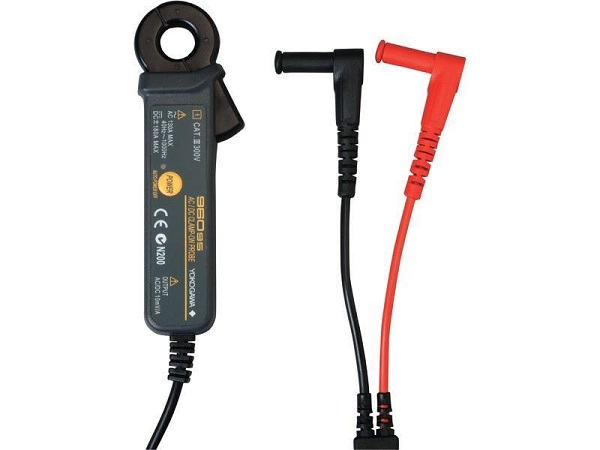 Rogowski Coil
The Rogowski coil is an electrical device used to measure alternating current (AC). It can also measure high-speed transients, pulsed currents, and sinusoidal currents. The Rogowski coil was named after the German inventor. The following figure is of a Rogowski coil.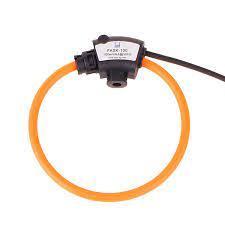 How Do You Use a Current Probe With an Oscilloscope
Using a current probe is not very difficult. By connecting current probes to an oscilloscope, they can be used. This procedure is pretty straightforward. Perform the following steps to connect the oscilloscope:
Bend and loop around the clamp-on probe to the component that you want to test.
Clamp it around the wire as in the following figure and you're ready to measure.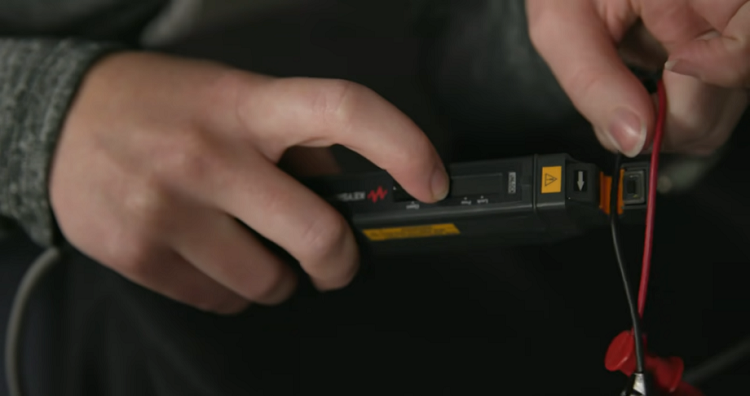 How to Measure Inrush Current
Inrush current is the surge or brief burst of current that enters electrical equipment when it is first turned on.
Technicians can use a hard-jawed clamp meter or a flexible current probe to measure inrush current. Inrush current can only be measured by meters that have an inrush button. Here are the steps to measure it.
With the device to be tested turned off, turn the meter's dial to iFlex.
Wrap the jaw or flexible probe around the live wire of the device.
On the meter's face, press the inrush button.
Turn on the gadget.
The meter's display shows the inrush current (spike).
Conclusion
Using a shunt resistor to measure current via oscilloscope isn't the best choice. Because the resistance adds extra uncertainties to your measurement. So, using the current probe for measurement is a wise decision. The probes you use will vary depending on the range of current that you want to measure.