You need a resistor to convert 4 to 20mA current to voltage. Through the equation, V=IR, calculate the value of the resistor and place that resistor in the path of the current.
You can also use a current-to-voltage converter (op-amp-based) to convert 4 to 20 mA to 5V. Now let's get to know more about the process.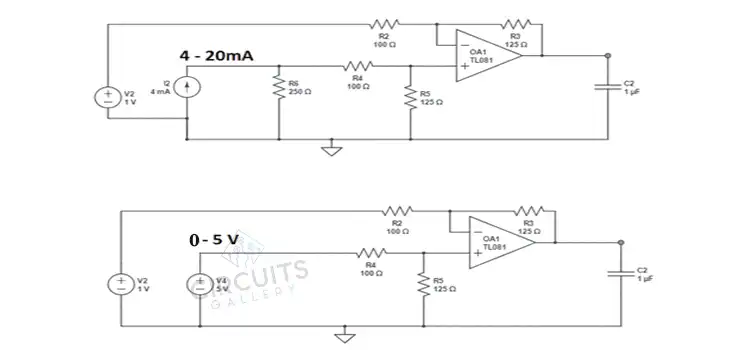 What Resistor Converts From 4-20MA to 0-5V
Ohm's law states:
R = V/I
V is the voltage, I is the current, and R is the resistance.
R = 5V/0.020A = 25Ω
When 20 mA flows through a 25 Ω resistor, it will drop 5 volts.
When 4 mA flows through a 25 Ω resistor, it will drop 0.1 volts. Therefore, 4-20 mA through a 25 Ω resistor will drop 0 to 5 volts.
Current to Voltage Converter
Electronic devices that convert current signal inputs to proportional voltage outputs are known as current-to-voltage converters. They consist of an operational amplifier for simple linear signal processing and a resistor for current dissipation. The op-amp, however, is not displayed in the following circuit diagram for simplicity.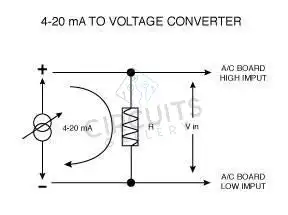 Figure 1: Current to Voltage Converter
Variable current is converted into equivalent output voltage by an I to V converter. We can convert our current signal of 4-20 mA to a voltage signal of 0-5 V easily using such converters. But mainly, this circuit comes in handy when the measuring equipment can only detect voltages and not currents and we want to measure the output current.
Frequently Asked Questions
What Is the Purpose of Converting 4-20MA to 0-5V?
The outputs of 4-20mA transducers must be transformed to signal voltages appropriate for measurement by an A/D converter in conventional process-monitoring equipment. Four milliamps in the loop are typically calibrated as zero for the monitored quantity, producing 0V at the ADC input.
How Does the Conversion Circuit Work?
Ohm's law states that voltage equals current times resistance, and an ordinary resistor can be used as a current-to-voltage converter. If you connect a resistor to a current source, the resistor will generate a voltage equal to the current multiplied by the "gain," which is the resistance.
Are There Any Considerations for Selecting Resistors?
Three steps are required for resistor selection:
Determine the resistor's resistance and the watts it will dissipate.
Determine the appropriate "Watt Size" (physical size) based on watts, volts, allowable temperatures, mounting conditions, and circuit parameters.
Select the most appropriate unit, including type, connectors, and mounting.
Conclusion
The 4-20 mA signal is favored over the 0-20 mA signal because it can quickly identify broken wires. If the current observed in a 4-20 mA transmitter is zero, the transmitter will generate an error signal. The current signal can be relayed without error across a 1000-meter distance.