Keeping the soldering iron clean can help it increase its lifespan. Proper maintenance is a very necessary part of its lifecycle. You have a few ways to clean and maintain the soldering iron. Some of them are by using a sponge or brass wool, tinning, solder material layering, etc.
Some method is better than others depending on the situation. So here we will break down all the popular cleaning methods to help you decide how you can easily and efficiently clean your soldering iron.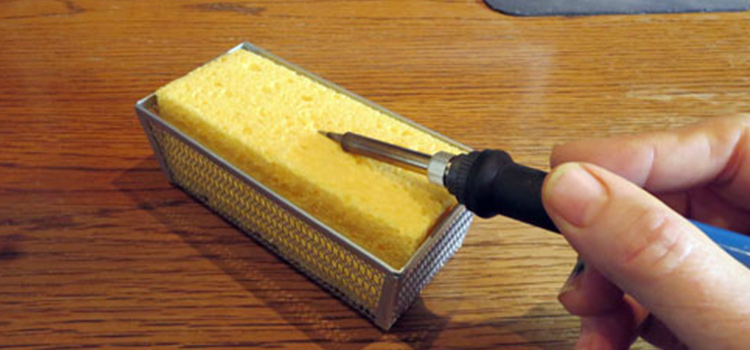 Cleaning Soldering Iron Tip
The first rule for maintaining a clean tip is not using cheap soldering wires. It may seem like it is cost effective and you are saving money, but it will do more harm than good in the long run.
The cheap soldering iron wires have a higher impurity rate. This will cause the iron tip to gather more materials than normal. This can also increase the oxidation rate of the tip. A wire with a 50/50 or 50/40 ratio is good to use with any soldering iron.
Using Sponge to Clean Iron's Tip
Using a wet sponge to clean the soldering iron tip is a very common thing to do. It cleans the tip but it is not a good way to do it, especially if the iron is still hot.
To clean it with a sponge, first, you have to hold the sponge under running water. After it is wet, squeeze to take out as much water as possible. Now use the sponge to clean the iron's tip. Put pressure as necessary when cleaning.
The problem with this is, that you are using a wet sponge to clean a heated iron tip. This will make the temperature rise and drop continuously. This makes the tip shrink and expands repeatedly. Thus making the metal fatigue and causing the failure of the tip eventually.
But of course, you can wait for it to cool down first then use the sponge to clean it. This is more time-consuming since you need to wait until it naturally cools down.
Using Metal Wool to Clean Iron's Tip
You can use steel or brass wool to clean your soldering iron tip. This is a faster way to clean the tip. You have to take a ball of metal wool and rub it around the tip. For better access, you can unscrew it from the head and take out the tip.
If you haven't cleaned your soldering iron in a while, then you may need to rub it with a bit of force to get all the unwanted material that is stuck inside, out of the tip.
You don't need to wait for the iron to cool down for it. But if you want to open the iron and take out the tip then you need to wait until it cools. Or else you won't be able to hold the tip since it gets very hot during work.
Tinning/Layering Iron's Tip
A common practice for protecting the soldering iron tip is to tin it. For tinning, you can find different kinds of tip tinners in the market. There is also oxidation remover if your iron's tip becomes oxidized. These things come in a box.
To apply the tinning, you simply have to start the solder and let it become hot. Then apply some soldering wire around the tip and rub it off on a sponge or metal wool. Now dip the tip inside the tip tinner box and wait for 5 to 7 seconds then pull it out. Thus you have tinned your soldering iron tip.
It is a good habit to clean and layer the solder tip every day after work. After you are done working for the day, just use some soldering wire around the tip to create a layer then rub it on a sponge or metal wool. This will create a soldering wire layer around the tip which will prevent oxidization.
Check the Wires Regularly
The tip is not the only thing you need to maintain. While the tip needs more maintenance than any other part, be sure to check the wires of the tool. Since the soldering iron works with a very high temperature, it is often likely it will damage the wires it is connected to.
So, make sure to check for burnt wires and replace them as necessary to avoid any kind of accident.
Frequently Asked Questions
Can I use a file to clean the soldering iron tip?
Ans: No, a file is too corrosive. You will damage the tip if you use it to clean the tip.
How do I remove oxidation from a soldering iron?
Ans: You can use oxidation remover flux that you can find in the market. Apply it the same way as you tin the tip.
Conclusion
Cleaning a soldering iron is pretty easy. Most of the maintenance is for the tip of the tool. Since that is the main part that is used for soldering. Proper maintenance and cleaning can extend the life of a soldering iron a lot.