A red wire nut may be able to reliably support two or three 14-gauge wires. It is generally made to join several wires with gauges ranging from 18 to 12.12. However, it's crucial to keep in mind that going beyond the advised wire count may jeopardize the connection's integrity and provide safety risks.
The range of wire gauges that a wire nut can accommodate is indicated by its capacity, which is sometimes described by the manufacturer's color coding. But depending on the manufacturer and the application, the precise number of wires that can be joined together with a red wire nut may differ.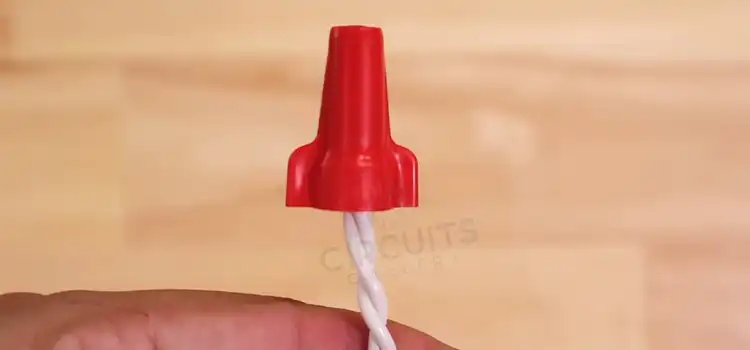 How Many 14-Gauge Wires Can a Red Wire Nut Handle?
Electrical wires are frequently connected using wire nuts, usually referred to as twist-on wire connectors. They are made up of a metal coil inside and a plastic cover with internal threads. When the cap is tightened over the wires, the metal coil firmly grasps the wires to form a reliable connection.
There are several colors of wire nuts, and each color denotes a particular capacity or range of wire sizes that can be supported. The following is a typical reference even though the color coding scheme can vary significantly between manufacturers.
| | |
| --- | --- |
| Wire Color | Capacity |
| Red | 18-12 AWG |
| Yellow | 14 to 10 AWG |
| Blue | 14-6 AWG |
Based on industry standards and safety considerations, the general recommendation of two to three 14 gauge wires for a red wire nut has been established. It strikes a compromise between wire fill ratios, space restrictions, and making a secure connection. Here is a list of factors that may affect the number of wires.
1. Space restrictions
How many wires can fit comfortably depends on the size of the wire nut and the area inside it. It may become congested and difficult to make a suitable connection and securely fasten the wires if there are too many wires inside the wire nut.
2. Contact area
For a solid electrical connection, each wire must make good contact with the metal coil inside the wire nut. The contact area between the wires and the metal coil may be harmed if there are too many wires inside the wire nut. Poor conductivity, higher resistance, and probable heating problems can result from this.
3. Safety concerns
When there are too many wires in the wire nut, insulation displacement can occur, causing the wires' insulation to become damaged or torn off. As a result, there may be exposed cables, raising the possibility of electrical arcing, short circuits, and other dangers.
How Many Wires Can You Put in Red Wire Connectors?
Depending on the individual maker and model, a wire nut's internal volume or space may change. Instead of precise measures of interior space, wire nut sizes are often set based on the wire gauge range they can accommodate. To give you a broad idea, a regular red wire nut measures roughly 0.77 inches (19.6 mm) in length and 0.47 inches (11.9 mm) in diameter.
Manufacturers may have modest differences in these measurements. The radius for a 14-gauge wire would be roughly 0.032 inches or 0.815 millimeters. The three wires' combined diameter is 0.096 inches. This calculation only approximates the cross-sectional area of the wire and does not take insulation or changes in wire design into consideration.
It's important to keep in mind that while determining the maximum number of wires that can fit into a wire nut, the internal space must also provide the space required for secure couplings and appropriate twisting of the wires. As a result, the space inside the wire nut may be a little bit greater than the total cross-sectional area of the wires it can hold.
FAQs (Frequently Asked Questions and Answers)
What if I'm unsure of the wiring requirements or the wire nut capacity?
It is preferable to refer to the manufacturer's instructions or get in touch with them directly if you have any questions about the wire nut capacity or any wiring requirements. Additionally, it is always essential to obtain advice from a licensed electrician.
Can I use more wires than what is suggested for a wire nut?
It is not advised to use a wire nut with more wires than the manufacturer suggests due to safety issues. Alternative techniques, such as utilizing larger wire nuts, dividing the wires into several connections, or using a different type of connector, may be required if you need to connect more wires than a wire nut's recommended capacity can handle.
Conclusion
The number of 14-gauge wires that a red wire nut can hold varies based on the product and the manufacturer. Two to three 14-gauge wires can be utilized in general. Nevertheless, it's crucial to constantly review the manufacturer's instructions.