Yes, flux core welding wires may certainly get old and bad. Like any consumable material, the flux core welding wire may corrode, deteriorate, and wear out.
Get ready to uncover the secrets behind the lifespan of flux core wire and ensure your welding endeavors remain smooth and successful.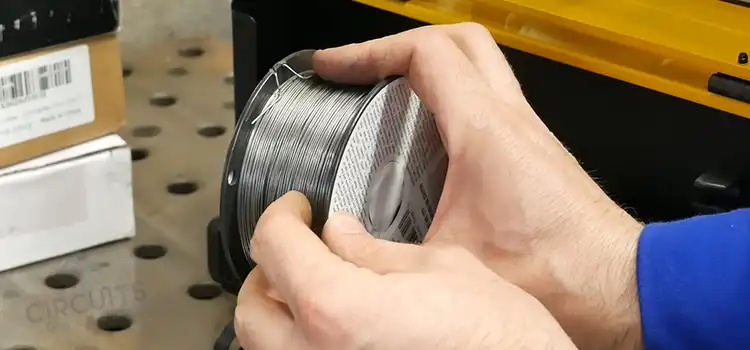 Facts Behind The Reasons Why Flux Core Wire Degrades
It's critical to comprehend the possibility of deterioration over time when it comes to flux core wire. The fact is that flux core wire may degrade in some situations. Inadequate storage, exposure to moisture or humidity, and use after the wire's expiration date are all potential causes of degradation.
Flux core wire's chemical composition might alter over time, lowering the performance and quality of the weld. Furthermore, contact with pollutants or too much heat might hasten the degrading process even further.
Does Flux Core Welding Wire Get Old?
Yes, flux core welding wire can get old over time. The aging process of flux core welding wire primarily involves the degradation of its flux compound, which is responsible for shielding the weld pool and providing other desirable properties during the welding process.
Due to the wide range of possible flux compositions, it is challenging to provide a specific chemical formula for the degradation products. The degradation products can include carbon dioxide (CO2), water (H2O), volatile organic compounds (VOCs), and various metal oxides, such as iron oxide (FeO) or manganese oxide (MnO).
Several factors can also contribute to the aging of flux core welding wire. Improper storage conditions, such as exposure to moisture, humidity, extreme temperatures, or contaminants, can accelerate the degradation process. Additionally, exceeding the wire's designated shelf life can also result in diminished performance.
Why Flux Core Wire Goes Bad
Exposure to Moisture and Humidity
Moisture can infiltrate the wire's outer coating and compromise the integrity of the flux compound.
When exposed to moisture, the flux compound can lose its effectiveness, leading to poor shielding and compromised weld quality.
Chemical Composition Changes
Over time, the flux compound in flux core welding wire may undergo chemical changes.
These changes can result from exposure to heat, oxygen, or contaminants.
Exceeding Shelf Life
Flux core welding wire typically has a specified shelf life provided by the manufacturer.
Using the wire beyond its expiration date can lead to deterioration.
Contamination
Flux core welding wire can be prone to contamination if stored improperly or exposed to contaminants.
Contamination from dirt, oil, or other foreign substances can compromise the flux compound's integrity.
Oxidation
Oxidation occurs when flux core welding wire is exposed to oxygen over an extended period.
Oxygen can react with the flux compound, causing it to lose its shielding properties.
Improper Storage
Inadequate storage conditions can accelerate the degradation of flux core welding wire.
Factors such as high temperatures, excessive humidity, and exposure to direct sunlight can contribute to wire deterioration.
How to Prevent Flux Core Wire from Going Bad
Proper Storage
Store flux core welding wire in a dry and controlled environment.
Protect the wire from moisture, humidity, and extreme temperatures.
Use airtight containers or bags to prevent exposure to the elements.
Regular Inspections
Before use, inspect the flux core wire for signs of rust, brittleness, or changes in the flux consistency.
If any of these signs are present, replace the wire to maintain optimal welding performance.
Minimize Exposure to Oxygen
Keep flux core welding wire protected from excessive exposure to oxygen.
Use appropriate storage containers or keep the wire in airtight packaging when not in use.
Maintain a Clean Welding Environment
Create a clean and well-ventilated workspace for welding.
Minimize the presence of contaminants that could potentially compromise the flux core wire.
Frequently Asked Questions
How Long Can You Store Flux Core Wire?
Electric flux core wire is likely to last up to five years if stored properly before needing to be replaced.
How Can You Tell if a Weld Is Bad?
Unevenness, cracks running through the center of the bead, being excessively thin, and/or a lack of parent metal discoloration are all indications of a poor weld.
Do Flux-Cored Wires Have a Shelf Life?
Yes, flux-cored wires do have a shelf life. Flux-cored wires consist of a metal wire with a flux compound inside, which is responsible for shielding the weld pool and providing various properties to the weld. Over time, the flux compound can deteriorate or lose its effectiveness, impacting the quality of the weld.
Conclusion
In conclusion, flux core wire does have a shelf life and can deteriorate over time. To maintain its integrity and maximize welding performance, store the wire properly in a dry, controlled environment, follow the manufacturer's guidelines regarding shelf life and usage, and regularly inspect the wire for signs of degradation.