DeoxIT D5 vs D100 | Comparison 
If you're into gadgets, music equipment, or basically anything with wires and circuits, you know how vital it is to keep everything in tip-top shape. Let's face it, dust and grime are like kryptonite for your gear.
They can mess up your sound, distort your signals, and in some cases even turn your adored equipment into costly paperweights. That's where DeoxIT comes to the rescue—it's like a spa day for your gadgets.
But hold up, DeoxIT has an entire lineup—D5, DN5, D100, and even a GOLD version. Confused? Do not worry; you're not alone. Each of these sprays has its own set of superpowers designed to handle particular issues.
Whether you are a seasoned pro or just somebody who adores their gadgets, this article will assist you in figuring out which DeoxIT spray is your hero. We'll dive deep into the world of DeoxIT D5 and D100, comparing their highlights, applications, and benefits so you'll make an informed decision.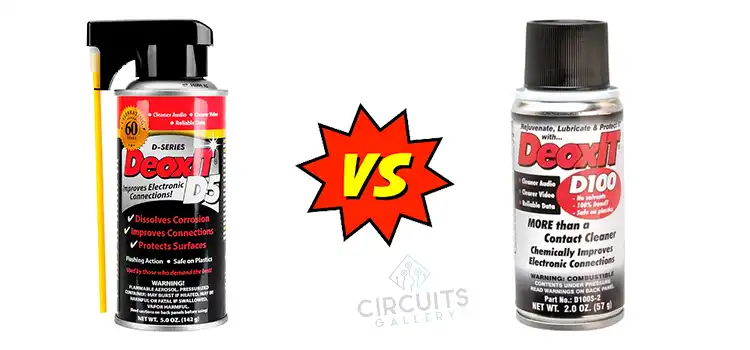 What is DeoxIT D5 and D100?
DeoxIT D5 and D100 are both flagship items by CAIG Laboratories, well-regarded for their expertise within the domain of contact cleaners and enhancers. These solutions are created to address issues of corrosion and oxidation on electrical contacts, guaranteeing devices work at their peak performance.
DeoxIT D5
DeoxIT D5 isn't just a cleaner but also a rejuvenator. It's designed to dissolve oxidation and corrosion on metal surfaces, thereby boosting conductivity and extending the life of electronic hardware.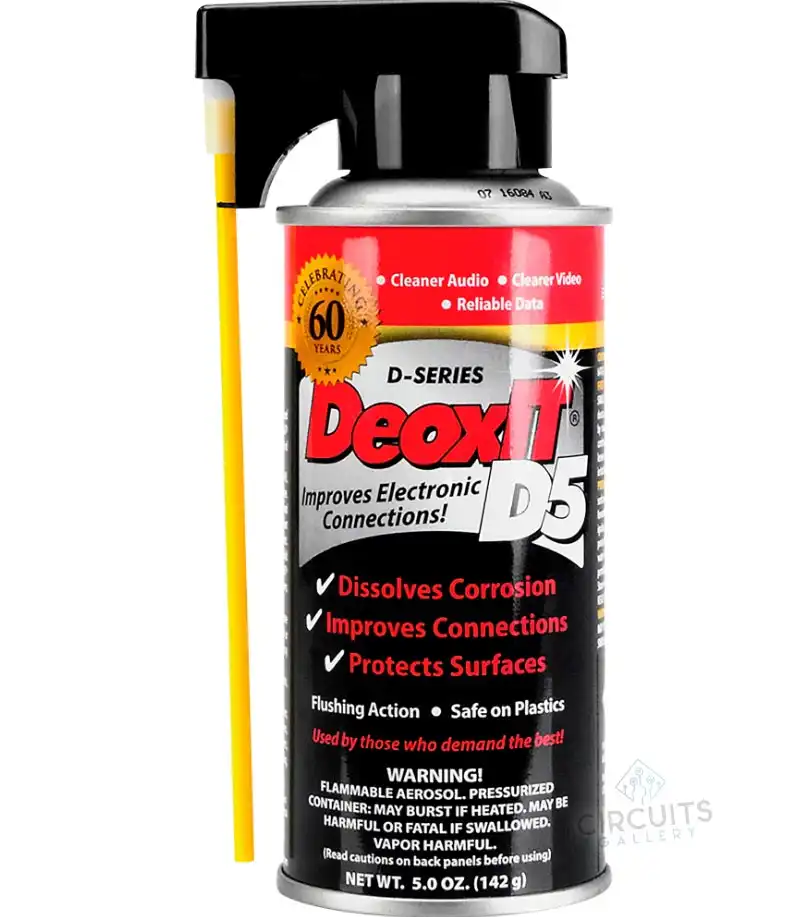 Image 1: DeoxIT D5
It further provides a protective layer, which shields against future oxidation and natural contaminants. Common applications for D5 incorporate audio/video systems, computer circuits, and automotive gadgets, emphasizing the product's versatility.
DeoxIT D100
DeoxIT D100, on the other hand, offers a more concentrated solution focusing on similar issues. It effectively dissolves corrosion, improves conductivity, and gives a long-lasting protective barrier against future oxidation on contacts and connections. Other than cleaning, D100 conditions metal surfaces, making them less vulnerable to future corrosion and oxidation.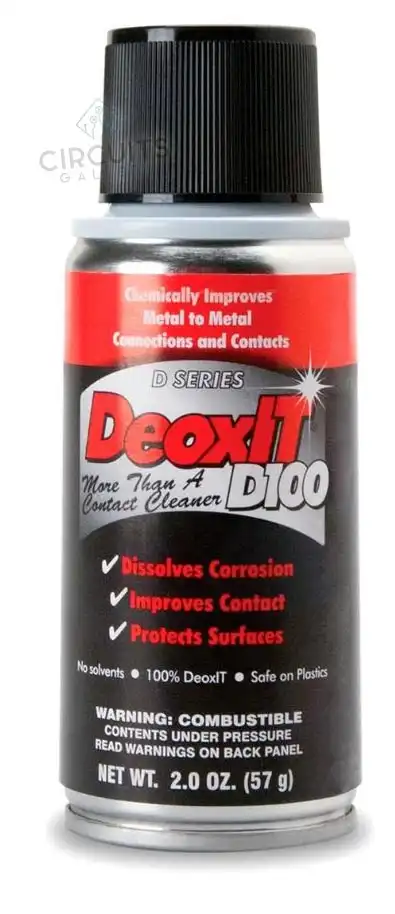 Image 2: DeoxIT D100
In different industries where electrical reliability is vital, these items are crucial. Over time, contacts can degrade due to different factors, possibly compromising equipment performance.
Both DeoxIT D5 and D100 emerge as trusted allies in such scenarios, correcting existing issues and providing proactive protection, guaranteeing electronic connections stay efficient and consistent.
Comparison between DeoxIT D5 and D100
DeoxIT D5 and D100, both products from CAIG Laboratories, are at the cutting edge when it comes to the maintenance of electronic connections, especially within the realm of contact cleaning and rejuvenation. Let's dig into a comparative analysis, utilizing technical terms to distinguish the two.
Concentration
DeoxIT D5: This is a 5% solution, making it a diluted variant suitable for general-purpose use.
DeoxIT D100: As the title suggests, D100 offers a 100% concentrated solution, giving a strong treatment for extremely corroded or oxidized contacts.
Fuel
DeoxIT D5: The D5 variant ordinarily incorporates a propellant, particularly in its spray form, which helps in flushing away contaminants and debris.
DeoxIT D100: Missing a propellant, the D100 solution offers a more direct application of the cleaner without the included force of a spray.
Application
DeoxIT D5: Perfect for regular maintenance, where a delicate cleaning combined with a protective layer is wanted.
DeoxIT D100: Best utilized for contacts that are intensely oxidized or corroded, requiring a more concentrated touch.
Protective Film
Both items leave behind a protective film, but the D5's film is ordinarily thinner due to its diluted nature, while the D100 leaves a more significant protective layer.
Use Cases
DeoxIT D5: Being a general-purpose solution, D5 is suitable for most electronic contacts, from sound equipment jacks to computer connectors.
DeoxIT D100: Given its concentration, D100 is reserved for situations where contacts are in dire need of rejuvenation, such as older equipment or those exposed to harsh conditions.
Frequently Asked Questions
Is D100 too strong for regular use?
D100, with its higher concentration, can be quite aggressive for daily or routine applications. It's more apt for situations where there's a pronounced issue or when intensive treatment is mandated for the connections.
Can I mix DeoxIT D5 and D100 together?
While it's not a common practice to mix the two, if one aims to achieve a specific concentration or blend, it's technically feasible.
How frequently should I apply DeoxIT D5 and D100?
The frequency of application greatly depends on the device's operational conditions and surrounding environment. For gadgets that experience regular wear and tear, or are exposed to harsh conditions, applying every 3-6 months is advisable. For those less exposed, an annual application might suffice.
Conclusion
In conclusion, both DeoxIT D5 and D100 offer essential maintenance solutions for electrical connections, differing primarily in concentration. While D5 is suited for regular upkeep with its solvent blend, D100 targets pronounced issues with its potent formula. Choosing between them hinges on your specific needs, ensuring optimal device performance and longevity.
Subscribe

to our newsletter

& plug into

the world of circuits