Can You Solder Brass to Steel? A Comprehensive Guide
Yes, you can solder brass to steel, but it requires careful consideration of the metals' properties and the appropriate soldering techniques.
Soldering is a widely used technique in various industries and DIY projects. It involves joining two or more metal pieces together using a filler metal, known as solder, which has a lower melting point than the metals being joined. 
In this article, we will delve into the question of whether it is possible to solder brass to steel and explore the techniques and challenges involved.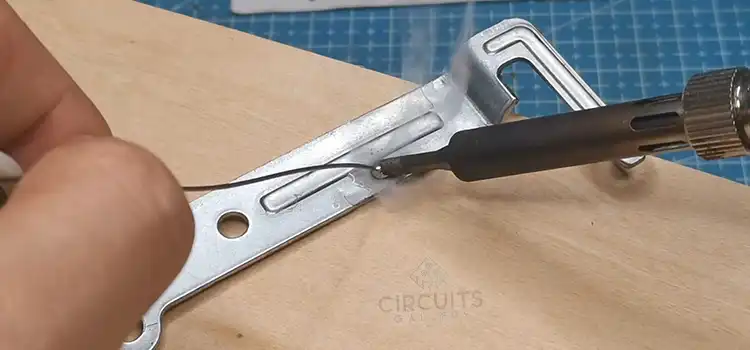 Challenges in Soldering Brass to Steel
Brass, a golden metal composed of copper and zinc, is easy to shape and rust-resistant. Steel, made from iron and carbon, is composed of manganese, chromium, and nickel, known for its strength and durability. When attaching brass to steel, there are two main things that everyone finds challenging.
Thermal Discrepancy: Brass and steel differ significantly in their thermal conductivities and melting points. Brass, having a lower melting point than steel, demands careful temperature management during soldering to avoid compromising the joint.
Surface Oxidation: Both metals tend to form oxide layers, hindering the solder's ability to adhere. Effectively addressing this issue is crucial for a strong, durable bond.
Techniques for Soldering Brass to Steel
Here are the steps and techniques you need to use to solder brass to steel.
1. Surface Preparation
Before we can solder metal, we need to get the surface ready.
Cleaning: Thoroughly clean the surfaces to be joined using a suitable degreasing agent to remove oils, dirt, and oxides.
Abrasion: Abrade the surfaces gently to remove the oxide layers and improve solder adhesion.
Flux Application: Apply an appropriate flux to prevent oxidation during the soldering process. Select flux specifically designed for dissimilar metals.
2. Choosing the Right Solder
Choose a solder material that has a melting point lower than brass but higher than the joint's working temperature. Lead-free solders, such as tin-silver-copper alloys, are a common choice.
3. Temperature Control
It's very important to keep an eye on the temperature, which is why it's important to control it.
Even Heating: Use a torch or soldering iron to heat the metals. Apply heat gradually to prevent thermal shock and distortion.
Avoid Overheating: Be cautious not to overheat the brass, as it has a lower melting point than steel. Overheating can lead to a weak joint or even metal degradation.
4. Solder Application
Put the pieces together tightly and use solder. The melted solder will be drawn into the joint by capillary action. Make sure the solder goes smoothly between the metals. Aim for joints that are smooth and shaped like fillets. Gaps or irregularities can make the joint less strong and protect it less.
5. Cooling and Cleaning
Allow the joint to cool naturally to avoid thermal stress. Do not disturb the joint until it has completely solidified. After the joint has cooled, clean off any excess flux residues using a suitable cleaning agent and brush.
Tips to Remember while Soldering Brass to Steel
Here are some things you should keep in mind while you're doing it.
Use a brazing torch with a medium-sized flame.
Be careful not to overheat the brass and steel, as this can cause the metal to oxidize and make it difficult for the solder to flow.
If you are using silver solder, be sure to use a flux that is specifically designed for silver solder.
If you are using phosphor-bronze solder, be sure to use a flux that is specifically designed for phosphor-bronze solder.
Safety Considerations
When working with high temperatures and potentially hazardous materials, safety should always be a top priority. Ensure proper ventilation in your workspace and wear appropriate protective gear, including gloves, goggles, and heat-resistant clothing. Familiarize yourself with the safety guidelines for the specific heat source and flux you are using.
Frequently Asked Questions
What solder is best for brass to steel?
Your best option is to use a silver solder. There's only about 3.5% silver in the solder (you can get higher amounts but it gets more expensive) but that small amount helps with strength.
Is soldering brass strong?
Alone, it's not strong, but it is capable of holding two pieces together quite well. To do this, the two pieces to be joined should share as much surface area as possible. Don't expect the solder to be strong if it is filling big gaps between the parts.
Why won't my solder stick to brass?
Provided the brass and solder have been cleaned, the solder not sticking signals that the brass strips are not getting hot enough to reach the soldering temperature for the grade of solder you are using. You might conserve heat by building a cave from bricks to solder in, or by using two torches together, one in each hand.
To Conclude
Soldering brass to steel is a challenging task requiring precision and understanding of properties. Mastery of these techniques allows artisans to create enduring joints, transforming the challenge into an art, enabling functional and beautiful metalworking.
Subscribe

to our newsletter

& plug into

the world of circuits