Butane Soldering Iron vs Electric | Which is the Best Choice?
In the soldering realm, the critical debate between butane and electric soldering irons is ongoing. Despite their mutual purpose, divergent heat mechanisms earmark them for varied applications. Butane irons, known for their adaptability, contrast with the escalating inclination towards the convenience of electric variants.
The determinative factor lies in your project's specific demands. This detailed analysis of butane and electric soldering irons aims to elucidate their distinctive characteristics and functionalities, assisting in a judicious equipment selection for enhanced soldering efficiency and precision.
Navigate through the technical landscape of each, ensuring an informed, project-aligned choice for optimal soldering outcomes.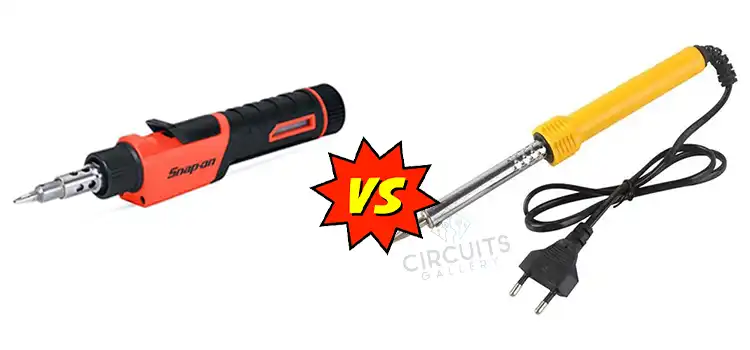 Butane Soldering Irons
Butane soldering irons operate on liquefied butane gas, offering autonomous functionality independent of electrical outlets, thereby enhancing mobility for off-grid tasks.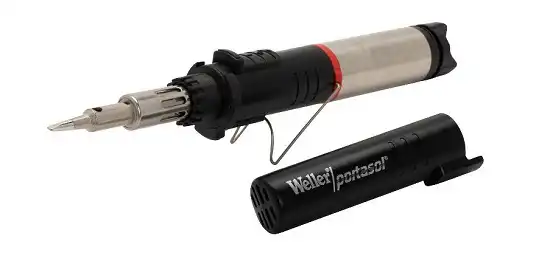 Image 1: Butane Soldering Iron
These tools employ internal combustion, generating a controllable flame for direct heating, suitable for diverse soldering tasks and auxiliary functions like torch or hot air blowing operations. However, they necessitate consistent fuel replenishment, presenting potential operational interruptions.
The confined fuel capacity delineates a restricted runtime, impacting extensive projects. The inherent open-flame operation heightens safety concerns, mandating diligent adherence to safety protocols to avert fire and burn hazards.
Electric Soldering Irons
Electric soldering irons harness electrical energy to induce controlled thermal energy, indispensable for the cohesive fusion of metallic components through soldering processes. 
Image 2: Electric Soldering Iron
These instruments often incorporate precision-driven, temperature-modulating mechanisms, enabling users to finely calibrate thermal output, crucial for optimizing metallurgical bonding in various applications.
Relying on a consistent electrical feed, electric soldering irons ensure uninterrupted operation and exhibit superior heat uniformity, heightening efficacy and reducing potential soldering flaws.
Nevertheless, their tethering to electrical sources constrains mobility, rendering them less suitable for austere, off-grid environments. Notably, the absence of open flames mitigates fire hazards, underscoring their safety advantages.
Comparative Analysis of Butane Soldering and Electric Soldering Irons
In the realm of soldering, choosing between butane and electric soldering irons is pivotal. This comparative analysis underscores their technical dimensions.
Temperature Control and Stability
Butane Soldering Irons: Employ manual flame adjustment for temperature control, offering a broad operational range (~500°F to 2500°F). However, they may present temperature fluctuations owing to flame instability.
Electric Soldering Irons: Utilize electronic control systems, maintaining consistent temperatures within a fixed range (~200°F to 900°F), bolstering reliability in delicate soldering tasks.
Heating Dynamics
Butane Soldering Irons: Characterized by rapid heat-up times due to the direct flame heat source, advantageous for quick, on-the-spot soldering tasks.
Electric Soldering Irons: Exhibit variable heat-up dynamics based on wattage and design, ensuring a steady heat transfer essential for prolonged soldering operations.
Power Source and Autonomy
Butane Soldering Irons: Operate autonomously, powered by butane gas, enhancing portability and outdoor utility at the cost of periodic refueling.
Electric Soldering Irons: Rely on a continuous electrical supply, providing uninterrupted operation, albeit with spatial limitations due to cord dependency.
Soldering Tip Compatibility
Butane Soldering Irons: May present compatibility limitations, often necessitating specific tips, potentially constraining operational flexibility.
Electric Soldering Irons: Generally, accommodates diverse tips, facilitating seamless exchanges and broad operational versatility.
Form Factor
Butane Soldering Irons: Boast compact, lightweight designs, ideal for mobile and overhead applications.
Electric Soldering Irons: Higher wattage models may be bulkier, constraining maneuverability and field application.
Maintenance Profile
Butane Soldering Irons: Require consistent fuel system checks and combustion component cleaning, introducing maintenance complexity.
Electric Soldering Irons: Demand minimal maintenance, focused mainly on tip upkeep.
Environmental and Safety Considerations
Butane Soldering Irons: Generate emissions and involve flammable gas, posing operational hazards.
Electric Soldering Irons: Environmentally friendlier with no direct emissions, and safer due to the absence of open flame, though electrical risks persist.
In essence, butane soldering irons offer portability and quick heat-up, suitable for rapid, field tasks, whereas electric models excel in consistent temperatures, operational safety, and maintenance ease, apt for prolonged and delicate soldering operations.
FAQs – Frequently Asked Questions and Answers
Can butane and electric soldering irons work on all types of soldering materials?
Both can work on common soldering materials, but the consistency of electric soldering irons makes them more suitable for delicate or specific materials. The broad temperature range of butane soldering irons may make them more adaptable for a variety of materials but with less precision.
Is it possible to use butane soldering irons in confined spaces?
It's not advisable to use butane soldering irons in confined or poorly ventilated spaces due to the risk of gas accumulation and exposure to combustion by-products. Electric soldering irons are safer for use in confined spaces as they don't emit combustion gases.
Is one type of soldering iron generally faster for completing tasks than the other?
Butane soldering irons may complete high-heat tasks faster due to their higher temperature capabilities and instant heat-up. However, for tasks requiring precision and consistent heat, electric soldering irons may offer better efficiency and accuracy.
Conclusion
Choosing between butane and electric soldering irons depends on specific needs. Evaluate factors like temperature control, portability, and safety. Electric irons excel in stability, while butane irons offer swift, portable use.
Subscribe

to our newsletter

& plug into

the world of circuits